By Kevin Seifert, ESPN
~CHICAGO — As he always does, the man with the white mane sat stoically in his press box seat. Believe me, I checked.
Every time the Green Bay Packers' rookie nickel back made a play, I stole a glance down the aisle. Ted Thompson was unmoved. There was no hint of vengeance when rookie tailback James Starks scored a second-quarter touchdown, and I saw no reaction of note as punter Tim Masthay flipped the game's field position all afternoon.
The Packers' general manager had every reason to feel wholly vindicated Sunday as his team advanced to Super Bowl XLV with a 21-14 victory over the Chicago Bears. On a day when quarterback Aaron Rodgers' best play was a touchdown-saving tackle, Thompson's brand of team building proved especially prescient. This was a Ted Thompson victory if there ever was one.
"Ted built this house," Packers coach Mike McCarthy said. "He is responsible for everything that goes on."
We've all had our fun and taken our shots at the way Thompson constructed this team. Eschewing veteran free agency puts a premium on your own development program, leaving no margin for error in the draft and little patience in bringing along young players. You've got to hit nearly every time, and after watching Sunday's game at Soldier Field, I think we can agree that Thompson batted 1.000 in a year when the Packers lost more starting players to injuries than any NFL team.
Undrafted nickel back Sam Shields became one of 11 rookies in NFL history to intercept at least two passes in a playoff game, including the game-clinching play with 37 seconds remaining.
Starks continued his postseason surge with 74 yards and his first touchdown since he was a junior at Buffalo in 2008. Masthay, plucked off the street last winter, pinned the Bears inside their 20-yard line on five of his eight punts. Nose tackle B.J. Raji, Thompson's first pick in the 2009 draft, returned an interception 18 yards for a touchdown that served as the final margin of victory.
The Packers have their share of elite players in Rodgers, receiver Greg Jennings, linebacker Clay Matthews and cornerbacks Charles Woodson and Tramon Williams. But without Shields, Starks and Masthay, the Packers might not have a ticket for Arlington, Texas in two weeks.
"I think this really to me showed all of Ted's work over the last two or three years," team president Mark Murphy said. "You look at the depth of the roster, the players he's been able to identify. We have starting players playing key roles for us who were undrafted free agents this year. It's a tribute to Ted and his staff that he's able to find these players."
I missed Thompson after the game. I'm guessing he wouldn't have been in a gloating mood. It's not his style, and it's what I like best about him. He doesn't need to tell us I told you so. We saw it ourselves Sunday, and it was a development not lost in the Packers' locker room.
"It starts up top with Ted and players and the personnel department," veteran defensive lineman Ryan Pickett said. "They do a good job of bringing in players. Somebody gets hurt, and they bring in a guy where there's almost no drop-off. We have a lot of talent on this team. I don't know if I've ever seen this much, as long as I have been playing. There are players all over this team that were overlooked by other teams."
On the day the Packers advanced to their first Super Bowl in 13 years, you might not be up for patting their shy general manager on the back. Sorry folks. If Rodgers had pulled another of his postseason gems, I would be telling you all about it. If Matthews had put together another of his three-sack games, this post would have been easy to write.
The assumption has been that the Packers would ride Rodgers as far as he could take them. But Sunday, the Bears defense limited him to 17 completions in 30 attempts. He threw two interceptions, including one to linebacker Brian Urlacher on what he called a "terrible throw" in the third quarter. Rodgers managed to trip up Urlacher at the Bears' 45-yard line, preventing what almost certainly would have been a touchdown, but he was unable to take the Packers to a second-half touchdown that would have put the game out of reach.
On this championship day, that task fell to players like Shields, Starks and Masthay. We've had plenty of discussions about Starks, who has vindicated Thompson's decision not to seek a veteran replacement (albeit a little late.) Shields, meanwhile, was Thompson's version of an answer to the Packers' thin depth at cornerback last season.
Signed as an undrafted free agent after the draft, Shields initially was a candidate to be the Packers' kickoff and punt returner. But as soon as he arrived at training camp, he had defensive players and coaches turning their heads.
"We saw him and said, 'Why didn't this guy get drafted?" Pickett said. "This guy has been making plays since the moment he got here. He might be the best rookie cornerback in the league."
It would be hard to argue based on Sunday's game. Shields ended two consecutive Bears series in the second quarter. The first was a sack of quarterback Jay Cutler on third down. Less than two minutes later, his athletic interception prevented what would have been a long 42-yard touchdown pass to receiver Johnny Knox.
According to the database at pro-football-reference.com, Shields is the first rookie in NFL history to collect two interceptions and a sack in a playoff game.
"He is going to be a great player for the Green Bay Packers for a long time," McCarthy said.
The Packers have more than their share of similar stories.
Ted Thompson is their ghost writer.
He won't tell you.
He doesn't need to.
You saw it yourself.
Full story here
By Don Banks, Sports Illustrated
• It's a good thing the NFL is planning to squeeze more than 100,000 football fans into two-year-old Cowboys Stadium on Super Bowl Sunday in Arlington, Texas. Because now that the Packers and Steelers have earned their way to this year's big Roman-numeraled affair, the league is going to need every last bit of stadium capacity it can muster. Somebody tell Jerry Jones to get his "plaza" ready. He's about to get an overflow crowd, no matter what he charges per head.
By Gary D'Amato, Journal-Sentinel
~Chicago — Never mind that "team of destiny" stuff. Never mind fate and karma.
That's the romantic, pie-in-the-sky way to explain how the Green Bay Packers got to Super Bowl XLV.
It would be a disservice to the Packers to focus on the ethereal when the nuts and bolts are staring us right in the face.
The Packers beat the Chicago Bears, 21-14, in the NFC Championship Game on Sunday because they blocked and tackled. They won three consecutive playoff games on the road because they prepared and executed.
They became the first sixth-seeded NFC team to reach the Super Bowl – knocking off the Nos. 1, 2 and 3 seeds along the way – because they had superb players on both sides of the ball and were well-coached.
Destiny is for poets and dreamers. The Packers are going to Dallas because they're tough. They're resilient. They're confident. They are representing the NFC and Green Bay and all of Wisconsin because they are a very good team.
On Feb. 6, we'll find out if they're the best team in the NFL. Standing in their way is another proud franchise, the Pittsburgh Steelers, who beat the New York Jets, 24-19, in the AFC Championship Game.
"We know exactly what we've got to do," said receiver Donald Driver, the 12-year veteran who is going to his first Super Bowl. "We've got four more quarters to put that ring on our finger, and we're ready to do it."
The NFC title game, played on a sunny, 20-degree day at historic Soldier Field, lived up to the massive amount of hype that preceded it. The Packers and Bears, whose rivalry dates to the dawn of professional football, went at each other with a ferocity befitting the occasion.
The Packers dominated in building a 14-0 halftime lead, but the Bears fought back – did anyone doubt they would? – and the outcome was in doubt until the final minute.
"We felt like we had them on the ropes there for a while," said Packers coach Mike McCarthy. "We just couldn't get the game to a three-score game. I think that says a lot about them as a football team. But it also says a lot about us as a team.
"Defense. Special teams. People making plays down the stretch. It was the typical Green Bay-Chicago game, with everything on the line."
Only when rookie free-agent cornerback Sam Shields intercepted third-string Bears quarterback Caleb Hanie with less than 45 seconds left could the Packers and their far-flung fans finally let out a collective sigh of relief.
In a sweet bit of irony, Green Bay claimed the Halas Trophy awarded to the NFC champions and named after Bears patriarch George "Papa Bear" Halas.
"I'm numb," said McCarthy, the fifth-year coach who called the victory the highlight of his professional career. "It's a great feeling."
No team seeded sixth in the NFC had made it to the Super Bowl since the NFL went to a 12-team playoff format in 1990. The Steelers did it in the AFC in 2005.
The Packers (13-6) improved their all-time postseason record to 28-16 and will be trying to win their 13th NFL title. They won Super Bowls I, II and XXXI and lost Super Bowl XXXII.
"As we stated, we have a goal of playing 16 quarters (in the playoffs) and we've completed 12," McCarthy said.
At several points earlier in the season, a Super Bowl including the Green Bay Packers seemed like a pipe dream.
Running back Ryan Grant was lost for the year in the season opener and 14 other players would join him on injured reserve. The Packers lost three of their first six games by three points each. And they were 8-6 after a loss at New England on Dec. 19.
They had to beat the New York Giants and the Bears in their final two regular-season games just to qualify for the playoffs – and they did that only by edging Tampa Bay in a tiebreaker for the No. 6 seed.
Then they went on the road and beat Michael Vick and the Philadelphia Eagles, 21-16, and crushed No. 1-seeded Atlanta, 48-21, to reach the NFC title game.
"I just had this feeling we were going to pull it off and I think it's the feeling we've had since the Giants game," said safety Charlie Peprah. "Just the confidence that no matter what happens, we're going to win.
"Not cocky. Not overconfident. It's just a confidence that we're going to do whatever it takes to win. No matter how bad it looks or no matter how many times the momentum shifts, we're going to come out on top."
Guard Josh Sitton said McCarthy was consistent in his message through all the bad breaks and tough losses. He never let the players feel sorry for themselves and never used injuries as an excuse.
"Those (doubts) start to creep into your head," Sitton said. "I think coach McCarthy has done a great job all year of laying down what the goals were. The goals were always ahead of us. He's really preached that we've got a lot of talent and we can still make a run at this. And he was right."
Said Peprah, "As long as there was a chance, we kept hope alive."
After the game, general manager Ted Thompson surveyed a jubilant locker room and answered reporters' questions in his low-key style.
It was Thompson who drafted Aaron Rodgers and found Shields and took a chance on James Starks, the rookie running back who missed his senior year at Buffalo with a shoulder injury. Starks rushed for 74 yards on 22 hard-fought carries Sunday.
"Just to be able to play in this next game is hard to do," Thompson said. "We're humbled. To do what we did – win the last two games in the regular season and then win three road games against the 1, 2 and 3 seeds – it's a credit to this group of men we have playing for the Packers."
In victory, the Packers took some sting out of the memory of the 2007 NFC Championship Game, a loss in overtime to the Giants at Lambeau Field. And they rendered moot their six regular-season defeats, none by more than four points.
"None of them matter now," said defensive end Cullen Jenkins.
Only one game matters now. But there will be plenty of time to look ahead to the Steelers. This was a night for back-slapping, for donning "NFC champions" hats and T-shirts in the locker room, for smiles and laughs all around.
How were the players going to celebrate?
"I don't know," Starks said with a wide grin. "I guess I'm going to find out."
By Rob Reischel, Journal-Sentinel
~Chicago — Josh Sitton didn't want to get greedy. But the Green Bay's Packers right guard was having flashbacks early on during Sunday's NFC Championship Game.
"The way we started out, I thought we were going to put up 40 points on (Chicago)," Sitton said. "We came out and were running good, throwing good, just rolling like Atlanta."
Yes, for a little more than a quarter, this felt exactly like the NFC divisional playoff, when the Packers drilled the Falcons, 48-21.
In the first 19 minutes, the Packers were razor sharp offensively and raced to a 14-0 lead. But over the final 41 minutes Green Bay's offense didn't score a single point.
Thanks to a stout defensive effort, though, and a fourth quarter interception return by nose tackle B.J. Raji, the Packers prevailed, 21-14. Green Bay will now meet Pittsburgh in Super Bowl XLV on Feb. 6.
"It was weird, man," Packers wideout James Jones said. "We don't feel like there's anybody out there that can stop us except us. And the rest of the game, I'd just say we stopped ourselves."
The Bears had no success stopping Green Bay early.
On the Packers' first drive, quarterback Aaron Rodgers led a seven play, 84-yard march that he capped with a 1-yard TD run. Rodgers was 4 for 4 on the drive for 76 yards and hit Greg Jennings twice for 48 yards.
"Frankly, the first drive was the way we anticipated coming into this game," Packers coach Mike McCarthy said. "I thought we were able to get into a tremendous rhythm."
Green Bay stayed in rhythm and went ahead, 14-0, just 4 minutes into the second quarter.
The Packers needed just five plays to cover 44 yards on that drive. Running back Brandon Jackson (16 yards) and wideout Jordy Nelson (15) both had big catches on the march, and running back James Starks finished the deal with a 4-yard TD run.
From that point forward, though, everything changed.
In Green Bay's first four possessions, it rolled up 181 total yards and had 12 first downs. In the Packers' final 10 possessions, though, they had 175 total yards and 11 first downs.
Green Bay averaged 7.9 yards per play those first four possessions. The rest of the game, the Packers averaged just 3.9 yards per play.
"I don't know what happened," Sitton said. "We were just really out of sync and lost all of our momentum. Thankfully, our defense stepped up and made sure we're still playing."
Chicago certainly had something to do with it as well.
Bears linebackers Lance Briggs and Brian Urlacher both intercepted Rodgers with the Packers in Chicago territory.
Briggs' came late in the first half after Green Bay had reached Chicago's 41-yard line. But Rodgers threw low to wideout Donald Driver, the ball hit Driver's foot and bounced up and into the hands of Briggs.
Urlacher's pick came with the Packers at Chicago's 6-yard line and looking to add to a 14-0 lead midway through the third quarter. Urlacher read Rodgers' eyes, stepped in front of a pass intended for Driver and totally changed momentum.
"It was a terrible throw," said Rodgers, who likely saved a touchdown by tackling Urlacher. "Once I threw it I started sprinting and I was hopeful that I was able to at least catch up to him."
Rodgers was a major reason the Packers' offense went south.
Rodgers went 8 of 11 for 138 yards and a 114.7 passer rating in Green Bay's first four series. But over the Packers' final 10 possessions, Rodgers was 9 of 19 for 106 yards with no touchdowns, two interceptions and a passer rating of 25.2.
In addition to Rodgers' struggles, McCarthy's play calling became more conservative. And after scoring twice in their first four possessions, the Packers' final 10 possessions resulted in six punts, two interceptions and two kneel-downs to end halves.
It was a remarkable turnaround for an offense that had been smoking hot
By Mike Klis, Denver Post
~GREEN BAY, Wis. — Here in a town of fish fry Fridays, ranch-style, attached-garage homes and strong family values, brothers were mad at sisters. Children yelled back at parents. Uncles argued with aunts, nieces and grandmothers if it meant getting the dang-blasted point across.
Family squabbles were typical around here in the summer of 2008, but not typically over politics, religion or whether beer is best from a pop-top can or draft.
Titletown was in an uproar about Brett Favre vs. Aaron Rodgers.
Come to think of it, the quarterback quarrel that polarized a community was based on religion.  Around here, where the streets outside Lambeau Field have names like Lombardi Avenue, Holmgren Way and Reggie White Boulevard, the Packers don't play on Sunday for nothing.
"The day Favre retired was a sad day," said Mark Papaetru, owner of Fuzzy's #63 Bar & Grill that is named after former Packer offensive guard Fuzzy Thurston. "Everyone around here was sad. Then he wanted to come back and the Packers traded him, and it was hard to know exactly what went on there. There was drama. It split families. Families took sides. It was pretty bad in this town for a while. But I'm glad we moved on."
Like so many disputes, time revealed the Favre-Rodgers debate as wasted energy. Favre recently filed his retirement papers after a miserable, one-year-too-long final season. Rodgers, now in his third season of playing after completing his three-year sentence of sitting behind Favre, has led the Packers to the NFC championship game that will be played today against Jay Cutler and the Chicago Bears at Soldier Field.
Rodgers not only has led a team within one win of a Super Bowl, he has taken over the city.
"I think his performance is what won them over," said Packers center Scott Wells, who snapped to both Favre and Rodgers. "That's one thing that I think is special about Aaron is he never allowed anything to get to him."
Rodgers first had to shake off his second concussion of the season before he could lead the Packers to four consecutive elimination-game victories.
The first was a 45-17 rout of the New York Giants. Out the week before with a dinged-up noggin, Rodgers threw for 404 yards and four touchdowns against the 10-win Giants. One of the NFL's most mobile quarterbacks, Rodgers also ran twice for 26 yards.
"Everybody in here, we're all like, "SLIDE!" said Dorothy Papaetru, Mark's wife and Fuzzy's co-owner. "Because of his concussions. We see him run, we say, "Don't dive. Slide!"
It's when a quarterback gets hit, though, that he becomes one of the guys. All week, the quarterback is treated special. He wears don't-touch-me jerseys during practice. He attracts the largest media throng.
But when a quarterback takes a full-force blow, gets up and completes a pass on the next play? He becomes not a quarterback, but a football player.
"When you go from being a backup for three years to the starter, you just relish those opportunities," Rodgers said. " And when it gets kind of taken away from you, it's just really tough to not be able to get back in the game."
A hard-fought win against the Bears in the regular-season finale put the Packers in the playoffs with the No. 6 and final seed.
His next two wins were on the road — at Philadelphia in an NFC first-round game and at Atlanta last week against the No. 1 seed Falcons.
In the two games combined, Rodgers threw six touchdown passes and no interceptions. He ran for another touchdown. Against the Falcons, Rodgers completed 31-of-36 passes.
Standing in front of his locker Friday afternoon at Lambeau Field, Rodgers was told he's a cross between Dan Marino, a precision passer, and Steve Young, a passer-ratings god who could run.
"Let's just take it easy on the comparisons until I get some hardware," Rodgers said.
One more win and Rodgers' Packers take the George Halas Trophy from the Bears as the NFC champs. Two more and he hoists the trophy named after legendary Green Bay coach Vince Lombardi.
But even if Rodgers wins no more this season, there is one quarterback great who will no longer burden him.
"Three years ago, we were on Favre's side," said Jon Gosa, who was having a cold one Thursday night with his friend Lance Meyer at the Stadium View Bar & Grill. "About 1 1/2 years ago, not so much."
Not exactly a draft favorite
Packers fans were justified in siding with Favre. In the summer of 2008, Favre was all they knew. He was the NFL's all-time leader in every significant category: Yards, touchdowns, passes and attempts — and interceptions. Just because Packers fans are devoted doesn't mean they can't constantly bring up Favre's careless tendencies.
Rodgers showed potential while subbing for an injured Favre in a 2007 game against Dallas. But potential is another way of saying a guy hasn't done it yet.
In truth, the divisive issue wasn't Favre against Rodgers. It was Favre vs. Ted Thompson, the Packers' general manager who sided with Rodgers and the franchise's long-term view.
How, after Favre unretired for the first of three consecutive seasons, could Thompson and head coach Mike McCarthy make such a leap of faith in Rodgers?
A little-known fact among those who have never tipped a cold one at Fuzzy's: The year before he became the Packers' coach, McCarthy was San Francisco's offensive coordinator in 2005, when the 49ers with their No. 1 overall pick took not Rodgers but Alex Smith.
If McCarthy was part of the process that so badly missed on Rodgers during the draft, how could he evaluate through mere practice that Rodgers was ready to succeed a Green Bay legend?
"There were some things we adjusted in his mechanics that he's done a great job with," McCarthy said. " I think he's done a tremendous job with his body since then. I think if you look at him now compared to then, he's a much more conditioned athlete, in my opinion. But the talent was always there."
Hear that, Tim Tebow critics? McCarthy suggested one reason Rodgers fell to No. 24 overall in the draft was mechanical issues.
"I would disagree with that statement," the quarterback said. "Mechanical and fundamentals? I would say that's not an accurate statement."
Most impressive is he's been able to post an otherworldly 134.5 passer postseason rating despite a detectable chip on his shoulder.
"People around here weren't too happy with Ted Thompson for a while there," Meyer said. "Now they might name a street after him."
Rodgers leads Pack back
This city of about 110,000 is enduring its coldest night in two years, yet the Stadium View is packed. It's 11:15 on a Thursday night, the temperature reads 1 degree, and the joint — which stands in the long, cold shadow of Brett Favre's Steakhouse (whose principal partner is Rockies owner Dick Monfort) — is jumping with patrons who just watched the Darius Rucker-Brad Paisley concert.
The buzz isn't necessarily about how a Hootie can go country but how Rodgers jumped on stage with Paisley.
"He helped get the crowd going," Packers rookie Bryan Bulaga said. "I think they were louder for Aaron than we were for Brad Paisley."
Rodgers was supposed to sing the line, "I'm Still A Guy," from Paisley's big hit, but there's a reason why band performers wear earpieces. He missed his cue. He couldn't miss hearing his warm welcome, though.
"After we got off stage and we went backstage, all I could hear was "Go Pack, Go!" chants," Rodgers said.
There may be a million-way tie for No. 1 Packers fan, but Mark Papaetru is not second. Besides agreeing to buy the ultimate Packer Bar in Packerland from the left guard of the Vince Lombardi era, Papaetru bought an ownership share of the team 14 years ago, at $250 apiece, for each of his two children.
Papaetru may have spoken on behalf of all Green Bay shareholders when he summed up how the silly Favre-Rodgers debate of three years ago has turned out.
"Now, I actually feel more confident with Rodgers than I did with Favre," Papaetru said. "Favre, you were always holding your breath with that guy. Rodgers, he's more of a surgeon."
Full story here
By Pat Borzi, New York Times
~GREEN BAY, Wis. — Once a week or so, Packers quarterback Aaron Rodgers strolls into Cheese Cake Heaven, a delicatessen and bakery near Lambeau Field popular with Packers players and their wives. Deb Katers, who works the register at lunchtime, said Rodgers often chose the build-your-own sandwich option — "a turkey avocado kind of thing," she said — and exchanged playful banter with the counter staff.
"He's a teaser, in a quiet, professional way," Katers said before the lunch rush last week. "He's a very quiet, good-hearted guy.
"He's just a really normal person. If you didn't know he was the quarterback of the Green Bay Packers, you'd think he was an ordinary guy."
After two spectacular postseason performances, Rodgers finds himself in the most important game of his career as the Packers face the Chicago Bears in the N.F.C. championship game Sunday.
"He's definitely the quarterback we all hoped he would become," Packers Coach Mike McCarthy said. "He's playing his best football of his career at this point, and that's what you want, especially this time of year."
Those who have known Rodgers for years say fame has not changed him. Craig Rigsbee, his coach at Butte College, a community college in Oroville, Calif., said Rodgers was still the same low-key yet driven player who made himself a successful quarterback despite being lightly recruited out of Pleasant Valley High in Chico. Rodgers seems to handle pressure and expectations with the ease of, well, somebody ordering lunch. That, Rigsbee said, enables Rodgers to maneuver through difficult situations that might unnerve someone less grounded.
Take draft night 2005. Some experts predicted the San Francisco 49ers might take Rodgers, who played at California, as the No. 1 pick, a thrilling possibility for someone who grew up idolizing Joe Montana. The 49ers chose Alex Smith instead. Rodgers sat uncomfortably in the broadcast green room until the Packers took him at No. 24.
Or take training camp 2008, Rodgers's first as a starter, when Brett Favre changed his mind about retirement and tried to bull his way back onto the team. Packers fans chose sides, things became ugly, and Rodgers faced an almost daily barrage of Favre-related questions from reporters.
Or take the notion that Rodgers, despite being the first N.F.L. quarterback to pass for 4,000 yards in his first two years as a starter, could not be considered an elite quarterback until he won a playoff game.
Now, he has won two. He followed a three-touchdown, no-interception performance against the Philadelphia Eagles in a wild-card gameby throwing for 366 yards and 3 more scores in last week's 48-21 rout of the top-seeded Atlanta Falcons. Rodgers completed 31 of 36 passes, the fifth-best single-game percentage (86.1) in postseason history and the highest by anyone with at least 35 attempts.
All last week, Rodgers deflected attempts to compare him to past or present greats. "Let's slow down and take it easy on the comparisons until we get some hardware around here," he said.
That may be coming. Because of Rodgers, Packers players say they are more confident going into Sunday's game than they were in the title game three years ago, when the Giants outlasted the Favre-led Packers, 23-20, in overtime at frigid Lambeau Field.
"The guy is playing flawless football," wide receiver James Jones said. "You can't even describe how well he's playing. If we can keep Aaron standing up and keep Aaron comfortable in the pocket, we should be able to move the ball."
Rigsbee, now Butte's athletic director, said Rodgers had the same effect there. Rodgers led Butte to a 10-1 record and No. 2 national ranking in his only season with the Roadrunners before leaving for Cal. Rodgers remains close to Rigsbee and the program. Last week, Rodgers wore a Butte Football hooded sweatshirt to a news conference aired on the NFL Network, and he donated a signed jersey to a fund-raiser at the college last weekend.
"He's got a great confidence about him — not cocky, but confident," Rigsbee said in a telephone interview. "When I was recruiting him, I started telling him who we had at the position. And he said: 'Stop right there. I just want a chance to compete.' And he earned the job.
"We had several older kids — a center who was 25, a left tackle who was 24 — and he jumped right in and led them as an 18-year-old. He's the best competitor I've ever been around. But if he throws two interceptions, he's not going to go in the tank."
Rodgers's ability to elude the rush, avoid sacks and throw with precision even on the run has made him especially dangerous this postseason.
"He does some things sometimes, it blows me away at how talented he is," center Scott Wells said. "He's got a really fast, quick release. It looks like he's just flicking his wrist, and he throws it 30 yards downfield. He does some things very, very few quarterbacks can do."
He also thinks well on his feet. Late in the second quarter on Jan. 15 against Atlanta, after Jones suggested a pass route, Rodgers switched Jones and the veteran receiver Donald Driver in the formation before hitting Jones for 20 yards and the go-ahead touchdown. Rodgers, though, credited Driver for volunteering to change places.
That Rodgers trusted Jones at all says something, because Jones has dropped three potential touchdown passes since Dec. 12.
"The way I prepare, the time I put in, I expect to play well," Rodgers said. "That doesn't always happen, obviously. Sometimes, I make poor decisions, throw the ball not as well as I want to, or the defense outschemes us or makes plays out there. But the last couple weeks, I've played the kind of football I think you need to play to win playoffs."
That has made Rodgers a rock star here. On Thursday night at Resch Center, opposite Lambeau, Rodgers made a surprise appearance onstage at a Brad Paisley concert. Rodgers was supposed to sing a line from the song "I'm Still a Guy." But the crowd chanted Rodgers's first name so loudly that he missed his cue — a rare moment of fluster from an unflappable quarterback.
"I couldn't hear anything," Rodgers said Friday. "I just realized I should maybe give high-fives. That's probably a better option for me anyway, if anyone's heard my singing voice."
Then Rodgers thanked Packers fans for their cheers, and offered a message of quiet confidence to those who have been waiting since the 1996 season for another Super Bowl championship.
"This place is nicknamed Titletown," he said. "It's been too long."
By Matt Bowen, National Football Post
~Let's get the Packers-Bears talk started here at the NFP. Less than a week to the NFC Championship game at Soldier Field—and five early questions to ask. Matchups, schemes, X's and O's, etc.
1. How much pressure will we see from Chicago?
You talk Bears' defense and the discussion usually leads to the Cover 2 scheme. However, going back to the final regular season game at Lambeau—and what we saw Sunday in the win over Seattle—this Bears' unit will bring both zone and man pressure. In their zone blitz concepts, Chicago will rush five and drop six into coverage (think 3-deep). Designed schemes to cause confusion in the protection. Is it a risk to pressure Aaron Rodgers? Without a doubt, but you can't sit in 2-deep the entire afternoon. Curious to see if Lovie Smith carries a game plan with more pressure than usual.
2. Can James Starks produce against the Bears' front seven?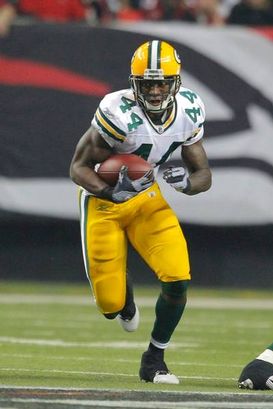 Rookie RB James Starks has been an upgrade to this Green Bay offense. Quick first step, runs with power and has some shake to his game that will allow him to get to the second level of the defense. But, can he do this vs. the Bears? Chicago wants to play the run with a seven-man front. We know that, but they will also walk the strong safety down in their Cover 1 and Cover 3 schemes, as well as bring the free safety down weak in Under 10 (think Cover 1 with opposite safety rotation). The key however, is making the Packers a one-dimensional team. Take the run away and force Rodgers to make all of the plays.
3. Are the Bears sound enough in their protection schemes?
I would welcome Dom Capers' job this week—because there is a lot you can do vs. the Bears' O-Line. I have to give Chicago credit for the way they protected QB Jay Cutler on Sunday, but go back and watch the tape from the Week 17 Green Bay win. Pressure and multiple players getting home to the QB. The Bears will have to make those corrections and expect some new packages from Capers this week. Very interested to see how Charles Woodson is used as an edge rusher on Sunday.
4. Will Green Bay kick to Hester?
Took one back in the early Monday night win for the Bears and we all know how crucial field position is going to be in a championship game. If I am Mike McCarthy I have no issue sacrificing ten yards by kicking the ball out of bounds this Sunday, because giving up a score (or setting up the Bears' offense with a short field) in the return game could be the difference when the fourth quarter rolls around. Big week for Packers' punter Tim Masthay—because one "miss-hit" and Hester could be up the sidelines. Don't put this game on the Packers' coverage units—that is the wrong call.
5. Will Tramon Williams continue to make big plays?
I will write more about Williams during the week, but how big has he been in the two Packer playoff wins? And he will see some opportunities vs. Cutler and this Bears' offense. Drive underneath the dig route, break on the slant and bait the Chicago QB into throwing the ball down the sidelines. Green Bay needs that same playoff level production from Williams when he is matched up vs. Hester and Johnny Knox. He is a fun player to watch—because he plays with good technique.
Full story here
By Ryan Haggerty, Chicago Tribune
~Seats for next Sunday's clash between the Bears and the Green Bay Packers in the NFC Championship Game at Soldier Field are easily the most in-demand tickets in Chicago sports history, several ticket brokers said today.
The worst seats in the upper reaches of the stadium – with a face value of $134 for Sunday's game — are selling for about $500 each on the secondary market, according to brokers and several ticket resale websites.
Decent seats in the stadium's lower levels are selling for at least $1,500 to $2,000 per ticket, said Melissa Janes, who works for a Chicago-area ticket broker.
"This is what the market is, so if you want to go, you're going to have to take out a small loan or use your mortgage payment," said Janes, who said
Chicago hasn't seen such demand for sports tickets since Michael Jordan was leading the Bulls to six NBA titles in the 1990s.
Sunday's game – only the second playoff meeting between the Bears and Packers in the 90-year history of the teams' rivalry – could become the top-selling NFL conference championship game in the history of national ticket reseller StubHub, a company spokeswoman said.
StubHub's Web site has about 4,500 tickets posted for sale for Sunday's game, starting at $475, spokeswoman Joellen Ferrer said. Over the last 24 hours, tickets on the site have sold for an average of $766, she said.
The most expensive ticket sold so far by StubHub was a $2,942 seat in Soldier Field's United Club, Ferrer said.
For comparison, tickets for next Sunday's AFC Championship game between the New York Jets and Pittsburgh Steelers are selling for an average of $405 on StubHub, Ferrer said. Tickets to last year's Stanley Cup games between the Blackhawks and Philadelphia Flyers in Chicago sold for an average of $800 to $900 on StubHub, but comparing those games to Sunday's NFC title game is difficult because the Blackhawks and Flyers played three games in Chicago during the series, Ferrer said.
Some tickets for the Bears-Packers game are posted for as much as $9,500 each on StubHub, but Ferrer said those prices will almost certainly drop as the market settles this week. In fact, Ferrer said she expects prices on the secondary market to gradually drop as the week goes on, with the final average ticket price on StubHub probably somewhere between $700 and $800.
A limited number of face-value tickets will go on sale at 2 p.m. Tuesday through Ticketmaster. The tickets are available via phone at (800) 745-3000 or at www.ticketmaster.com.
The tickets are priced at $134 to $586, and there is a four-ticket limit.
If you're unable to buy tickets through Ticketmaster and are willing to buy on the secondary market, don't pass up a deal, Janes said.
Although many season ticket holders sold their seats for yesterday's playoff game against the Seattle Seahawks, most seem to be holding on to their seats for Sunday's game, limiting the supply of tickets, the brokers said.
Full story here
By Mark Potash, Chicago Sun-Times
~This is almost too much.
Packers-Bears would be a big game if both teams were winless and playing in a snowstorm in Lincoln Park. In 1945, the Bears were 0-5 and going nowhere, the great Sid Luckman was benched and a sellout crowd of 45,527 packed Wrigley Field when the Packers came to town.
So when both teams are good, it gets bigger. And when it's late in the season, it gets even bigger than that. And when the Super Bowl is on the line? It literally can't get any bigger than that.
The only way the Bears (12-5) against the Packers (12-6) for the NFC championship and a berth in the Super Bowl could be any bigger would be if George Halas and Vince Lombardi were on the sidelines, Red Grange was in the backfield and the halftime entertainment was Jack Dempsey vs. Gene Tunney.
It's that big. Bigger than the 2006, 1988 and 1985 NFC Championship Games. Bigger than the 1963 showdown with the Packers at Wrigley Field. Maybe even bigger, some would argue, than the 1963 championship game against the New York Giants.
It might be the biggest football game ever in Chicago.
''I think it's possible this is one of the biggest games in the history of the National Football League,'' said Hub Arkush, the longtime publisher of Pro Football Weekly and a former analyst on Bears radio broadcasts. ''And I think it's possible that it's the biggest sporting event in the history of Chicago. It's Bears-Packers. The Bears have the most Hall of Famers. The Packers are second. It's Lombardi and Halas. It's 31/2 hours [between Green Bay and Chicago]. It's huge. I'm not sure we can overstate it.''
The perfect storm of the Bears-Packers rivalry, the winner-goes-home aspect of the game, the Super Bowl being on the line and the magnifying effect of 21st century media have created unprecedented interest in the 181st Packers-Bears game Sunday at Soldier Field.
It's an unstoppable force. After the Bears beat the Seattle Seahawks 35-24 in the NFC divisional playoff game at Soldier Field on Sunday, the Packers dominated most of the postgame conversation. There was a betting line on the Packers-Bears game before the Seahawks-Bears game was even over. And, of course, the Soldier Field crowd was chanting ''Green Bay sucks'' in the fourth quarter. What took them so long?
Arkush, who watched the 1963 NFL championship game and has been attending Bears games since 1957, is a sideline reporter for Westwood One who worked the Seahawks-Bears game and is also an NFL analyst for WSCR-AM. ''At this time of the season, my phone starts ringing off the hook for various interviews,'' he said Monday afternoon. ''In the last 24 hours, I've already had three times the requests I normally get this week.''
The volume of the interest and hype for Sunday's game is unparalleled in Bears history. But the intensity of interest arguably has been as great or greater in the past. In 1963, the regular-season game between the defending champion Packers and first-place Bears drew national-television attention, a sellout crowd and record prices for scalpers.
And when the Bears reached the championship game against the Giants that season, even the NFL championship game was blacked out on local television, whether or not it was a sellout. The interest in the Giants-Bears game was so great that NFL commissioner Pete Rozelle allowed the game to be shown on closed-circuit television at McCormick Place, the Amphitheatre and the Coliseum.
And the demand was even greater for the debut of Red Grange on Thanksgiving Day in 1925. Mounted police had to be called out on several occasions at the downtown location and Wrigley Field to control the chaotic crowds trying to get tickets to see the former Illinois star, who filled Cubs Park to its 36,000-seat capacity and could have done it three times over, according to Halas.
And despite the hype, this year's Packers-Bears game is not the Super Bowl. The 1963 game against the Giants was for the NFL championship.
''This game is obviously going to be bigger because of the hype, but it's certainly not more important [than the 1963 title game]. It's not for a world championship,'' said Don Pierson, who covered the Bears and the NFL for the Tribune for 40 years. ''Don't discount those early championships. Those were just as important to those players and fans as the Super Bowl is now. So there's no way you can say it's a bigger game than the 1963 championship.''
Full story here
By David Haugh, Chicago Tribune
~If we put the best Sunday in football in the context of college basketball's Final Four, are the Bears playing the role of George Mason or Duke?
As Lovie Smith probably has informed his team 39 times since breakfast, if the NFL seeded remaining playoff teams, the Bears would be fourth behind the Packers, Steelers and Jets. For a week they can bask in being the Valparaiso Bears, considered by the rest of America as the biggest underdog left in the field. You don't need to know the difference between BoDog and Bo Rather to realize that.
So are the Bears really the Cinderella of the playoffs likely to hear the clock strike midnight around 5:30 p.m. Sunday, or the team most likely to ruin the Super Bowl party for everybody outside Chicago?
Your answer depends on whether you hear your head or heart — and you're excused if you're still listening to your liver after last weekend.
The only people pushed harder around town than the Bears coaching staff this week might be local bartenders. It's hard to know when the city's celebration over beating the Seahawks ended and when the party hyping the NFC championship game began.
It's harder still to believe a Bears team so hard to embrace stands two winnable games away from indelibly marking the 25th anniversary of the '85 Bears Super Bowl XX championship the best way possible.
Speaking of that fabled team, now that the Patriots have been eliminated, I guess we can forget about that Super Bowl rematch and wondering which team would have won 46-10 this time. Tony Eason will have to wait at least another year for his revenge.
Nothing says Julius Peppers still can't do his best Richard Dent impression beginning Sunday against the favored Packers.
Despite the odds, the Bears actually match up better against the Packers than they would against either potential Super Bowl opponent. They will have an edge in intangibles and the confidence of past success against Aaron Rodgers. As much as the Packers already have been built up as something from the Lombardi Era, consider the Bears have given up just 27 points in two games against Rodgers and Co.
The Jets would be another story. They would have the motivational advantage over the Bears of just having lost at Soldier Field. The Steelers would pose such a physical challenge defensively that if they play the Bears in what would be a throwback Super Bowl XLV, Fox should consider televising the game in black and white.
The point is, you don't need to have to be drinking heavily out of Lovie's half-full beverage glass to suggest the Bears can beat any of the three teams left in the field. It's the NFL.
Why do I wonder if the Bears have one advantage the three other teams don't? They haven't peaked. They haven't closed the gap between potential and production as much as the three remaining teams. They haven't really had the highlight of their season yet.
Can you say that about a Jets team that just ousted the Patriots? How about a Packers team that exploded for 48 points against the top-seeded Falcons in Atlanta, which veteran wide receiver Donald Driver called Green Bay's best playoff game of his long career? Or a typically tough-minded Steelers team that won seven of their last eight with another defensive masterpiece against the Ravens?
Meanwhile, in the Bears' wins over the Jets and Eagles considered high points of 2010, they gave up 60 combined points. The season's defining picture has yet to be taken.
Smith told reporters Monday the Bears played "about as good a game as we've played" in all three phases. It sounded like coach-speak from a guy who preaches about winning the turnover battle. The Bears didn't do that and still rolled. Devin Hester barely broke a sweat. Applaud the Bears for taking care of business in a must-win playoff situation in the first half before coasting home. But they have played more complete games. And still can.
Against the Seahawks, the Bears defense left itself plenty of room to improve by giving up two garbage-time touchdowns in the last three minutes. They didn't impose their will. A proud defense finished watching tape Monday knowing it had yet to put its stamp on these playoffs. What better time to start than against the hottest offense in football?
As for the Bears offense, the unit functioned at a high level overall in rolling up 437 total yards and Jay Cutler made smart decisions that dictated the outcome. The offensive line made room for Matt Forte and play-caller Mike Martz isolated mismatches in the secondary that Cutler exploited. It was good enough to beat a 10-loss team. But overwhelming or intimidating, it wasn't.
No, nobody complains after scoring 35 points. But when tight end Greg Olsen acknowledged Monday that "we're not even close to where we can be," everybody knew what he meant.
As a team, the Bears still have more room to improve than the Packers, Steelers and Jets.
That might just mean the Bears are less talented than those teams. But not knowing yet just how good the Bears can be when it all comes together also makes them potentially more dangerous.
Full story here