By Gene Wojciechowski
ESPN.com
~ARLINGTON, Texas — Revenge? Nah. Aaron Rodgers doesn't believe in that anymore.
More like celebration. Vindication. Separation.
Thanks to the Green Bay Packers' manicure-killing 31-25 victory in Super Bowl XLV on Sunday evening, Rodgers won a muscle car, a trip to Disney World and his very own era. And he wouldn't admit it, but he also won first place in the crash diet contest.
In one game's time, Rodgers lost all the weight that comes duct-taped to the shoulder pads of a Packers quarterback. You could almost see his posture instantly improve. If nothing else, his postgame smile was as wide as one of the Cowboys Stadium end zones.
Rodgers stuck it to each of those 23 NFL teams that ignored him on the longest day of his life: April 23, 2005, when the Packers chose him with the 24th pick of the draft. He says it turned out to be the best day of his life, but sorry, here's guessing Feb. 6, 2011 — when Rodgers' Packers beat the Pittsburgh Steelers — just moved ahead.
Do you know what it's like to hold your breath for nearly six years, just waiting for an MVP night like the one Rodgers had Sunday? You could hear him exhale from here to Green Bay.
With the victory and a 304-yard, three-touchdown, zero-interception performance against the best defense in the league, Rodgers put all the distance he'll ever need between himself and the ghost of Brett Favre. And to anybody who wondered whether Rodgers could win the close one or the big one, the answer is yes and yes.
Titletown USA just got another resident: a fourth Lombardi trophy. It'll be moving in just as soon as the Packers make their triumphant return to the team's Lambeau Field offices.
Depending on your football math, this latest trophy was either 14 or three years in the making. Fourteen is how many years it has been between Packers Super Bowl championships. Three is how many years it took for Rodgers to establish, once and for all, his own era.
Need proof? Just look at his smudge marks on that silver Lombardi trophy.
"Brett Favre is a great quarterback for the Green Bay Packers," Packers coach Mike McCarthy said. "He'll be a great Packer for the rest of his life. But this is about passing the torch from one quarterback to the next, and Aaron's off to a heck of a start."
Rodgers is a Bay Area guy. He adored the San Francisco 49ers. He grew up watching the legendary Joe Montana win Super Bowls — then watching Montana's replacement, Steve Young, struggle to do the same.
Rodgers was 11 years old when Young stood on the sideline of Joe Robbie Stadium in 1995 and happily told his Niners teammates to "take the monkey off my back!" At last, Young had won his own Super Bowl.
Now Favre and Rodgers have the same number of Lombardi trophy moments. But Rodgers has something Favre never had: a Super Bowl MVP award.
"I've never felt like there's been a monkey on my back," said Rodgers, who remembered that famous Young quote. "The organization stood by me, believed in me. That's what I did on the [postgame] podium — I thanked [Packers GM] Ted [Thompson] and [team president] Mark [Murphy] and [McCarthy], really, for believing in me and giving me the opportunity.
"I told Ted back in 2005 that he wouldn't be sorry with his pick. And I told him in '08 that I was going to repay their trust and get us this opportunity."
Of course, 2008 — the season Rodgers replaced Favre as the Packers' starting quarterback. Since then, Rodgers had put up numbers but not championships. The question lingered: Could he win when it mattered?
It lingers no more.
"He's got that monkey off his back as well," said Packers wide receiver Donald Driver, a 12-year veteran who was in tears after the game. "People probably doubted him. Didn't believe in him. But we all did."
As the Packers waited for the postgame trophy presentation to begin, wide receiver Greg Jennings, who caught two touchdown passes against the Steelers, kiddingly told Rodgers, "Man, I wish you could just win one playoff game for us." Ted [Thompson] and [team president] Mark [Murphy] and [McCarthy], really, for believing in me and giving me the opportunity."] "]
One? Try four — or six, if you count the last two must-win regular-season games for the Packers. Rodgers led sixth-seeded Green Bay to playoff road victories at Philadelphia, Atlanta and Chicago, and now at Cowboys Stadium. The Packers haven't played at Lambeau since Jan. 2. But they'll be back for the parade and celebration.
This time, figure on Rodgers getting the biggest Cheesehead cheer. He earned it. McCarthy's game plan centered almost exclusively on Rodgers and the passing attack. And Rodgers delivered, especially in the deciding fourth quarter.
"Obviously he's following a legend, but he's making a legacy," Jennings said. "He's putting down the foundation for his own legacy. I think that's what people are going to start to understand and kind of see that he's not Brett Favre, he's Aaron Rodgers. He's going to do things the way Aaron Rodgers does it. Brett did it his way, but he's going to do it the Aaron Rodgers way. And that's the way we got it done, with Aaron Rodgers at the helm."
And with Rodgers hoisting that trophy.
Full story HERE
By Chris Chase, Yahoo! Sports
~Just as he had after the Green Bay Packers won the NFC championship, Charles Woodson stood in the locker room and addressed his teammates. It was halftime of Super Bowl XLV and the 2009 NFL defensive player of the year had just been diagnosed with a broken collarbone, which he suffered in the second quarter of the game.
Woodson began to talk to his teammates, to try and tell them how much he wanted to win the title and how they'd need to do so without his presence on the field. One player compared it to the famous "win one for the Gipper" speech.
Only, Woodson couldn't get out more than a few words before breaking down in tears. "I couldn't do it," Woodson said after the game. "I was just too emotional."
Whatever he said appeared to work. Despite the loss of its star cornerback, Green Bay held off the Pittsburgh Steelers for a thrilling 31-25 victory in Super Bowl XLV. It's the fouth Super Bowl title in franchise history for Green Bay.
Fellow corner Tramon Williams said that the look on the Woodson's face at halftime motivated him to go out "and do what we needed to do." Other teammates echoed similar sentiments:
With And Without Woodson

Charles Woodson was a key part of Green Bay's defense all year, here's how the Packers fared with and without him Sunday against the Steelers.
| | With | Without |
| --- | --- | --- |
| Comp pct | 52.9 | 69.6 |
| TD-Int | 0-2 | 2-0 |
| Passer rtg | 31.9 | 118.0 |
| Score diff | +18 | -12 |
Woodson left game in 2nd quarter
— ESPN Stats & Information
That the Packers were able to overcome such a devastating loss was no surprise. The team lost six starters during the regular season, including key offensive threat Jermichael Finley.
Losing Woodson was the biggest injury yet. Though the secondary initially struggled in his absence, the unit righted the ship to preserve Green Bay's lead and guide the team to its first title since 1997.
Woodson appreciated the effort. While clutching the Lombardi trophy after the game, he spoke about his halftime speech. "I don't think I've cried that much since I was a kid," he said.
Full story here
Associated Press
~ARLINGTON, Texas — Aaron Rodgers at long last casts his own shadow.
All it took was a Super Bowl victory for the Green Bay Packers.Capping one of the greatest postseasons for any quarterback, Rodgers led the Pack to their first NFL championship in 14 years Sunday, 31-25 over the Pittsburgh Steelers. They reclaimed the Vince Lombardi Trophy, named for their legendary coach who won the first two Super Bowls and is making his own star turn in New York in the play named after him.
Rodgers, the game's MVP, thrilled his legion of Cheesehead fans with a spectacular six-game string that should finally erase the bitterness of the Brett Favre separation in Green Bay.
After sitting for three long years before Favre left in 2008, Rodgers is now equal with Favre in Super Bowl wins, and he extended the Packers' record of NFL titles to 13, nine before the Super Bowl era.
"You can stop it now," veteran receiver Donald Driver said. "Aaron's proved that he's one of the best, if not the best, quarterback in this game today."You could say it means this: Forget Lombardi on Broadway, Green Bay has the newest Super Bowl hit.
The favored Packers managed to overcome key injuries, building a 21-3 lead, then hung on to become only the second No. 6 seed to win the championship. Coincidentally, the 2005 Steelers were the other.
"Wow! It's a great day to be great, baby," said Greg Jennings, who caught two of Rodgers' three touchdown passes.Rodgers threw for 304 yards, including a 29-yard touchdown to Jordy Nelson, who had nine catches for 140 yards to make up for three big drops.
Rodgers found Jennings, normally his favorite target, for 21- and 8-yard scores."We've been a team that's overcome adversity all year," Jennings said, who noted injuries to Charles Woodson and Driver. "Our head captain goes down, emotional in the locker room. Our No. 1 receiver goes down, more emotions are going, flying in the locker room. But we find a way to bottle it up and exert it all out here on the field.
"Woodson was in so much pain from a broken left collarbone that he could barely address the team at halftime in the locker room. Few teams have been as resourceful as these Packers, who couldn't wait to touch the trophy honoring their greatest coach — and their title.
Several of them kissed it as Cowboys great Roger Staubach, walked through a line of green and gold, and up to the massive stage on the 50-yard line with the silver prize that is headed back to the NFL's smallest city."That is where it belongs," linebacker A.J. Hawk said. "As long as the Packers have lived, it's going to be great to bring that back."
Rodgers took the Packers to two late-season victories just to make the playoffs as a wild card. Then he guided them to wins at Philadelphia, Atlanta and archrival Chicago before his biggest achievement — against a Pittsburgh team ranked second in defense.They barely survived a sensational rally by the Steelers, who still own the most Super Bowl rings — six in eight tries. But Pittsburgh failed to get its third championship in six years, despite several valiant efforts by quarterback Ben Roethlisberger.
Roethlisberger's season began with a four-game suspension for violating the NFL's personal conduct policy. It ended with Roethlisberger standing on the sideline, his head down, hands on his hips, feeling something he never experienced: defeat in a Super Bowl. "I feel like I let the city of Pittsburgh down, the fans, my coaches and my teammates and it's not a good feeling," said Roethlisberger, who later buried his head in a towel and wept.
Not even a decidedly black-and-gold crowd, with Terrible Towels swirling throughout the $1.2 billion stadium, could make a difference for the mistake-prone Steelers, who had three turnovers to none for Green Bay.
Their two biggest defensive stars — Defensive Player of the Year safety Troy Polamalu and outside linebacker James Harrison — were virtually invisible. The offense didn't seem to miss outstanding rookie center Maurkice Pouncey, who was out with an ankle injury, but Roethlisberger only occasionally made key plays until the second half.
The biggest plays were left to Rodgers, Nick Collins with a 37-yard interception return for a TD, Jennings, Nelson, and the rest of the guys in green and gold. In the end, they gave coach Mike McCarthy his first Super Bowl victory against the team he rooted for while growing up in Pittsburgh. Besides Lombardi, Mike Holmgren won a title in 1997 with Favre.McCarthy was so certain of victory he fitted the players for championship rings on Saturday night — a move sure to go down in Super Bowl lore.
"That was just a vote of confidence for us," Woodson said. "Get fitted for your ring. I don't know when we'll get them, but it'll fit."Woodson saw the Steelers, who rallied from a 21-7 halftime hole against Baltimore three weeks ago, show the same resilience. A 37-yard catch and run by Antwaan Randle El — an almost forgotten figure during his return season with just 22 receptions — sparked a quick 77-yard drive.
Hines Ward, the 2006 Super Bowl MVP, had 39 yards on three catches during the series, including an 8-yard TD when he completely fooled Jarrett Bush.A quick defensive stop and a 50-yard drive to Rashard Mendenhall's 8-yard touchdown run made it 21-17. But with coach Mike Tomlin's team driving for perhaps its first lead of the game, Mendenhall was stripped at the Green Bay 33 by Clay Matthews — one of the few plays the All-Pro linebacker made.
The Packers recovered, and Rodgers hit Jennings for 8 yards and the winning points.Pittsburgh's last score was on a 25-yard touchdown pass to Mike Wallace and a brilliant pitchout by Roethlisberger to Randle El for a 2-point conversion, making it 28-25 with 7:34 left. Mason Crosby added a 23-yard field goal for the Packers and the Steelers had no more comebacks in them like the one Roethlisberger staged to win the Super Bowl two years ago. He missed on his last three passes in the final moments."You play to be world champions," Matthews said, "and that's what we are today."
The game capped an interesting weather week in Dallas for the teams and fans alike.Snow and ice caused traffic snarls, canceled flights and caused injuries to six people when it fell from the roof of the stadium. Sunny skies and milder temperatures returned Sunday, but issues arose with seats at the game.
A total of 1,250 temporary seats were considered unsafe hours before kickoff. Even while the teams were warming up on the field, workers were trying to fix the problems — many involving seats carrying pricetags of $800 and up.
About 400 people with tickets couldn't be seated inside the stadium and the league offered refunds of triple the ticket price. At least the Packers and Steelers put on a terrific show after Christina Aguilera botched the lyrics to the national anthem. Rodgers hit Nelson in stride with a long pass on Green Bay's first series, but the wideout let it slide through his hands.
The Pack had discovered something, though, and went back to that play for the first touchdown. Nelson beat William Gay and held on for a 7-0 lead; the Packers have scored first in all five Super Bowl appearances. Just 24 seconds later, they were ahead by 14.
Throwing from his end zone, Roethlisberger's arm was hit by backup nose tackle Howard Green.
The ball fluttered to the Pittsburgh 37, where Collins settled under it, then scooted down the right sideline and dived into the end zone for the 13th interception return for a score. Teams doing so are now 11-0 in Super Bowls.
Needing to get busy or get buried, Pittsburgh put together a 13-play drive to Shaun Suisham's 33-yard field goal. Then, after moving well again, Roethlisberger's pass was stolen from Wallace's hands by Bush at the Pittsburgh 46.
Rodgers coolly completed passes to Jennings and Nelson, James Starks ran for 12 yards as Polamalu whiffed on a tackle, then Jennings reached high and slightly behind to snag a 21-yarder over Polamalu for a 21-3 edge."I had some opportunities to make some plays," Polamalu said. "I was just off a step here or there."
Copyright by STATS LLC and The Associated Press
ESPN
~ARLINGTON, Texas — Can Ben Roethlisberger lead the Pittsburgh Steelers to their third Super Bowl title in six years (and seventh overall)? Or will Aaron Rodgers and the high-flying Packers passing game soar to Green Bay's first NFL title since the 1996 season?
How do our experts see it? The Packers are big favorites, but it's far from unanimous. The only thing we know for sure is that everyone has an opinion on the game.
John Clayton: Steelers, 30-28
As was the case in a one-point Pittsburgh victory over Green Bay in 2009, the Steelers' Super Bowl experience will give them the edge. Ben Roethlisberger will need a fourth-quarter drive to win the game.
Kevin Seifert: Packers, 27-19
The indoor conditions are ideal for a Packers team that has won five consecutive "elimination games." Aaron Rodgers is ready to take this team the rest of the way.
James Walker: Steelers, 27-24
Maurkice Pouncey's ankle injury is a concern. But I still have trouble picking against Steelers QB Ben Roethlisberger and his 10-2 postseason record.
Mike Sando: Packers, 27-13
Let's go with Green Bay on the theory that Aaron Rodgers might pull a Steve Young with a breakout Super Bowl performance, casting his own legacy after following a legend.
Matt Mosley: Steelers, 27-24
It's not Aaron Rodgers' time yet. The Steelers become a dynasty as Big Ben throws the game-winning touchdown pass to Emmanuel Sanders.
Michael Wilbon: Steelers, 28-24
As great as Tom Brady and Peyton Manning have been for an entire decade, I think "Big Ben" and Aaron Rodgers are now the two best quarterbacks playing in the league. Roethlisberger is still underrated by his peers and the people who watch football, and we're going to be reminded of that Sunday.
Greg Garber: Packers, 27-20
Aaron Rodgers and those dangerous wide receivers (and, suddenly, the hint of a running game) on a fast track: Even the Steelers' stout defense will have difficulty containing the Packers.
Rick Reilly: Packers, 24-16
Aaron Rodgers is MVP. Brett Favre is ignored. It's the equivalent of the girlfriend burning all her ex-fiance's stuff while her new boyfriend drinks his scotch.
Matt Williamson: Steelers, 23-20
This is going to be a very close game and a Super Bowl for the ages. Pittsburgh's experience on this stage will pay off heavily in the first half. The Steelers' defense will be very difficult to come back against, especially once it forces the Packers to be one-dimensional without a running game. But Aaron Rodgers will get the game to overtime, where defense will rule. After a grueling battle, Pittsburgh squeaks one out; RB Rashard Mendenhall is the game's MVP.
Jeffri Chadiha: Packers, 31-28
The Steelers have more Super Bowl experience but the Packers have the momentum. Unless Aaron Rodgers sustains an injury or Dom Capers loses his touch in mixing up his blitz packages, Green Bay is the team to beat.
More expert picks
ESPN.com writers
| Name | Score | Why? |
| --- | --- | --- |
| Tim Graham | Packers, 27-20 | I'm tying this prediction to games played against the AFC East. The Steelers were two lucky bounces from getting swept in the regular season, while the Packers shut out the Jets at the Meadowlands and nearly beat the Patriots in Gillette Stadium without Aaron Rodgers. |
| Pat Yasinskas | Packers, 24-21 | Aaron Rodgers gets his moment in the sun and Ted Thompson gets vindication. A new generation of cheeseheads says, "Brett Who?" |
| Bill Williamson | Steelers, 24-20 | These two teams, led by two of the elite QBs of our time, are going to give us a tremendous show. In a bruising battle, I say the last defense on the field wins. |
| Paul Kuharsky | Packers, 27-24 | Green Bay will do better harassing Big Ben than Pittsburgh will do bothering Aaron Rodgers, and that will be the difference. Picked the Packers in the preseason, have to see them through. |
| Elizabeth Merrill | Packers, 31-30 | I have no idea if an injured rookie center can be the razor-thin difference in a battle of two seemingly evenly matched teams. But judging from all the questions asked about Maurkice Pouncey's status this week, you'd think it was as big as losing Ben Roethlisberger. |
| Gregg Easterbrook | Packers, 23-20 | Choice reason: The Packers were my preseason pick; if they win, I can pretend to know more than I actually do. Score reason: 23-20 was the most common NFL outcome this season. |
| David Fleming | Steelers, 28-24 | The Steelers have 29 players on their roster who have won a Super Bowl. The Packers have none. If Caleb Hanie's junior high 'stache almost beat Green Bay, I shudder to think what Brett Keisel and his Chewbacca chin will do to this band of green neophytes. |
| DJ Gallo | Steelers, 23-20 | One of these teams will win behind a young, mobile quarterback and an aggressive defense led by a stout linebacking corps backed by its star defensive back. If only I knew which team. But I'm told I need to make a prediction, so I'll say … uh … Steelers? Sure. It's a guarantee. |
| Sal Paolantonio | Packers, 28-27 | The Steelers get an early lead, then Dom Capers attacks Big Ben and the Steelers' O-line can't hold. Rodgers-to-Driver TD in the final moments to win. |
| Seth Wickersham | Packers, 27-26 | After the win, Aaron Rodgers will stand on stage and say, "We won it for the players on IR." |
| Gene Wojciechowski | Packers, 24-21 | Think the defenses are almost a push. Think Rodgers gets a congratulatory postgame call from Obama and Favre. |
| Ross Tucker | Packers, 20-17 | I picked the Packers to win the Super Bowl before the season started, so there's no sense in stopping now. The dome-like conditions favor the Packers and their passing game. |
| Adam Schefter | Packers, 28-24 | Green Bay blew out Atlanta in the playoffs and at that time Aaron Rodgers commented on how much he loves playing indoors — which is where Sunday's game will be played. |
| Bill Simmons | Packers, 37-27 | I just know I'm not going against Aaron Rodgers indoors. Not this year, anyway. |
ESPN analysts
| Name | Score | Why? |
| --- | --- | --- |
| Chris Berman | Packers, 24-23 | A classic matchup, so why wouldn't we have a one-point game? Late heroics on both sides. |
| Trent Dilfer | Packers, 23-20 | The big five becomes the big six, with Aaron Rodgers finding his rightful home among the elite quarterbacks. |
| Marcellus Wiley | Steelers, 17-13 | In a close one, the Steelers win. Too much defense and too much Big Ben in the clutch! |
| Trey Wingo | Steelers, 27-24 | Big Ben makes the late throw to win it. |
| Mike Tirico | Packers, 26-20 | I think Aaron Rodgers and the receivers will be able to do enough against the Steelers' secondary. |
| Tedy Bruschi | Packers, 31-27 | Defenses dominate the first half, yet get worn down in the second. Bulk of scoring will be done with the Packers' defense finding a way to get to Ben Roethlisberger and force turnovers. |
| Herm Edwards | Packers, 27-24 | The Lombardi Trophy goes back with the team that he once coached. Why not? |
| Jon Gruden | Packers, 27-20 | Aaron Rodgers', Dom Capers' and Mike McCarthy's finest hour. |
| Matt Millen | Packers, 27-24 | The difference will be in Green Bay's offensive line, its ability to protect. |
| Darren Woodson | Packers, 31-24 | The Green Bay Packers will say to the Lombardi Trophy, "There's no place like home, Vince." |
| Tim Hasselbeck | Packers, 23-17 | On paper, I see so many areas where the matchup favors the Packers, like Clay Matthews on Flozell Adams or the Packers' ability to put five legitimate wide receivers on the field. Green Bay is set up with a great opportunity to bring home another Lombardi Trophy. |
| Hannah Storm | Steelers, 24-21 | Green Bay hasn't had to make up any kind of large deficit this season and it doesn't have the Super Bowl experience the Steelers do. The Packers also haven't faced the kind of defense they will face Sunday. |
| Kenny Mayne | Packers, 31-24 | I'm expecting big things from Aaron Rodgers, and Clay Matthews is every bit as handsome as Fabio. |
| Michelle Beadle | Packers, 17-10 | A defensive powerhouse show. Aaron Rodgers has a lot of people to prove wrong. |
| Colin Cowherd | Packers, 31-27 | Quarterback duel is a draw. Packers defense actually comes up big in this one. |
| Sean Payton | Packers, 34-20 | Aaron Rodgers has the time to throw and will spread out the Steelers' defense. |
| Steve Young | Packers, 31-27 | I expect both to play their best and if that's the case, that's the score. |
| Scott Van Pelt | Steelers, 23-17 | A low-scoring game. Teams with better records who are underdogs are 15-3 in the Super Bowl. (I might have made that up but I think I read it someplace.) |
| Ryen Russillo | Packers, 28-21 | The Steelers are so good against the run, but the Packers just don't run the football, and they're not going to here. They're going to spread the Steelers out and make Troy Polamalu as ineffective as he's been in any game because when he's in coverage, it's a problem. |
Scouts Inc.
| Name | Score | Why? |
| --- | --- | --- |
| Gary Horton | Packers, 28-24 | These are two well-coached and fundamentally sound teams that have a lot of similarities in styles. The Packers have a fast-track offense and with perfect conditions their passing game will be the difference. |
| Doug Kretz | Packers, 21-17 | The defenses from both teams will definitely show up for this game, and with the two defensive coordinators basically canceling each other out, it will come down to which QB has a better game. Aaron Rodgers will come through in the end and pull this one out for the Packers. |
| Ken Moll | Packers, 24-20 | It would appear the Packers have the more explosive offensive threats, but if they can't run the ball effectively the Steelers can load up with a variety of pressure packages to negate Green Bay's passing attack. This contest will be determined in the trenches. If the Packers' offensive line can keep Aaron Rodgers upright, Green Bay takes home the Lombardi Trophy. |
ESPN.com NFL editors
| Name | Score | Why? |
| --- | --- | --- |
| John Banks | Packers, 31-28 | Hard to believe that winning or losing a game could turn on a center. But with Maurkice Pouncey sidelined for the Steelers, the Packers get the nod in a close thriller. |
| Alex Kimball | Steelers, 27-20 | The last time these teams met, a 37-36 Steelers win in 2009, there were no turnovers. That won't happen again. A late Packers rally falls short. |
| Shawna Seed | Packers, 27-24 | Clay Matthews ends up having a bigger impact than Troy Polamalu. He may not be the MVP, but he's the M-V05-P. |
| Sheldon Spencer | Packers, 30-27 | Packers kicker Mason Crosby, whose father played at UTEP, boots one from greater El Paso to win it in the final minute. |
| Patrick Stiegman | Packers, 31-28 | Believe it not, the Packers' 13th NFL title will actually accelerate the healing process among fans loyal to either Brett Favre or Aaron Rodgers. "I think I'll always be loyal to Green Bay, but I don't have to be here to be loyal." Remember who said that? Here's a hint. He said it upon leaving Green Bay in 1968, and the trophy the Packers will restore to its rightful home bears his name. |
| Scott Symmes | Packers, 26-17 | After Sunday night, Aaron Rodgers will have just as many Super Bowl titles as Brett Favre. Rodgers and Co. will spread things out and make plenty of plays against a Steelers secondary that hasn't seen anything quite like this Packers passing attack. |
By Tom Silverstein, Journal-Sentinel
~Dallas — Green Bay Packers coach Mike McCarthy never played a down of professional football.
The same is true of defensive coordinator Dom Capers.
But scroll down the list of names on the Packers' offensive and defensive staffs and they're filled with former NFL and CFL players.
There are nine total former pros, five on offense, three on defense and one on special teams. The only other team who competed during the 2010 season with as many ex-pros on the coaching staff was the San Francisco 49ers, who have since dismissed their staff.
On offense, the Packers have running backs coach Edgar Bennett, offensive line coaches James Campen and Jerry Fontenot, quarterbacks coach Tom Clements and receivers coach Jimmy Robinson.
On defense, it's linebacker coaches Winston Moss and Kevin Greene and safeties coach Darren Perry.
On special teams, it's assistant Chad Morton.
There is no rule that says the best coaches are former NFL players. If there were, McCarthy and Capers – and Bill Belichick, for that matter – wouldn't be where they are.
But McCarthy has tapped the pro ranks for vital position coaching jobs and it has produced results. It could be a reason why the Packers have been so good at incorporating young players into their regular rotation on the way to Super Bowl XLV.
"If you're coaching the position you played, you know what it's like, you knew what you had to do to be successful," said Clements, who is in the CFL Hall of Fame. "You know tricks of the trade, you know what they're going through, all those things factor in. I think it's helpful. It's not mandatory but it's helpful."
Most of the coaches think the No. 1 advantage of being a pro is the credibility factor. Often times, young players come in with their own ideas of how to do things and if the guy trying to get them to do it his way doesn't have the respect, it can be an uphill battle.
Take Robinson, for instance.
If you looked at him, you would bet that he was a chemistry professor, not a former New York Giants wide receiver. He stands just 5-foot-9 and was listed at 170 pounds during his career, but he played five seasons, caught 85 passes and averaged 16.9 yards per reception.
His claim to fame is being the first player to catch a touchdown in old Giants Stadium.
When he stands among the likes of Greg Jennings, Donald Driver, James Jones and Jordy Nelson, he has to have their respect. Most of them didn't know much about his past until they saw the pictures of him in a Giants uniform in his basement.
"I think it helps; from the outset it helps credibility-wise, you were good enough to have played on this level, so you kind of know what they're going through a little bit," Robinson said. "I think it helps."
In the case of Bennett, the players can't help but know he played the game because he did it with the Packers from 1992-'96 and has a Super Bowl ring that he flashes quite often. There's a little bit of psychology involved in that; when Bennett tells his players they've got to work a little harder, they know it's coming from a guy who did his entire career.
"He has a lot of knowledge of the game, he's been in two Super Bowls and he'll let you know that," running back Brandon Jackson said. "It's also hard when you're out there on the field and do something wrong. He's on you hard, but it's for the good.
"He's been there before. He's always going to let you know that he's been there before, that if you just take coaching everything will work out."
In the case of Greene and Moss, there's no mistaking the fact they played professional football. Greene ranks third all-time in sacks and is a regular on classic highlight tapes because of his flamboyant style.
Moss still looks like he could play linebacker for the Oakland Raiders or Seattle Seahawks or Tampa Bay Buccaneers and when a recent "30-for-30" segment on ESPN highlighted the flamboyant 1980s Miami Hurricanes, for whom he played, his credibility rose another level.
"Doing this for 23 years, there's a lot of things I can relate to from being a player," Moss said. "It's benefited me from a player's standpoint where it's, 'Hey, this is how it's going to happen.' It's not about that great player saying, 'Hey listen, I did it this way and you need to do it this way because I did it that way.
"Usually when you try to beat down that message, sometimes it doesn't connect. Sometimes it does."
If there is an instance where telling a player how you did it can be beneficial, it's probably Greene. Many 3-4 outside linebackers are similarly built and have one main goal in their career: sack the quarterback.
Greene became a coach because the passion of the game hadn't left his system completely and he needed to fulfill that void. After a break from playing the game, he served several internships and then decided to jump in feet first with the Packers.
"You're coaching your kids with the fundamentals and techniques that you played and were successful with for years," Greene said. "That's why I'm teaching my kids what I used to make me the player I was.
"When they learn it and implement it and they're successful at it, they like it, because being successful is addictive, you want to do it more and more. And I think that's the reward as coaches."
On occasion, the coaches pull out a tape or two to show their players how they played the game, but most say it's done for fun. Sometimes the players figure their coach played in the days of leather helmets.
"You get to the clips and the old Houston Astrodome is up there and they see the old Astroturf and they're like, 'Where are you guys playing that game,'" Perry said. "What are you guys playing on? That's probably the most amusing thing about the whole deal."
***
Professional grade
There are more than a few players who have benefited from the guidance of a former-NFL-player-turned-assistant-coach. Here are three examples that have yielded great results for the Green Bay Packers.
RBs coach Edgar Bennett and RB Brandon Jackson
The former Packers running back began working on Jackson the minute he arrived in town four years ago and turned a guy who was embarrassed during a training camp pass-rushing drill into the best blocking halfback on the team. Jackson stands only 5-10 and 216 pounds, but through the use of proper technique and intense classroom work, he's quarterback Aaron Rodgers' personal protector on third downs.
Jackson: "Oh, man, there was a lot of hard times, especially as a rookie. He used to tell me, 'Whenever you're ready to give up just say, 'No mas.' I always had it in the back of my head, and I'm just like, 'No, I can't say that, I can't say that. I won't quit, I won't give up.' Everyday I used to tell him, 'I'm not a quitter, I'm not going to give up.'"
LBs coach Kevin Greene and LB Clay Matthews
When he came to the Packers as a first-round pick in '09, Matthews had some natural ability that almost guaranteed he'd be successful. He plays to the whistle, uses his hands well and runs like the wind. It was up to Greene to harness all that talent and make him a great player. Matthews had 10 sacks as a rookie and 13.5 this year, missing out on 2010 defensive player of the year by two votes.
Matthews: "There's the fact that he's not just an Xs and Os guy. He's been in this league for numerous years, and he excelled at the position in which I play, so he's able to directly influence my game. I can pick up things from him with everything he teaches me. I've had some great coaches in my time and he's only going to continue to help me in my development, so, yes, he's helped me tremendously."
Assistant special teams coach Chad Morton and CB Jarrett Bush
After last season, Bush needed a makeover. He committed too many penalties, made too many mental mistakes and didn't play up to his abilities. Enter Morton, a former returner and position player on special teams. He recognized Bush's talents and worked with him all off-season on improving his game. Bush had the best year of career this season.
Bush: "Man, he's been a stickler on me all season. It's helped me. Him and 'Slo' (special teams coach Shawn Slocum) have helped me tremendously. He's stayed on me about penalties and do's and don'ts. Chad has told me a lot of things about special teams, what the returner is looking for and things like that, how to play kickoffs and avoid blocks. I feel like I've had extreme success with him. Being a former player, I think it helps. He understands the game."
Full story HERE
By Greg Garber, ESPN
~ST. FRANCIS, Wis. — The guy from the phone company had to install two extra lines last week just to keep up with the demand. The work force at Foamation, Inc., was doubled, to 20, with three shifts, and the UPS and FedEx trucks were backed up to the loading docks pretty much 24/7.
Ralph Bruno — a thoughtful, angular man dressed in green and yellow — is deliriously happy, from both a fan's and an accountant's perspective, that his Green Bay Packers are playing in Super Bowl XLV. The problem is, things at his modest factory a few miles south of Milwaukee are getting just a tad squirrely.
"We've had to ration the cheese," Bruno says sadly, shaking his head. "We're trying to take care of our best customers, but it hasn't been easy."
Twenty-four years ago, Bruno, wielding a double-edged turkey slicer and a dream, created the first Cheesehead. After fortifying his courage with a few beers in the parking lot, he wore the cheddar-yellow, wedged-shaped headpiece into County Stadium for a Brewers game. More than anyone on earth, Bruno has helped turn what was once a derogatory term for Wisconsinites (said to be coined by folks in Illinois) into a source of unabashed pride. The ultimate head cheese has been seen all around Dallas and Forth Worth this week, an in-your-face shout-out to all those snide Bears fans back in Illinois.
The Steelers have their Terrible Towel, of course, but guess where it's manufactured? In Baraboo, Wis., naturally, by Packers fans.
The classic Cheesehead — which isn't licensed by the NFL — weighs about a pound, has 25 depressions or "holes" and measures about 14 inches on each side. A large will run you $20, with the medium $13 and small $11. But those are catalog prices; like game tickets in Texas, by the weekend scalpers could send Cheesehead prices soaring to double or triple their face value.
The Foamation factory store, in a quiet neighborhood of condos and across from a park, isn't advertised anywhere. But after a local news story last week, fans drove through substantial snow and carried out a dizzying array of Cheesehead products by the armload.
Bruno and his staff were exceedingly patient while an ESPN crew spent several hours on-site filming the harried operation. As they packed up, Bruno asked a favor.
"You guys are heading downtown?" he began tentatively. "Would you mind running a few boxes over to the Wisconsin Cheese Mart?"
Startling sophistication
Daryn Colledge, the Packers' guard, was born in Fairbanks, Alaska, and played at North Pole High School. Somehow, despite that relatively cheese-free environment, he developed an appreciation.
"I love all cheeses," the 308-pound offensive lineman admitted. "That's probably why my shirts look so bad on the weekends. The aged cheddar's one of my favorites, and I tend to find it at every restaurant. I'm known as the guy on O-Line dinner night who orders the cheese plate. Little blocks of cheese, nicely prepared, fruit, dates, a little bit of salami on the side.
"We're much more sophisticated than we look."
A least when it comes to cheese. Last week, in an interview room under Lambeau Field, an ESPN camera crew treated Packers players to a variety of samples from Henning's Wisconsin Cheese in nearby Kiel. No aged cheddar for wide receiver Donald Driver — he hankers for something more basic.
"And why I say this," he explained, "is because this is the greatest country in the world, America. I've always loved American cheese. It's going to melt, it's going to come off good, and if you mix it with a nice piece of ham and bread you got you a good meal — and some potato chips.
"Sometimes I just eat cheese just to be eating cheese."
When Driver was drafted in 1999, he saw his first Cheesehead waking through the airport in Green Bay. It was a picture of the wrestler, Goldberg, who was smiling and wearing the standard badge of the Packers fan.
"Now you see people wearing Cheeseheads all the time," Driver said. "I think the fans' love is exactly what the organization stands for with the tradition behind that. They don't have a problem with showing their character. That's the biggest thing, your character, because if you don't have a problem wearing the Cheesehead, then no one else has a problem with you."
Said cornerback Charles Woodson: "I don't think I could live if there's no cheese. I'm literally a Cheesehead.
"If we win the Super Bowl, I'll wear one. I'll wear it as long as they want me to. As long as you put champion on the side of it."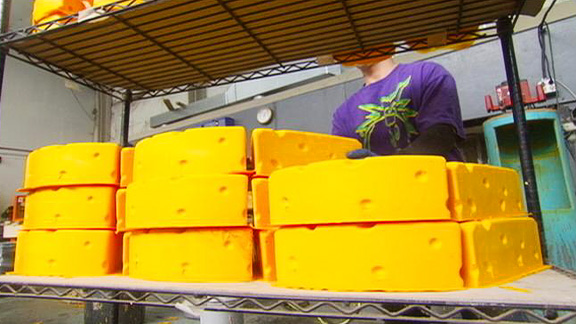 These Cheeseheads are flying off the rack during Super Bowl week.
Creating a market
Like so many of history's "Eureka!" moments, the birth of the Cheesehead was largely a random event.
Bruno, who spent five years as an apprentice pattern-maker, was reupholstering his mother's couch one day in 1987 when the idea first flashed through his brain. He was proud of his Wisconsin roots and, hey, he liked cheese, so why not? He deftly carved a wedge out of some leftover polyurethane foam, then crafted a number of fairly convincing faux holes with his sister's wood burner. When the smoke got too thick, his mother chased him out of the house.
After the cheddar-yellow paint had dried overnight, the Cheesehead's first public appearance was in the parking lot at a Brewers-White Sox game. Note the Chicago subtext; Bruno had read some of the Chicago newspapers, which he said referred to the Brewers and their "Cheesehead" fans.
"I pull it out of my brown paper bag, and I put it on, and all my baseball rotisserie buddies give me this look of horror and kind of scatter out of view," Bruno remembered. "But a girl comes running up and asks me, 'Can I try that on? Can I see that?' I hand it to her and all of a sudden, next thing you know, I can't get the hat back from my buddies."
Brewers outfielder Rick Manning was photographed in the dugout by the Milwaukee Journal Sentinel wearing a Cheesehead and that sparked local interest. Bruno quit his $18.75-per-hour job and began to attend sporting events with a trash bag full of homemade Cheeseheads. People, of couse, ate them up.
"I just had to put something on my head that said, 'Yeah, I am a Cheesehead,' " Bruno said. "It was like charting new land. There was nothing like that out there."
Bruno owns the trademark on Cheeseheads, which are still made one at a time in Bruno's factory. The ingredients are a proprietary secret, but basically liquid polyurethane is mixed with a hardening agent and blended briefly. The two chemicals react and reach a temperature of 125 degrees before being poured into a mold. Four minutes later, the Cheesehead emerges, the same orange-yellow color of American cheese so many of us ate growing up.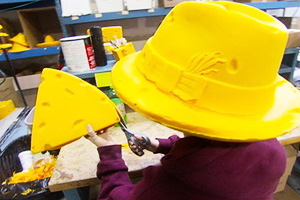 Wearing a cheese fedora, a worker "trims the fat" off a Cheesehead.
Bruno's vision, purists are at pains to point out, is actually a compilation of three cheeses, borrowing its shape (one-sixth of a wheel) from Gouda, color from cheddar and holes from Swiss.
While the Cheesehead is the flagship item in Bruno's empire, the hole-riddled cowboy hat is the second-most popular item — and expected to be the runaway best-seller this week in Texas. You can also purchase a cheese sombrero, fez, crown, bowtie, football, beer cozy, as well as the newest items, cheese earmuffs and the Vince Lombardi-influenced fedora.
Considering, the enormity of the invention — this is, after all, the Midwest equivalent of Edison's lightbulb or Bell's telephone — you might expect to find the original Cheesehead in the Smithsonian, or at least the Pro Football Hall of Fame. Actually, it is wrapped in a white plastic bag in Bruno's hall closet.
Last week, he brought it into work, where most employees saw it for the first time. It has held up remarkably well. The holes are a little crude where the foam was burned and you've probably seen the pale yellow color in exposed seat cushions. Bruno posed with it proudly.
"Cheese is comfort food," Bruno said, smiling. "It's like glue that holds everything together."
Curious … and kind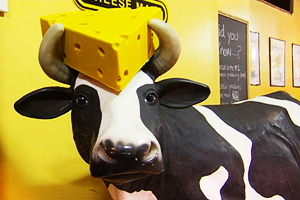 Only at the Wisconsin Dairy Mart would you find a cow statue adorned with a Cheesehead.
Sixty-two years ago, Carl and Garnet Pagel started a farm about 20 miles east of Green Bay, on the edge of Lake Michigan in Kewaunee. They had some chickens and pigs and eight cows.
Today, Pagel's Ponderosa Dairy is the largest family-owned dairy in Wisconsin, with 4,600 cows. Last week, 400 of them were lined up in one of John Pagel's barns, which is the length of three football fields. While the cows were munching on a home-grown mixture of corn, alfalfa, soybean and hay, vapor streamed in plumes from their nostrils, reminiscent of those terrific NFL Films shots of the Packers on the sideline at Lambeau Field.
"It all starts with the cow," said John Pagel, who took over the farm from his parents in 1980. "One-hundred percent of our milk goes to make cheese."
Perhaps that's why the largest image on Wisconsin's commemorative quarter coined in 2004 is the head of a cow, one of about 1.2 million statewide. In a poignant before-and-after juxtaposition, its nose is almost touching a wheel of cheese. Cows aren't particularly smart, but they are curious and kind. And, in America's Dairyland, they are milk machines.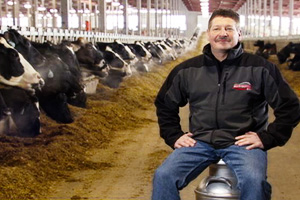 I love cheese," says John Pagel, who runs the largest family-owned dairy in Wisconsin.
Pagel's cows eat about 115 pounds of feed each day and drink 35 gallons of water. They are milked three times a day and produce about 10 gallons of milk. The logistics are daunting, but a spectacular cow carousel makes it possible. Seventy-two animals are milked simultaneously; they wait their turn to be hooked up to automatic pumps, then obediently step off when the eight-minute ride is over and their load is lightened. Six tankers, carrying 6,000 gallons each, leave each day from Ponderosa (named for the ranch in the old television show "Bonanza") headed for Saputo Cheese in Black Creek, destined to become mozzarella or provolone atop your pizza.
There is, for the visitor, an overwhelming stench of, well, cow byproducts. This, too, is dispatched with ruthless efficiency. The methane digester converts manure into enough electricity to power the sprawling farm, as well as 800 homes in the community.
"I love cheese," Pagel said, with feeling. "I had cheese on my egg sandwich this morning, and we might have a cheeseburger for lunch. Tonight for supper, we'll have a little wine and cheese.
"People don't know this, but the No. 1 eating-cheese-day is Super Bowl Sunday. Especially this Super Bowl Sunday."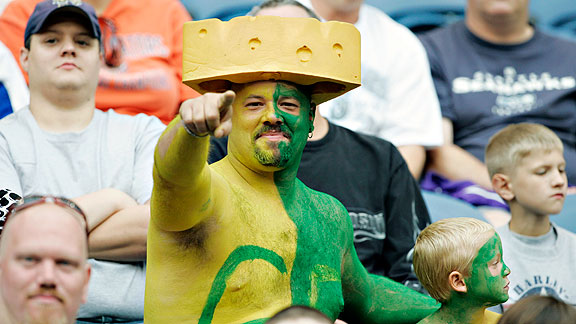 Every good Packers fan knows that most of the body's heat escapes through the head.
A real life-saver
Frank Emmert, Jr., of Superior, is a Wisconsin folk hero and to this day, cynics suspect, an urban legend.
On Thanksgiving weekend in 1995, Emmert attended the Packers' victory over the Browns, then flew home from Cleveland a week later with his flight instructor, Baron Bryan. The weather was bad, and they were low on fuel, but they decided to take their four-seat Skyhawk Cessna 172 on a direct route over Lake Michigan.
"The clouds split and, before you know it, we were icing up really bad," Emmert remembered. "One thing led to another, and we lost our engine. So we did what our training taught, flew it dead ahead and took out all the trees. You try to hit the tops of the trees, they release energy.
"I lost my right wing, saw the trees coming down. You don't want to hit the panel or the windshield. So, that's when I assumed the position."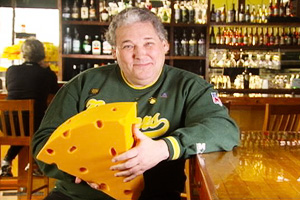 The FAA credited a Cheesehead for saving Frank Emmert Jr.'s life.
That's when Emmert, sitting in the passenger seat, bent forward and pulled the Cheesehead, which he had been using as a pillow, over his face. The plane cart-wheeled a few times then quickly disintegrated, leaving a debris field of more than 100 yards.
The Federal Aviation Administration photographs are harrowing. The only item visibly intact is Emmert's bloodied Cheesehead. The impact shattered his right ankle and left his body covered with bone-deep cuts and scratches. His head, miraculously, was unscathed. Emmert, a jovial man who is prone to the bad pun, and Bryan, who wasn't seriously injured, wound up in St. Michael's Hospital in Stevens Point.
"The FAA are the ones who credited [the Cheesehead] for saving my life," Emmert said. "They said I might never walk again."
He wound up telling his saved-by-a-Cheesehead story to Jay Leno on "The Tonight Show" — David Letterman was steamed — and to Geraldo Rivera. Sales of Cheeseheads soared. When the Packers won Super Bowl XXXI a year later, Bruno's business exploded.
"A lot of people thought it was a publicity stunt by Foamation," Emmert said. "But I didn't know the Cheeseheads back then."
He does now. Emmert, in a delicious stroke of karma, is still doing his part to promote sales. If you see the Foamation cheesehead van driving around Dallas this week, Frank is the guy behind the wheel.
The moral of the story?
"Everything," Emmert said, laughing, "is better with cheese on top."
International reputation
Roger Krohn, master cheesemaker (that's what it says on his business card), still gets very excited when the subject comes up, which is quite often.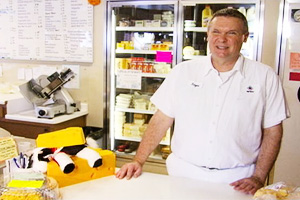 Roger Krohn, master cheesemaker, is also one of the Packers' 112,105 shareholders.
"We take in approximately 1.4 million pounds of milk a day at this plant," he said. "We turn that into about 120,000 pounds of mozzarella every day. That's enough to make 120,000 pizzas every day."
Krohn, whose father oversaw a small cheddar plant beginning in 1960, is the quality assurance manager at Trega Foods in Luxemburg. Wearing a white lab coat and hairnet to match, he takes a camera crew through a comprehensive tour, stopping at one point to extol the many virtues of cheese curds. Krohn is a veritable encyclopedia of cheese knowledge. Did you know:
Wisconsin leads the nation in cheese production, at about 25 percent, a total of about 2.5 billion pounds.
Some 92 percent of Wisconsin's milk goes into cheese-making, at 138 facilities, with more than 600 varieties. It takes 10 pounds of milk (more than a gallon), to make a pound of cheese.
The average American eats an average of 36 pounds of cheese each year — still a good distance behind most European nations.
And there's quality to go along with all that quantity.
"We have a reputation for fine cheeses," said Krohn, whose many award-winning medals can be seen in the factory store. "Wisconsin continues to dominate worldwide competitions, no matter where we are or where the judges are from."
Krohn isn't merely a Green Bay Packers fan, he is a part-owner with four shares. The Packers, the only non-profit, community-owned franchise in all of American major-league sports, have 112,015 shareholders, representing more than 4.75 million shares.
"That's what's unique about Wisconsin and the way the Packers organization is set up," Krohn said. "There is no one owner sitting in a box that cameras pan to and show. It's everybody sitting there. They are owned by the people.
"If you travel and you say you're from Wisconsin, they say, 'Ah, you're a Cheesehead.' Most people are proud to say that."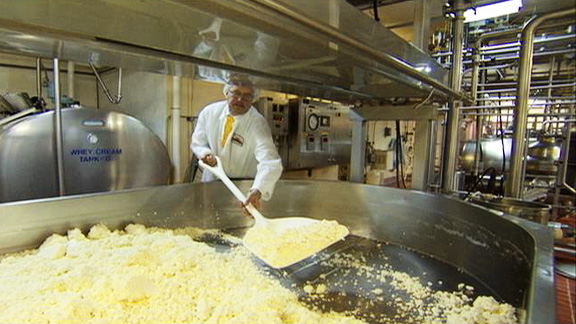 ESPN.com senior writer Greg Garber gets into the true Wisconsin experience by making cheese curds.
Cheese=happiness
Transportation Security Administration worker: Do you have any sharp objects in that bag?
Traveler: Uh, no, I don't think so.
TSA worker (coyly): Are you sure? Maybe some … cheddar?
Traveler (wincing): Ohhh.
Even the cheese humor, inflicted regularly at Milwaukee's General Mitchell International Airport, is on the dry side. Ken McNulty, owner of the Wisconsin Cheese Mart, is another example.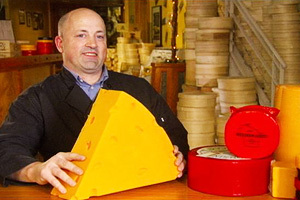 Mark JamesKen McNulty is happy to tell you that eating cheese will improve your mood.
McNulty's expansive shop is in downtown Milwaukee, right across from Mader's, the famous German restaurant where the schnitzel and spaetzle are superb. He pours a glass of zinfandel from Sonoma on the butcher block bar and slides over a plate of cheddar, aged for 11 years.
"A nice fruity zinfandel, with a strong, acidic cheddar," he said, closing his eyes and savoring. "It's an amazing combination."
Indeed it is. The flavors fairly pop on your tongue. McNulty likens Wisconsin's burgeoning cheese industry — the boutique outfits are bringing back some of Europe's more obscure bacterial strains — to Napa Valley's wine culture 30 or 40 years ago.
Invariably, cheese seems to make people happy. According to McNulty, there is a scientific reason for this.
"It produces amino acids that increase serotonin in your brain," he said. "So it actually gives us the happiness factor, just like dark chocolate."
That one-pound wedge of faux cheese, he said, also has a chemical effect.
"When you put the Cheesehead on you're a different kind of person," McNulty explained. "You're not that mild-mannered businessman or woman you were all week long. You're a character, just into the moment."
Ralph Bruno has shipped Cheeseheads to all 50 states and 30 countries. He has received photos of folks wearing them in places like the Arctic Circle, and in Africa, on the head of a tribal chief. He says the plant in St. Francis produces about 100,000 pieces per year, which would stretch 300 miles, all the way from Green Bay down to Monroe, if placed end to end.
All from a piece of his mother's couch.
"I try not to think about things like that," Bruno said, "because I might wake up. It is really like something you see on TV."
Bruno won't be attending Super Bowl XLV. He's staying behind to build the inventory should the Packers win.
John Pagel, the dairy impresario, already has tickets and is headed down to Dallas on Friday. He's got a Packers shrine in his conference room, including signed jerseys and helmets from Brett Favre and, going even further back, Bart Starr. He will wear his Cheesehead proudly.
"When you grow up in Wisconsin being a Packers fan, it's like a religion," Pagel said. "There's nothing more important on a Sunday — besides church — than the Packers.
"What's funny is that Bears fans that are sitting in their living rooms and watching now, are going to be eating the cheese that we make," Pagel said. "They'll be watching the Packers win the Super Bowl."
By the professor John Clayton, ESPN
~ Close to a week of Super Bowl hype hasn't changed anything: The No. 6 playoff seed that has only two players with Super Bowl experience remains a 2½-point favorite over an experienced No. 2 seed filled with veterans who own two Super Bowl rings.
Plenty of other things don't make sense in Super Bowl XLV.
• The Pittsburgh Steelers and Green Bay Packers, participants in this Super Bowl, last met during the 2009 regular season. Both were ranked among the NFL's top five defensive teams, but they played a 37-36 shootout that the Steelers won at Heinz Field — a game in which Ben Roethlisberger and Aaron Rodgers combined for 886 yards of passing offense.
• Jerry Jones' plush new Cowboys Stadium, arguably the most lavish one constructed, is built next to a Walmart and a short jog from a Ross Dress For Less.
• Because of a once-in-two-decades cold spell, the Packers and Steelers, along with more than 5,000 credentialed media members, are experiencing their version of the Ice Bowl. The temperature in Dallas on Tuesday was lower than it was in Green Bay, at least for one day. It has been colder all week than it has been in Pittsburgh, and ice on the roads won't melt until the weekend. The Dallas-Fort Worth area has mounds of salt to spice up margaritas, but no one in North Texas can put in a to-go order on rock salt to melt the ice.
1. Take the over: The Steelers rank second in the NFL on defense. The Packers rank fifth. But based on last year's matchup between these two, it's hard to imagine a low-scoring game. Oddsmakers put the over/under at 44½. Because both teams use basically the same schemes, the chances of big plays abound. Packers defensive coordinator Dom Capers and Steelers defensive coordinator Dick LeBeau installed the Steelers' "Blitzburgh" defense with Bill Cowher in 1992. The Packers hired Capers to install that same 3-4 scheme in 2009. Both are high-risk, high-reward schemes that gamble extra rushers to sack the quarterback or create turnovers. Roethlisberger and Rodgers see those defenses every day in practice, so they won't be surprised by anything and will have the opportunity to make big offensive plays. The teams put up 973 yards of offense combined in their last meeting.
2. Differences from the 2009 meeting: The Steelers' defense was vulnerable to Rodgers in 2009 because safety Troy Polamalu didn't play. History shows that Polamalu's presence shaves a touchdown per game off the Steelers' defensive stats, and the 2010 NFL Defensive Player of the Year will do his best to confuse Rodgers by the way he lines up and rushes. Although cornerback might not be a strength position for the Steelers, they brought back Bryant McFadden, whom they had let go in free agency in 2009, and now have three experienced cornerback starters — Ike Taylor, McFadden and William Gay. For the Packers, Tramon Williams, a Pro Bowl cornerback, and Sam Shields upgrade a 2009 secondary in which Jarrett Bush was torched at cornerback. On offense, though, the Packers are missing two significant players who were not injured for last year's contest — tight end Jermichael Finley and running back Ryan Grant.
3. Dome-field advantage: Some say that the Packers' passing offense offers some of the excitement of the Dick Vermeil-Mike Martz St. Louis Rams, once billed "The Greatest Show on Turf." The Steelers must expect Rodgers and his receivers to be even more dangerous when playing indoors. During his career, Rodgers completes 66.8 percent of his passes, averages 8.62 yards an attempt, gets 265 yards a game and 1.8 touchdown passes a game when playing indoors. The key stat is he has only five interceptions in 10 dome games. Outdoors, Rodgers averages 3 percent fewer completions and almost a yard per throw less, and he has 27 interceptions in 44 games.
4. The Pouncey factor: Center Maurkice Pouncey, a Pro Bowler in his first NFL season, is expected to miss Super Bowl XLV with a high-ankle sprain. His replacement, Doug Legursky, handled the situation adequately during most of the AFC Championship Game. The good news for the Steelers is they have had two weeks to prepare Legursky and make sure his center-quarterback exchanges with Roethlisberger are smooth. They also have had time to scheme for the problems he will have with Packers nose tackle B.J. Raji, who is becoming one of the most dominating nose tackles in football. Expect the Steelers to run less into the middle of the field and maybe try more rollouts with Roethlisberger to protect him against blitzes over the center.
5. The "big five" strategy: Packers coach Mike McCarthy knows the importance of trying to establish the run, but he knows that running the football will be hard against the Steelers. That's why McCarthy's "big five" receiver package could be the key to the game. The Patriots and Ravens were at the forefront of using three-or-more-receiver sets to attack the Steelers' defense the past few years. The theory is simple and smart. Why run against a defense that gives up only 62.8 yards a game on the ground? Putting three or more receivers on the field forces nose tackle Casey Hampton to go to the sideline. According to ESPN Stats & Information, the Steelers have the league's second-lowest quarterback rating (69.1) when offenses use three or more receivers against them. The Packers use at least three receivers on three-quarters of their plays, and Rodgers completes 65.3 percent of his passes and has 25 touchdowns compared with nine interceptions against spread sets.
6. Dangers of the "big five": Those five-receiver formations leave Rodgers only five pass-blockers and six pass-protectors at most. They also leave him vulnerable to the blitzes of linebackers LaMarr Woodley and James Harrison. Harrison and Woodley combined for 20.5 sacks during the regular season. Packers tackles Bryan Bulaga and Chad Clifton have surrendered a combined 19.5 sacks. Woodley will go against Bulaga, who surrendered 11 sacks in 12 starts as a rookie. Rodgers' key in the spread set will be to get his passes out quickly.
7. Further protection for Rodgers: Rodgers wisely tried a new helmet that was designed to further protect his head. The helmet, although tight and uncomfortable to wear, worked well in preventing him from having a third concussion after a high hit from Bears defensive end Julius Peppers. Will it work in Super Bowl XLV? One of the scary hits from the 2009 meeting between the Steelers and Packers was a first-quarter legal shot by Woodley on Rodgers. Steelers linebackers are taught to aim high instead of launching their bodies below the belts of offensive players. Rodgers is vulnerable to a concussion, and the five-receiver set could leave him exposed to a concussion-inducing hit.
8. Improvements in Big Ben: Ben Roethlisberger has handled Super Bowl Week well. He smiles while answering every question during interview sessions. On the field, Packers defenders know they must try to aim toward Roethlisberger's right shoulder while trying to tackle him because he can use his powerful left arm to fend off potential tacklers. Roethlisberger is going for his third Super Bowl ring. If the game is close, he could be the difference-maker who could win it.
9. Punching it over: One of the problems with a five-receiver offense is that blockers have a tougher time converting goal-line runs and short-yardage plays. Steelers running back Rashard Mendenhall scored 12 touchdowns on runs inside the 5-yard line during the regular season, according to ESPN Stats & Information. Packers rookie James Starks is still learning how to be a featured back, but the Packers are just average when they need a yard or two in running situations.
10. No script for the Packers: Most teams script their first 15 offensive players. The Packers don't. McCarthy and Rodgers work on a "first idea" system in which they think about what they might do during the week and make the calls during the first quarter of games. Surprisingly, the Steelers did a better job of scoring off first drives during the regular season. They scored 27 points on opening drives, ranking 15th in the league. The Packers were tied for 18th with 23. Sometimes, it's hard to get off to fast starts offensively in Super Bowls because of the nerves and pressures of the game. The other potential problem facing Rodgers is using the Super Bowl football, which has a painted spot that often causes problems for quarterbacks. Rodgers doesn't think it will be a problem, but he can't know for sure. Roethlisberger has been through two Super Bowl games, so it shouldn't be an issue for him.
Full story HERE
By Michael Silver, Yahoo! Sports
~DALLAS – Charles Woodson vividly remembers his first day of practice as a Green Bay Packer. Challenged by numerous coaches, marginalized as a sulking veteran with unwanted attitude, the chastened cornerback and Oakland Raiders refugee felt the sting of a bad reputation that had preceded him to Titletown.
"I didn't like anybody," Woodson recalled Tuesday, shortly after concluding his media day interview session at Cowboys Stadium. "That's what I remember about that day."
That day in 2006 made quite an impression on Woodson's new teammates as well. "It was rough," one Packers starter from that season remembers. "There was this one coach in particular who was all over him, and Charles did not take it well. The coaches were treating him like a guy with a bad attitude who they wanted to break, and he played right into it. There was a whole lot of yelling."
As Woodson prepares for the second Super Bowl of his 13-year career in Sunday's matchup between the Packers and Pittsburgh Steelers, he's getting shout-outs as a positive force in the football universe from all kinds of luminaries – including NFL commissioner Roger Goodell.
"I love what he represents," Goodell said of Woodson on Wednesday. "I just think everything about what he's doing is great."
To say that Woodson's image has undergone a monumental makeover in the five years since he left the Raiders to sign a free-agent deal with the Packers is an understatement. Since arriving in Dallas, he has candidly and forcefully harkened back to the lonely two months he spent as a free agent following the '05 season – a time when only one team showed legitimate interest in the former Heisman winner and All-Pro.
"It was time to go," Woodson says of his departure from the Raiders. "Green Bay – I was there because no one else wanted to take a shot on [me]. I had a bad rap. I was a little bit of a wild child. I enjoyed myself as a young man. I guess they were tired of it. That is one of the reasons why I was out of Oakland and why nobody wanted to take a shot on me.
"There was talk about my game declining and not being the player that I was and that I had lost a step – all of that came into play when it came to finding another team."
Woodson continues: "It was kind of decided for me. Nobody wanted me coming out of Oakland. I tried to go to a few other places and tried calling a few other places to see if they wanted my services. Some teams returned calls, some didn't. Green Bay was the only team that was calling my agent and trying to set up a time for us to go there and visit Green Bay and that's how it worked out. The decision was pretty much made for me."
It's a decision for which, looking back, Woodson is eternally grateful. After a choppy beginning, the reluctant signee began to fall in line with the program in Green Bay, coming to trust coach Mike McCarthy and his assistants. Woodson scaled back his social life, got married and had a son and came to embrace the joys of a low-key existence in Titletown. He became a respected locker-room leader and is on a potential path to a spot in the Hall of Fame.
After three productive seasons, Woodson was reenergized by the arrival of defensive coordinator Dom Capers, who installed a 3-4 scheme before the 2009 season that allowed the team's top corner to be utilized in numerous ways. Once a shutdown cover man, albeit one with an uncanny physical presence and a penchant for ferocious tackling, Woodson now became a versatile defensive back who blitzed from all angles, worked the slot in nickel alignments and sometimes rotated to safety – as he did at the start of the Pack's 21-14 NFC championship game victory over the Chicago Bears.
He responded with an incredible '09 season that included nine interceptions, two sacks, three defensive touchdowns, 18 pass deflections and 74 tackles – and NFL defensive player of the year honors. While the numbers weren't as gaudy in 2010, Woodson remains a force for the league's No. 2 scoring defense as the Packers try to win their first championship in 14 years.
Not surprisingly, he loves the way Capers deploys him. "The island's fun," Woodson says, "but there's not a lot of action on the island. I like to be in the mix."
Woodson is approaching Sunday's game with a sense of urgency for numerous reasons. It's true that he may have other opportunities, given the overall youth of the Packers. At 34, he would seem to have plenty of football left – like former Steelers, 49ers and Ravens Hall of Famer Rod Woodson (no relation) and many other accomplished corners, Charles will likely extend his career by switching to safety.
With fourth-year cornerback Tramon Williams blossoming into one of the league's best cover men and ultra-fast rookie Sam Shields coming off a breakout performance in Chicago, Woodson can see the future: "I told our cornerbacks coach, Joe Whitt, that whenever I move to safety, however fast that happens will depend on Sam Shields and when he's ready to be a full-time corner. That's when I'll make that move."
Yet Woodson also understands the fleeting nature of NFL success – and how an opportunity can be stolen or squandered. He speaks from experience.
A star coming out of college, Woodson walked into a talent-rich Oakland locker room and shone from the start. By the 2001 season the Jon Gruden-coached Raiders were poised to win a championship and appeared to clinch a divisional-round playoff game against the Patriots – in the infamous Snow Bowl in Foxborough – when Woodson blitzed off the blind side and dislodged the ball from former Michigan teammate Tom Brady.
The recovery by Raiders linebacker Greg Biekert would have essentially ended the game, but the seldom-applied Tuck Rule allowed New England to retain possession on a replay reversal, and NFL history was irrevocably altered. The Patriots went on to win the first of three Super Bowls, Brady became a mega-star and Gruden left to coach the Tampa Bay Buccaneers.
Woodson still reflects back upon the play and the Super Bowl that might have been.
"I think we had that game stolen from us," he says. "There's no guarantee we'd have gone on to win the Super Bowl. But we had an opportunity stolen from us. It's crazy. I think about it from time to time. The hard part is, it wasn't something that happened on the field. It was an interpretation. That's a hard way to lose.
"I just read a couple of weeks ago that there may be some thought to review that rule again and maybe throw it out. If they do that I will be a happy man."
Woodson's first Super Bowl was a forgettable experience as the Raiders were blown out in 2003.
(Al Bello/Getty Images)
Woodson also remembers how the Raiders, after reaching the following year's Super Bowl under Bill Callahan, got blown out by Gruden's Bucs. Woodson, who had an interception in the game, played despite having suffered a broken leg weeks earlier. Even more crippling to the Raiders was center Barret Robbins' Tijuana party binge two days before the game that caused him to be sent home, disrupting Oakland's offensive scheme and preparation.
"I just wish I didn't have to go into that game with a broken leg," Woodson says. "All of us on that team wish we would have had another week to prepare for some of the distractions that happened that week. … Barret Robbins not making it to the team function. It had a great effect on the team. He was our starting center. He was the captain of that line. It altered everything, especially for our offense. We didn't recover from it and ultimately lost the game.
"I remember being on our way to a meeting and there were whispers about something happening, but nobody really knew what was going on. Then it finally got around that he hadn't made it in. Nobody knew where he was. It was just a crazy situation and something that you never expected to happen."
Back then, Woodson was a party animal in his own right. Now he's a respected team leader who's in the perfect place at the perfect stage of his career – and he wouldn't have it any other way.
"You go into situations a lot not knowing what that situation can become," Woodson says. "You go in there kind of blindfolded. It opened up my eyes knowing that you have to be a little patient with a situation because it is probably the best situation you can be in. That's what Green Bay was for me. I didn't want to go there, but I ended up there. It turned out to be a really great move for myself.
"Both myself and the community were apprehensive at first. They didn't know what they were getting from Oakland. It took both parties some time to get used to each other. What happened is people just really watched me. They watched the way I played the game and fell in love with the way that I played the game. At that point we both grew on each other."
And now? Well, as his coaches and teammates can attest, Woodson pretty much likes everybody.
Full story HERE
By Tom Pedulla, USA Today
~IRVING, Texas — When you think NFL wide receivers, you think egos ranging from large to massive.
When you think Green Bay Packers wide receivers, you think egos cast aside in the interest of massive production.
"They are excellent players," says receivers coach Jimmy Robinson of his deep and tight-knit group, "but I always say they are probably better people."
Greg Jennings is the statistical leader with 76 catches for 1,265 yards and 12 touchdowns. But, after earning Pro Bowl recognition for the first time in his five seasons, he establishes a selfless tone by not necessarily regarding himself as quarterback Aaron Rodgers' primary target.
"Once the ball is in play, you're the No. 1 guy. It's whoever gets open the quickest," he says.
Injuries and the continued development of James Jones (50 receptions, 679 yards, 5 TDs) and Jordy Nelson (45 catches, 582 yards, 2 scores) led to a statistical falloff for 12th-year man Donald Driver. He pulled in 51 passes for 565 yards and four TDs, abruptly ending his string of six consecutive 1,000-yard seasons.
"You can trade a 1,000-yard season for a Super Bowl any day," he says. "I am happy to do that."
Driver, through his willingness to do whatever is necessary by absorbing the big hits in the middle of the field, has assured himself a prominent place in franchise history.
He holds the club record with 698 receptions and needs 42 yards to surpass James Lofton (9,656) in receiving yards. At this stage, he is content to expand his job description to include that of mentor.
Jennings says Driver has been important to his progress.
"For me, to have him next to me in the locker room, in the meeting room, you can sponge a lot off a guy like that, how he's done it for so long at a high level," he said.
The receivers don't always scatter in different directions once a practice or home game is over. They enjoy socializing.
"When we get together, we get together as family," Driver says. "Our kids run around and play with one another."
They love to compete in activities ranging from cards to darts to dancing. One recent activity had the receivers squaring off against their wives on the dance floor. It proved to be a mismatch.
"We thought we could shake a little bit," Driver says, "but we ended up losing."
It says everything about their competitive spirit that a rematch is planned once Super Bowl XLV is over.
"They all want that ball. They all want more. They are no different from any other receivers in that," Robinson says. "But they recognize the talent in the group and that the ball is going to be spread around."
The Packers had three receivers finish with at least 50 catches for the first time in their history.
Says Nelson, who is completing his third season, "We have faith in everyone out there."
The pressure to keep pace — and the players' varied talents leads every receiver to have a thorough understanding of every role in the passing game. They are almost interchangeable parts.
"I don't know that anybody else has a top-four group that is of starter caliber the way these guys are," says Robinson while also noting second-year man Brett Swain's potential.
Jones says the communication between receivers extends to Rodgers, especially when he is flushed from the pocket.
"We understand what he's thinking. He understands what we're thinking," Jones says. "It's tough to stop our guys when we're all on the same page."
Full story HERE
By Pat McManamon, AOL Fanhouse
~DALLAS — Green Bay is a football haven, charm oozing from every icicle and snow pile.
But even the most charming of Titletowns has its fringe elements. In 2008, quarterback Aaron Rodgers was booed in his first practices and in the first Family Night scrimmage as the team's starter.
Another individual who clearly lacks life perspective keyed Rodgers' car. Someone else wrote nasty comments on his driveway — in chalk — and somebody harassed him as he filled his car with gas, according to the Milwaukee Journal Sentinel.
Rodgers now smiles as he looks back. He admits that times were tough, but he has made it as a quarterback in the city by the Northern Bay. And just like so many other players before him, Rodgers has a chance to validate his ascension by winning a championship when he and the Packers face the Pittsburgh Steelers in Super Bowl XLV.
That would be a big step for Rodgers, but just getting here required many smaller ones, all of which were important and logical, and all of which laid out a clear path to the Super Bowl.
They started in Butte — California, not Montana — where Rodgers attended a junior college because Division I programs did not deem him worthy. There, Rodgers found himself with a unique group of people, most of whom were 10 years older than him.
"As a young 18-year-old you're trying to be the field general to guys who have kind of 'been there, done that,' " Rodgers said. "(Who) had life experience, been in the work force, been in jail, been in the military, had leaders before. Coincidentally, I also took a coaching class at the same point."
It was his first step toward his career.
Attending Butte helped Rodgers be noticed by Cal coach Jeff Tedford, who arrived to recruit a tight end and left with the quarterback who had led the team to a 10-1 record — step two. Setting records at Cal enabled him to be drafted by Green Bay, though he had to wait until the 24th pick to move forward again. Being drafted by Green Bay, though, meant that Rodgers had to wait to play. The Packers had a guy named Favre, and it wasn't until his fourth season that Rodgers took over.
"That was an important time in my career," he said of being the backup. "Just to learn the game, learn the offense, learn about defenses. Get in great shape. I think I learned about what it means to be a leader and how leading by example is the most important thing."
Step taken.
Rodgers had to earn the respect of the fans when he took over in 2008, respect that was tough to gain because of the fans' affection for Favre. It was tougher to do, Rodgers said, than working his way to the Super Bowl.
But he followed his MO, which is to wait for the opportunity and then take advantage of it. Rodgers' 4,434 yards and 103.2 passer rating in '08 were better than any Favre had produced.
Favre now is not even a blip on the Packers' radar. Rodgers merely says "that was a long time ago" when asked about backing up Favre, and shakes his head and gives a firm "no" when asked if Favre offered him advice before this Super Bowl.
Another step completed, moving beyond the shadow of No. 4.
But the team had gone just 6-10 in 2008. The next season, Rodgers turned that around to 11-5 and a playoff appearance, in part because of a vocal meeting he helped lead following a loss to Tampa Bay that dropped the Packers to 4-4. There, Rodgers learned that "conflict is good for a team. "
"There were some deep-seated emotions in that room that needed to get out — that guys were holding in," Rodgers said. "It was great. There were a lot of harsh words said, but at the end of the day, we moved on together. A lot of times when there is strife on a team it can get out in the wrong way — guys talking in the media on their own or behind the scenes, but we sat in the room as an offense and said, 'What are the main issues here?'
"Myself, Donald (Driver) and different guys spoke up and we got our issues on the table and moved forward as a team. It wasn't a divided locker room."
Green Bay lost to Arizona in overtime in the wild-card game, but Rodgers still had gotten there.
Then, before this season, Rodgers suggested to coach Mike McCarthy that pictures of the Packers former champions be placed in the meeting room, with one blank for the picture yet to be completed.
"I gave Mike (McCarthy) that idea in the offseason," he said. "He might not tell you that, but a good friend of mine who is also a professional athlete talked about how his coach motivated them in that way. I thought that would be a cool thing for us to see every day in the meeting room because we start a day off in that room. To be able to think about the entire season what we're really playing for by having that empty picture up on the wall."
McCarthy said Rodgers' most significant improvement this season has come in … leadership.
Take another step, Mr. Rodgers.
Rodgers now has brought the Packers to the Super Bowl, winning three games in a row on the road and playing extremely well in getting there. Yet Rodgers seems as unassuming as any quarterback can be. He is only a little bit flamboyant — when he dons the "championship belt" on the field — and at times almost goes under the radar as one of the top-tier quarterbacks in the league.
He said he has not overdone the preparation this week, but he also has not "been out carousing." He almost blushes when compared to the Tom Bradys of the world; he does not for a second allow anyone to compare him to past Packers greats.
The word grounded comes to mind.
Yes, it's another step on a journey.
The next step, the most important one, awaits Sunday against Pittsburgh.
Full story HERE