Giants-Packers: Judgment day for Packers' defense
By Kevin Seifert,ESPN.com
~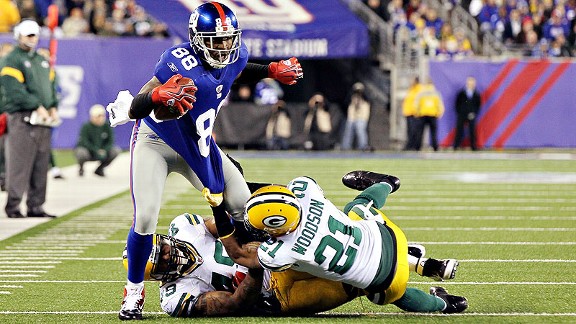 Jim McIsaac/Getty Images
Star cornerback Charles Woodson is among those to express concern about the Packers' defense.
(Note: I hope everyone is good with pushing forward on our football discussion even as the Green Bay Packers are mourning the death of a family member. I considered holding off out of respect for those impacted by the death of Michael Philbin, but in the end I think we can be respectful while also providing an outlet for those who want to read about Sunday's divisional playoff game.)
Fear is a strong word. I don't think the Green Bay Packers fear the consequences of their historically porous pass defense. They won 15 games with it during the regular season, after all. I'm not even sure they're worried about it. They discovered and have implemented the antidote throughout the past four months.

But if you're someone who likes to conceive the worst-case scenario, you don't have to think too hard.
The Packers tripped only once this season, despite giving up an NFL-record 4,796 passing yards, mostly because they intercepted a league-leading 31 passes. In the playoffs, of course, the quarterbacks are better and less prone to mistakes. The Packers could face a Pro Bowl quarterback at every step between now and Super Bowl XLVI.
The bottom line: If an elite quarterback gashes them for yards but avoids the interceptions, he could knock the Packers out of the playoffs.
To be sure, there have been all kinds of attempts to poke holes in the Packers' near-perfect season. To me, this is the one instance with merit. The Packers' only loss this season came when Kansas City Chiefs quarterback Kyle Orton threw for 299 yards with no interceptions — the only game this season the Packers didn't create at least one turnover.
First up this postseason will be the New York Giants' Eli Manning, who fell 67 yards shy of a 5,000-yard season and threw for 347 yards and three touchdowns in a Week 13 loss to the Packers. The final score was 38-35, and the Packers' scoring included linebacker Clay Matthews' interception return for a touchdown.
With the exception of a few pointed statements from cornerback Charles Woodson, the issue has mostly bubbled below the surface. But speaking late in the regular season, Woodson reiterated his concerns about the defense's aptitude for postseason football.
"Defensively we still have some problems," Woodson said after the Packers allowed 441 total yards in Week 16 against the Chicago Bears. "We just give up way too many things on a consistent basis, so we have a long way to go. … Just not playing good football at times. We've been consistently inconsistent throughout the season. It's on each man to get it done. Moving forward we have a great opportunity. … Everybody on this team, to the man, has to look within himself and just get the job done."
300-yard Games vs. Packers*
Week
Quarterback
Comp. pct.
Yards
TD
INT
Rating
Blitz pct.
1
Drew Brees
65.3
419
3
0
112.5
43.1
2
Cam Newton
60.9
432
1
3
72.0
27.8
6
Sam Bradford
64.4
328
0
1
76.9
56.3
9
Philip Rivers
56.5
385
4
3
85.9
53.2
11
Josh Freeman
73.7
342
2
2
96.6
61.5
13
Eli Manning
57.5
347
3
1
100.7
46.3
17+
Matthew Stafford
61.0
520
5
2
103.8
35.0
*Kyle Orton threw for 299 yards in Week 14
+CB Charles Woodson, LB Clay Matthews inactive
As the chart shows, the Packers allowed a 300-yard passer in nearly half their games this season. They intercepted the Carolina Panthers' Cam Newton three times to spoil a 432-yard day, for example, and held off the San Diego Chargers mostly because they intercepted Philip Rivers a career-high three times and returned two for touchdowns.
Manning, meanwhile, compiled eight 300-yard games during the regular season; the Giants were 4-4 in those games. He threw the seventh-most interceptions in the NFL, 16, but has thrown only one interception in the Giants' past three games.
Packers defensive coordinator Dom Capers has addressed the issue on almost a weekly basis this season. Speaking to Wisconsin reporters last week, Capers admitted that "we don't like" the yardage totals but added: "We've been able to win 15 games, and the reason for that, with our defensive stats the way they are, is the fact that we ended up No. 1 in the league in takeaways and No. 1 in the league in interceptions. That's something we obviously place a high priority on."
Packers' Defense Rushing
4 or Fewer, Past 2 Seasons
2010
2011
Comp pct
58.2
66.6
Yds/att
6.7
8.5
TD
12
21
Sacks
30
11
Source: ESPN Stats & Information
What has been the issue? As the second chart shows, the Packers' standard pass rush — four or less rushers — hasn't been nearly as effective as it was last season. They have given up an NFL-high 8.5 yards per attempt on those plays and managed only 11 sacks.
As a result, Capers has dramatically increased his blitz totals from last season. He elevated from a blitz on 32.8 percent of opponents' drop-backs in 2010 to 45.7 percent in 2011, the fourth-most in the NFL, according to ESPN Stats & Information. The only NFL team that affected a bigger blitz uptick this season was the Houston Texans, who changed defensive coordinators in the offseason.
I included the blitz percentages for each of the 300-yard games in the first chart; they blitzed 51.6 percent of the time on Orton's 299-yard day.
The blitz is the ultimate risk-reward proposition, and it brought the Packers 18 of their 29 sacks on the season and limited opponents to eight touchdown passes. (The Packers actually had more interceptions out of their standard rush, possibly a reflection of non-elite quarterbacks forcing the ball into coverage.)
Given his druthers, I doubt Capers wants to blitz as much as he has. In his session with reporters, he pointed to the Packers' Week 12 game against the Detroit Lions as "far more like [the way] we want to play." In that 27-15 victory, the Packers blitzed a season-low 22.4 percent of the time and limited Lions quarterback Matthew Stafford to 276 yards. None of Stafford's 32 completions went for longer than 23 yards.