By Kevin Seifert,ESPN.com
~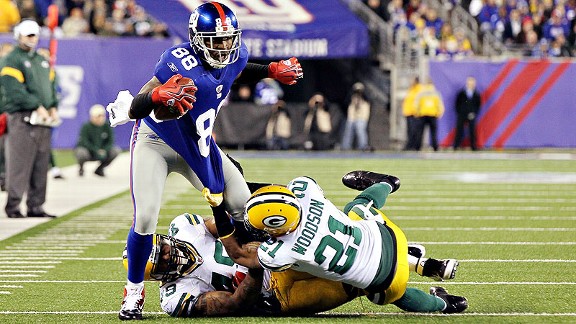 Jim McIsaac/Getty Images
Star cornerback Charles Woodson is among those to express concern about the Packers' defense.
(Note: I hope everyone is good with pushing forward on our football discussion even as the Green Bay Packers are mourning the death of a family member. I considered holding off out of respect for those impacted by the death of Michael Philbin, but in the end I think we can be respectful while also providing an outlet for those who want to read about Sunday's divisional playoff game.)
Fear is a strong word. I don't think the Green Bay Packers fear the consequences of their historically porous pass defense. They won 15 games with it during the regular season, after all. I'm not even sure they're worried about it. They discovered and have implemented the antidote throughout the past four months.

But if you're someone who likes to conceive the worst-case scenario, you don't have to think too hard.
The Packers tripped only once this season, despite giving up an NFL-record 4,796 passing yards, mostly because they intercepted a league-leading 31 passes. In the playoffs, of course, the quarterbacks are better and less prone to mistakes. The Packers could face a Pro Bowl quarterback at every step between now and Super Bowl XLVI.
The bottom line: If an elite quarterback gashes them for yards but avoids the interceptions, he could knock the Packers out of the playoffs.
To be sure, there have been all kinds of attempts to poke holes in the Packers' near-perfect season. To me, this is the one instance with merit. The Packers' only loss this season came when Kansas City Chiefs quarterback Kyle Orton threw for 299 yards with no interceptions — the only game this season the Packers didn't create at least one turnover.
First up this postseason will be the New York Giants' Eli Manning, who fell 67 yards shy of a 5,000-yard season and threw for 347 yards and three touchdowns in a Week 13 loss to the Packers. The final score was 38-35, and the Packers' scoring included linebacker Clay Matthews' interception return for a touchdown.
With the exception of a few pointed statements from cornerback Charles Woodson, the issue has mostly bubbled below the surface. But speaking late in the regular season, Woodson reiterated his concerns about the defense's aptitude for postseason football.
"Defensively we still have some problems," Woodson said after the Packers allowed 441 total yards in Week 16 against the Chicago Bears. "We just give up way too many things on a consistent basis, so we have a long way to go. … Just not playing good football at times. We've been consistently inconsistent throughout the season. It's on each man to get it done. Moving forward we have a great opportunity. … Everybody on this team, to the man, has to look within himself and just get the job done."
300-yard Games vs. Packers*
Week
Quarterback
Comp. pct.
Yards
TD
INT
Rating
Blitz pct.
1
Drew Brees
65.3
419
3
0
112.5
43.1
2
Cam Newton
60.9
432
1
3
72.0
27.8
6
Sam Bradford
64.4
328
0
1
76.9
56.3
9
Philip Rivers
56.5
385
4
3
85.9
53.2
11
Josh Freeman
73.7
342
2
2
96.6
61.5
13
Eli Manning
57.5
347
3
1
100.7
46.3
17+
Matthew Stafford
61.0
520
5
2
103.8
35.0
*Kyle Orton threw for 299 yards in Week 14
+CB Charles Woodson, LB Clay Matthews inactive
As the chart shows, the Packers allowed a 300-yard passer in nearly half their games this season. They intercepted the Carolina Panthers' Cam Newton three times to spoil a 432-yard day, for example, and held off the San Diego Chargers mostly because they intercepted Philip Rivers a career-high three times and returned two for touchdowns.
Manning, meanwhile, compiled eight 300-yard games during the regular season; the Giants were 4-4 in those games. He threw the seventh-most interceptions in the NFL, 16, but has thrown only one interception in the Giants' past three games.
Packers defensive coordinator Dom Capers has addressed the issue on almost a weekly basis this season. Speaking to Wisconsin reporters last week, Capers admitted that "we don't like" the yardage totals but added: "We've been able to win 15 games, and the reason for that, with our defensive stats the way they are, is the fact that we ended up No. 1 in the league in takeaways and No. 1 in the league in interceptions. That's something we obviously place a high priority on."
Packers' Defense Rushing
4 or Fewer, Past 2 Seasons
2010
2011
Comp pct
58.2
66.6
Yds/att
6.7
8.5
TD
12
21
Sacks
30
11
Source: ESPN Stats & Information
What has been the issue? As the second chart shows, the Packers' standard pass rush — four or less rushers — hasn't been nearly as effective as it was last season. They have given up an NFL-high 8.5 yards per attempt on those plays and managed only 11 sacks.
As a result, Capers has dramatically increased his blitz totals from last season. He elevated from a blitz on 32.8 percent of opponents' drop-backs in 2010 to 45.7 percent in 2011, the fourth-most in the NFL, according to ESPN Stats & Information. The only NFL team that affected a bigger blitz uptick this season was the Houston Texans, who changed defensive coordinators in the offseason.
I included the blitz percentages for each of the 300-yard games in the first chart; they blitzed 51.6 percent of the time on Orton's 299-yard day.
The blitz is the ultimate risk-reward proposition, and it brought the Packers 18 of their 29 sacks on the season and limited opponents to eight touchdown passes. (The Packers actually had more interceptions out of their standard rush, possibly a reflection of non-elite quarterbacks forcing the ball into coverage.)
Given his druthers, I doubt Capers wants to blitz as much as he has. In his session with reporters, he pointed to the Packers' Week 12 game against the Detroit Lions as "far more like [the way] we want to play." In that 27-15 victory, the Packers blitzed a season-low 22.4 percent of the time and limited Lions quarterback Matthew Stafford to 276 yards. None of Stafford's 32 completions went for longer than 23 yards.
By Brian E Murphy, Packers Insider senior editor
~Eli Manning's Giants will make his second career playoff start in Green Bay next Sunday, trying to go 2-0 and send the Packers into hibernation as he did four years ago against Brett Favre and those Packers in the NFC Championship game.
Packer fans still have emotional scars from that game, and frostbite perhaps if they were at that game.
The Giants are very similar today as they were then, except they are better now at wide reciever with Hakeem Nicks and Victor Cruz as the best duo the Packers defense will face.
Back in week 13, Nicks scored on both Charles Woodson and Sam Shields. Victor Cruz played at an All-Pro level the last half ot the season, and number three wide receiver Mario Manningham showed his skills with a touchdown against Atlanta in this weekend's Wildcard game. 
The Giants have a big bruiser at runningback in Brandon Jacobs. He's hurt the Packers time and time again, and is similar to Tampa Bay's LeGarrette Blount, who rambled for over 100 yards and a TD on this soft Packers defense back in November.
Ahmad Bradshaw hurt the Packers in the 2008 championship game with a back-breaking touchdown, and he's as dangerous today as he was then. He's also a good receiver out of the backfield, in the Darren Sproles mode. He's not quite as quick as Sproles is (nobody is), but he's stronger. He breaks weak tackle attempts by defensive backs.
And then there's Eli. 
He's definitely clutch, with 15 fourth quarter touchdown passes this season, which set an all-time NFL record. He's won a Super Bowl. He's won a playoff game in Lambeau Field, in the coldest of cold weather. You could not ask for a better offense than what the Giants possess, other than maybe a better right tackle. Clay Matthews will need to have a big game in order to keep Eli from carving up the Packers secondary.
On defense, the Giants boast the best defensive line in the NFL, including the Lions.
They didn't have a healthy Osi Umenyiora back in week 13, but DE Jason Pierre-Paul applied constant pressure on Rodgers, going around Marshall Newhouse all day long.  
There's also Justin Tuck, who's their version of Cullen Jenkins. He's a beast and can put pressure up the middle. Chris Canty is another talent on the defensive line. He was a high-priced free agent purchase away from their division rival Dallas a few years ago.
Their linebackers are okay, and their defensive backs are okay. They're not the best, but they're capable.
At safety, they do have Antrell Rolle, who has seen Rodgers carve him up twice before, once as an Arizona Cardinal in the 2009 wildcard game in which Rodgers put up 45 on them, and the matchup this year that the Packers won 38-35.
There is some talent back there, and Jason Webster is still there. He's the guy who picked off the gunslinger in overtime four years ago, ending the Packers season right on the brink of a Super Bowl. 
Make no mistake about it. The Packers cannot show up with their 'B' or 'C' game for this one and come out with a win.
One good thing for the Packers: #4 is not going to be throwing the game's final pass for the Packers.
By Mike Vandermause, Green Bay Press-Gazette
~2011 should go down as the greatest year in Green Bay Packers history.
How can it get any better? 
In one glorious calendar year, the Packers won a Super Bowl championship and produced an all-time best 19-1 record. 
Their starting quarterback enjoyed the finest season of any signal caller in NFL history. 
They announced contract extensions for their coach and general manager to ensure a promising future. 
They were the beneficiaries of a newly signed 10-year collective bargaining agreement between the NFL and its players union that keeps a salary cap and the draft in place and guarantees the Packers will remain prosperous and competitive despite playing in the league's smallest city. 
They began work on another expansion of Lambeau Field and raised more than $60 million to help pay for it through a wildly popular sale of team stock. 
On or off the field, the Packers possessed the Midas touch and became the envy of the league. Their biggest problem will be trying to stage an encore performance. 
Here are the top 10 Packers stories from a magical year to remember: 
1. Lombardi Trophy comes home 
The year began with a hard-fought 10-3 victory over the Chicago Bears on Jan. 2 that enabled the Packers to win a tiebreaker with two other 10-6 teams and slip into the playoffs as a No. 6 seed. They proceeded to win three consecutive road playoff games at Philadelphia, Atlanta and Chicago to set up their Super Bowl XLV triumph over Pittsburgh at Cowboys Stadium in Dallas. The Packers became just the second sixth-seeded team to capture a championship. It was the Packers' 13th overall title and fourth Super Bowl crown. 
2. Historic start to season  
The Packers burst out of the gate with an all-time team best 13-0 start this season and extended their overall winning streak to 19 games, second longest in NFL history. The Packers went 364 days without a loss. The streak finally ended on Dec. 18 at Kansas City. The Packers, who shattered the team's single-season scoring record, earned the No. 1 seed in the NFC for the first time since 1996. The only other calendar years when the Packers suffered just one loss (with no ties) were 1919 (10-1) and 1962 (14-1).
Rest of story from Vandermause here
Associated Press
~GREEN BAY, Wis. (AP) — Aaron Rodgers got to rest up for the playoffs. Somehow, the Green Bay Packers ' passing game became even more dangerous with Matt Flynn .
The backup Matt Flynn threw for a franchise-record six touchdowns, the final one to Jermichael Finley with 1:10 left, giving the Packers a 45-41 victory over the Detroit Lions in a wild regular-season finale Sunday.
With Rodgers bundled up on the sideline in cold and windy conditions at Lambeau Field, Flynn set Packers records with 480 yards passing and the six TDs. It was an ideal afternoon for the Packers (15-1), who got to rest Rodgers and several other big-name players without losing playoff momentum.
Flynn barely got the Packers past Matthew Stafford , who threw for 520 yards with five touchdowns and two interceptions for the Lions (10-6). Detroit has lost 21 straight road games to the Packers, including the postseason.
But the Lions head to the playoffs for the first time since 1999 as a wild card.
According to STATS LLC, it was the first time in NFL history opposing quarterbacks each threw for 400-plus yards and five-plus touchdowns in a game. The teams' combined 971 net yards passing broke the NFL record of 906.
Calvin Johnson had 11 catches for 244 yards and a touchdown, and Titus Young had a pair of touchdowns for the Lions.
With the afternoon off, Rodgers' season quarterback rating of 122.5 coming into the game broke Peyton Manning 's single-season mark of 121.1 set in 2004.
With NFC home-field advantage for the playoffs secured, the Packers also rested several key players with nagging injuries: including cornerback Charles Woodson , linebacker Clay Matthews , wide receiver Greg Jennings , right tackle Bryan Bulaga , running back James Starks and wide receiver Randall Cobb .
For a while, it looked like the Lions would take advantage of their absence.
With the Lions trailing 24-19 at the half, Stafford got some help from the Packers' defense in the third quarter. An unnecessary roughness penalty on outside linebacker Erik Walden and a personal foul on linebacker Desmond Bishop helped set up a 2-yard touchdown from Stafford to Young for a 26-24 lead.
Flynn answered right away, throwing a 58-yard touchdown to Nelson to give the Packers a 31-26 lead.
The Lions went back into the lead on a 5-yard touchdown throw to Kevin Smith and a 2-point conversion to tight end Tony Scheffler to put Detroit ahead 34-31.
Ndamukong Suh came up with a third-down sack on the Packers' next possession, mocking Rodgers' "title belt" celebration after dropping Flynn to the turf. Suh, of course, was suspended for two games after he stomped on Packers guard Evan Dietrich-Smith in Green Bay's win on Thanksgiving.
But the Lions failed to convert on fourth down in Packers territory, and Flynn marched Green Bay for a 35-yard touchdown to Driver to give the Packers a 38-34 lead.
Johnson drew a pass interference penalty on Tramon Williams to give the Lions the ball at the Green Bay 28. Scheffler hauled in a one-handed catch to set up first-and-goal on the 2.
Johnson then was called for offensive pass interference in the end zone, but Stafford threw a 12-yard touchdown pass to Scheffler in the back of the end zone and the Lions took a 41-38 lead with 2:39 left.
Flynn wasn't finished, finding James Jones for a 40-yard completion to set up first-and-goal at the 6 with 1:19 left. Flynn found Finley to win it.
With the Lions threatening again in the final minute, Sam Shields ' interception put the game away.
The Packers got off to a rough start. Flynn was sacked and fumbled on the Packers' first possession, and Stafford cashed in with an 8-yard pass to Young.
Packers backup returner Pat Lee tried to field the ensuing kickoff in the end zone, but it bounced off him and over the goal line. Lee then tried to pull the ball back for a touchback – but officials ruled a safety that gave the Lions a 9-0 lead.
Flynn then found his rhythm, and the Packers led 24-19 at halftime.
Full story here