Packers Observations: Lacy's not fat; he is the missing ground link
By Pete Prisco, CBS Sportsline
~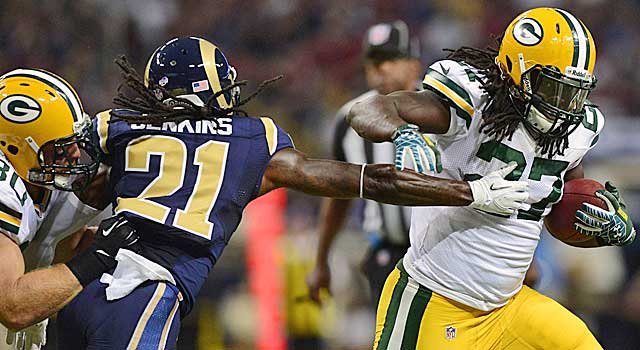 Eddie Lacy did not look out of shape while gaining 40 yards vs. the Rams. (USATSI)
ST. LOUIS — Green Bay Packers running back Eddie Lacy is not fat. Not even close.
Standing at his locker here late Saturday night, after getting his first NFL carries in a game, meaningless as they were, I asked Lacy about that picture of him that went viral on the Internet earlier this summer that showed him with what appeared to be a gut.
"It was a bad angle," Lacy said. "There's nothing you can do about it."
As soon as the picture hit, on the Packers' team website in fact, it spread like a Kardashian rumor. The talk was that Lacy was fat and out of shape.
I admit, I wondered about it myself on Twitter.
Will BrinsonWhat does EJ Manuel's injury really mean for Bills?
As he talked to me Saturday night, he looked far from being the pudgy, overweight player that picture made him look to be.
Either he's been dieting hard, which isn't the case, or this is a perfect example of how the social media can go wild.
"I know it was bad on Twitter," Lacy said. "There's nothing you can do about it. You can't let it impact you."
Lacy carried eight times for 40 yards in his first preseason work against the Rams on Saturday night. He looked quicker to the hole than I expected. When the Packers drafted him last April, I wasn't so sure he was fast enough in an era where you want speed backs. But if he can run like he did against the Rams, I will be wrong.
Jonathan Franklin, the other back the Packers selected, hasn't been as impressive as I expected he would be. He might be the spot-duty, third-down type of back.
Lacy had missed time in camp with a hamstring injury, so this was his first game action.
"I want to take this moment and continue to get better," Lacy said. "It's a starting point."
The Packers will still be a pass-first team with Aaron Rodgers. But with Lacy they know how a back who can run it when they need to run it — in the fourth quarter with a lead.
"I feel I can add an extra dimension to an already great offense," Lacy said.
As he stood as his locker, there wasn't anything about him that said fat guy. He might not be ripped like Adrian Peterson, but he's plenty solid enough to give the Packers running game some life.
More observations
• The Packers will start another rookie on offense: David Bakhtiari at left tackle. He gave up a sack to Rams end Robert Quinn on Saturday night, but he has impressed the Packers. He is staring because of left tackle Bryan Bulaga's season-ending knee injury. "He's got a football mind and he's picked it up pretty well," Packers left guard Josh Sitton said. "That's tough duty, protecting the backside of arguably the best quarterback in the league, and he's done a nice job. He seems mature beyond his age." Bakhitari looks like an athletic kid who should fit in perfectly with the Packers' style of offense.
• Sitton has moved from right guard, where he was a Pro Bowl-caliber player, to the left side. That might not sound like much of a move, but he says after nine years on the other side it's been an adjustment. "It's been a work in progress," he said. "The footwork, the hand placement, and just seeing the field from the left side is all different."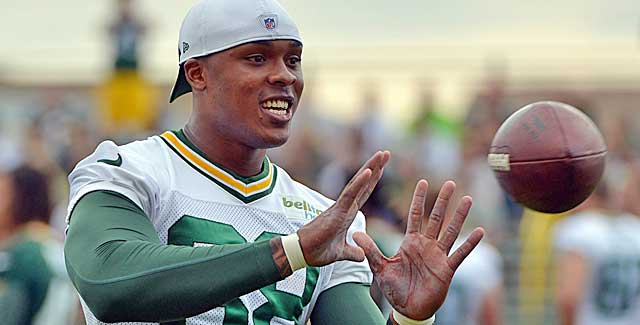 Is tight end Jermichael Finley ready to live up to his big-time potential? (USATSI)
• Tight end Jermichael Finley, who has a ton of potential but doesn't seem to live up to it, appears poised for a big season. He is in great shape and word is he dedicated himself this offseason like no other. Finley looks to have added some good weight to his frame. Look for him to have a big season.
• The Packers didn't want to talk about former receivers Greg Jennings and Donald Driver taking shots at Rodgers, questioning his leadership skills, but I did talk to several in the organization who said the two were way off base. The word that was spoken on both was "selfish." Did Rodgers call them out at times for bad routes? Not publicly. And that's all that matters. Jennings hurt his Packers legacy because of what he's said.
• Another Green Bay rookie who impressed me was corner Micah Hyde. The fifth-round pick from Iowa is a tough player who did some good things in coverage against the Rams. He lacks top-end speed, but he has the toughness and technique to hold up in coverage. The Packers also blitzed him a bunch from the slot against the Rams. I think he could be a heck of a free safety if they moved him there.
• The Packers have to get a big year from Nick Perry opposite Clay Matthews. The second-year player made some strides early last season before getting hurt. The Packers expect him to push for double-digit sacks.
• Vince Young is slimmed down. And he looks like he wants to be a part of things again, though I doubt he makes this roster.
There, I said it
• Rodgers will win the league MVP as the Packers roll to a 14-2 record.
• The defense will not be fooled by the read-option this season. They've spent way too much time on it.
• Randall Cobb will be the Packers' star receiver in 2013.
• The offensive line will be improved more than people think.