Kickoff 2013: McCarthy Q&A
~By JASON WILDE
~GREEN BAY – Sometime after Start Me Up and It's Only Rock 'n' Roll and before Gimme Shelter and Jumpin' Jack Flash, Mike McCarthy looked around and found inspiration.
The Green Bay Packers coach had broken one of his rules – "I always said I'd never leave the country," he confessed – and traveled to England in early July to visit his eldest daughter Alex, who was studying abroad as part of a program through the University of Kansas. During his visit, he'd secured tickets to the Rolling Stones show at London's Hyde Park, so in a move that is sure to earn him a few Dad of the Year votes, he took Alex and a half-dozen of her girlfriends to the show, which drew roughly 100,000 people.
"It was 10 times better than I thought it was going to be. It was a neat experience," McCarthy says, leaning forward in his chair for emphasis. "What was cool about that was, you had people there who were in their 80s, you had parents there who took their kids – 5, 6, 7 years old. And everyone in between.
"I haven't gone to a lot of concerts; I'm not a big concert guy. But I've never seen an environment like that."
McCarthy is in full-on Trip Advisor mode now, describing the scene as if he's explaining the Xs and Os of his favorite play-action pass call.
"Have you ever been to London? Hyde Park is like Central Park in New York. But it's not as fancy as you'd think," McCarthy continues. "They're on this huge stage, and I was trying to figure out how many people were there. So I was doing it by football fields. We were like the fourth football field (back). Everybody's standing up, and the whole place is just dancing. Every song was a hit, and Mick Jagger looked like he was 50 years old (again). He was running all over the place. It was unbelievable.
"I was just like, 'Wow.' I mean, the girls were like, 'This is the greatest night of my life.' It was really neat."
This year will be a landmark year for McCarthy. He'll turn 50 years old on Nov. 10, and he is about to kick off his eighth season as the Packers coach – meaning by year's end only two men, icons Earl "Curly" Lambeau and Vince Lombardi, will have lasted longer in Green Bay. He enters Sunday's regular-season opener at San Francisco with a 74-38 regular-season record and a 6-4 playoff record that includes the Super Bowl XLV title, so he needs two regular-season victories to surpass Mike Holmgren and 16 to pass Lombardi. And while he'd have to coach until he's 71 to match Lambeau's 29-year run, he isn't going anywhere anytime soon with a contract that runs through the 2015 season and no wanderlust coursing through his veins.
If McCarthy can bring people of different ages and backgrounds together like The Stones did that night at Hyde Park – a handful of old veterans, a couple of big-money superstars, some high-expectation draft picks and a bunch of hungry unknown or unproven players – then he'll have Packers fans dancing in the streets come February.
But his team will have to do it much like that 2010 team did, improving as the season wears on and getting hot at the right time. The Packers open with a murderer's row of tough games early, plus an inconveniently early bye week, meaning Sunday's opener truly is only the beginning.
Taking a break from his preparations for that game in the meeting room adjacent to his third-floor Lambeau Field office, McCarthy spent 28 minutes answering a variety of questions about the upcoming season. An edited transcript of that conversation follows.
ESPN Wisconsin: So you're about to start your third season removed from your Super Bowl title, and this is the ultimate what-have-you-done-for-me-lately league. I don't think you can call the last two years failures by any means, but when you look back on them, what good things do you think you did, as a team and as a coach, and maybe what mistakes did you make during those two years that you don't want to repeat this year?
McCarthy: Well, a lot of good things that the football team accomplished the last two years. You're talking about 26 regular-season wins in the last two years. We lost close games, besides that. I have to say, No. 1, those are pretty productive regular seasons. But it really came down to the playoff games. Those were momentum plays, they were those type of games. If you look at those losses, that's how it kind of went against us.
The Giants game (in the 2011 NFC Divisional Playoffs) is always going to be a hard game on a number of different fronts. It got away from us, clearly, and they did a great job and obviously went on to win the Super Bowl. And San Francisco (in last year's NFC Divisional Playoffs), we got caught into a one-sided game defensively, and we couldn't keep up on offense. Special teams had the turnover that resulted in seven points.
So I think you have to really stay in tune with reality each and every day. The emotional can tilt the opinion extremely down different roads that you really don't want to go down because it really keeps you further from the truth. And if you stay in tune to truth, then you obviously have a chance to grow and learn from it. And I think our team has done a pretty good job of that.
ESPN Wisconsin: What emotion did you have to make sure you didn't let get away from you? Anger? Frustration?
McCarthy: Criticism. The thing about today's generation – not even the players, it's everybody – I just think the information revolution that we're in the middle of, it climbs to higher levels each year. The days, of 'Hey, I don't read a newspaper' are over. That's fine. You may not read a newspaper but these guys are aware of what's said about them and the marketing value of everybody is something that's part of their makeup. And I get that. But I think our guys have done a good job of, if you stay in tune with the values and morals of the Green Bay Packers, everything you want to attain individually will come from that, and part of that is staying in line with the message of, 'Hey, this is what happened, this is why it happened.' Take out the B.S. of it, and we need to do a better job of this, this, and this. I feel good about the progress we've made. We've had a number of hard meetings back in the offseason. Things that needed to be said were said, and things that needed to be changed, changed. And we're still doing it. Now we get to go out and find out how good our processes have been leading up to this season.
ESPN Wisconsin: When you look back on 2010, that team obviously got better and better. Do you see this team potentially in that same vain with so many young guys, and maybe a little bit of unproven guys that you've got to be counting on as the season goes on?
McCarthy: That's a great question for on paper, but in the NFL, it doesn't work that way. That's the goal. We're young, we want to practice together every day. We practice a certain way every day with the intention of getting better throughout the year. We have 61 players on our team; I don't break them out as 53 and 8. I tell them that the first day: 'It took 77 players to win the Super Bowl. We have 61 right now. We're going to need everybody.' So that's the way we go about it, with that mindset and that method, it gives you the opportunity to grow and get better every week.
ESPN Wisconsin: You talked about how you have to 'trust the process' after the Seattle game in preseason. You guys are always going to be young around here because of the way Ted Thompson builds his teams. What specific challenge does that create for you as a coach or for you as a coaching staff?
McCarthy: Well, the challenge is really getting the young guys playing with the veterans. That's going to be a challenge regardless of any dynamic of your football team because everybody's going to have a draft class. You look at our veterans, what is it, 20-25 percent of your team changes every year? We're in line with probably the higher end of that,  but we're talking about a couple of players on the 53. So that part of it is something that you're always going to work for.
The offseason, to me, I was very concerned about the offseason limitations because I felt that that works against young football teams. The development of players going onto their second and third (seasons). Hell, if I can just at least go here into the classroom. I'm not trying to practice any more, but there's things that you can get done, especially when you have an organization like ours that's committed to the facilities and the upgrading constantly of making this a place where our players want to stay here and train in the offseason.
The days of 'You can't have an offseason program in Green Bay' are over. I didn't accept it when I got here in '06 and what we've done since then illustrates the emphasis and importance of it. Mark Murphy and our organization just putting the money where our mouth is, or whatever that phrase is. So that's the way we go about it.
ESPN Wisconsin: But that's not going to change for you, right? You're a coach of some prominence. You've won a Super Bowl. Is there any chance the structure of the offseason is ever going to change? Or with the collective bargaining agreement with the NFL Players Association, it is what it is?
McCarthy: Oh, it's not going to change. It is what it is. I just think you have to … I'm not complaining because everybody has the same rules…
ESPN Wisconsin: But not everybody has the same annual youth movement.
McCarthy: Right, philosophy. Yes. Well, I'd say more people have gone that way. I think people have looked at our success – and I'm not saying they're doing it because we're doing it – but there is a method here that works. That's usually when you win a Super Bowl, everybody takes notice. So the value of draft picks and all that is always of high importance here, and I think it is becoming even moreso around the league. You don't see the crazy trades that you saw five, six, seven, eight years ago.
ESPN Wisconsin: Your quarterback, Aaron Rodgers, made a comment about how he didn't think last years' team had the hunger that the 2010 team had. Now, I always think that these are kind of nebulous things, that if you win the game, no one's talking about your hunger. But did you sense anything at all from your team? Any complacency, any guys thinking about their contracts instead of thinking about what it was going to take to win?
McCarthy: I'd say the only thing about last year's team that was evident once all the evaluations were done and the team was able to come back this offseason is, things didn't click as well as they needed to. Whether it was player-to-player, coaches-to-player, we weren't in sync as well as we should have been. One of the things is the no-huddle. I made a mistake in some mechanical things in the no-huddle in the early part of the year, just to use an example. There are some things we've learned and you move on.
ESPN Wisconsin: Those hard meetings, were they coach-to-coach, coach-to-player?
McCarthy: Everybody. I mean, all the exit interviews. I just went through the books of my notes over the weekend just because there were some things I wanted to use in the Monday meeting, just a reminder. 'These are five things we talked about on May 20, these are five things we talked about at the beginning of training camp …' Just to make sure we talk about it one last time because we've got 61 guys who need to make sure we learn these lessons from the past.
ESPN Wisconsin: The other thing I wanted to ask regarding the quarterback, we talked a little bit about it on his radio show. We didn't talk about Donald Driver and Greg Jennings specifically …
McCarthy: I thought we were done with the show.
ESPN Wisconsin: No, the show's still going. Sorry. He said that whatever criticism there's been isn't going to change his style of leadership, and that it shouldn't. You've always been very supportive about his leadership. I'm just wondering specifically, what kinds of things does he do that you see that make him a good leader? You always say, "Aaron's a good leader," but why do you think he's a good leader?
McCarthy: First off, I think the fact that these things that have happened … If anybody would take a step back, and say, 'What is leadership?' and the intangibles, the reactions that happened to a person during the course of his time in the leadership role, that they would look at those incidents, and say, 'That guy's leading.' It's not a popularity contest. He's probably had to say things, do things not everybody agreed with. That's part of being a leader.
I think those whatever you want to call them – incidents, opinions, or whatever – are clearly a compliment to him as a leader. He's doing what he feels is in the best interest of the team to win. And if that's telling someone that you need to do this instead of that, and I'm not taking the blame for it, or whatever all was said, that's leadership.
But to answer the specifics of your question, he does all the little things. He does all the little things. He touches every player in that locker room. That's what a leader does. He doesn't just talk to these three guys, or talk to one or two coaches. He has relationships with every coach on this coaching staff, he has tremendous relationships with the support staff. So with that, he has a foundation of when he has to do the sometimes unpopular thing, he is able to do that because he has established relationships, he has established foundations that are only going to continue to grow. I'm proud of him. He's trying to get better. We had our first player council meeting…
ESPN Wisconsin: Is that a new thing?
McCarthy: I had it in '06 and '07 and it didn't go very well, and I'll leave it at that. I was disappointed.
ESPN Wisconsin: How does that go wrong?
McCarthy: Nothing came out of it. Just like anything in life, what you put into it is what you get out of it. It just didn't go. It just kind of fell to the wayside. I wasn't just going to do it to do it, but this group that the team voted on. It was their first meeting and first meetings go well. It was a long time, a lot was said. It was good.
ESPN Wisconsin: Who else is on it?
McCarthy: I don't want to put that in the paper.
ESPN Wisconsin: You have always gone out of your way, you have never ripped Rodgers publicly, not even at times when maybe he deserved it. You two had some run-ins last year, whether it was when you threw the challenge flag in Minnesota or when he criticized the trick play on the punt return at Chicago. Where would you say your relationship is now? How do you think it's grown, and were those teachable moments last year?
McCarthy: I think conflict is your best opportunity for a teachable moment. You know that as a parent, and it's no different in coaching. I'm very comfortable with our relationship. I could do a better job, put more into it. It's difficult with my position at times, but I think he's a special young man. Outside of even how he plays the game. He's young, very educated; he's very diverse in his interests and his level of intellect. I enjoy our off-the-field relationship. I think it'll definitely be a relationship that will last a lifetime.
ESPN Wisconsin: He's been very durable. He missed that one game in 2010 with the concussion. When you look at how the backup quarterback situation played out, do you feel like you mismanaged it in any way? Or do you feel maybe because you guys have been so good at developing quarterbacks, that maybe you thought guys that weren't good enough, you might be able to develop them, and it turned out they weren't good enough?
McCarthy: You have to look at the big picture, too. That's why the coaches develop the players that are here, and that's why the personnel department keeps their finger on the pulse and the standard of the quality of play of the other players in the league. That's what it comes down to. Every decision you make is in the best interest of our football team. If we were worried about our reputation of developing quarterbacks, then we probably would have never gotten rid of any of the guys that were here. But that's not what it's about. It's about trusting what the scouts are watching during the preseason, and trusting what they're seeing every day in the film, and you collaborate.
We've had continuous conversations about the quarterback position, throughout training camp – more so than we've had in prior years, or felt that we needed to in prior years. And this is the result of it. I enjoyed coaching all those guys and they're fine young men. I wish I could have been able to get them to produce more. I look it as, what could I have done? I was asked earlier, do we need to look at how we develop quarterbacks, whether we're doing it the right way. And I'm confident in how we're developing the quarterbacks.
ESPN Wisconsin: Is it possible that you fell into a better situation with Seneca Wallace? This is the first time Rodgers is going to have a veteran quarterback in the room with him as a starter, a guy who's older than him.
McCarthy: That's a great observation. It's something I talked to Seneca about when I met him, and frankly, that was clearly one of the aspects of what Seneca Wallace brought to the table that I was very interested in. Because the quarterback room is a very important room in our building. And for Aaron to have that is something that he's never had. I thought that was something we could benefit from, and I'll be honest with you, I'm very impressed with Scott Tolzein. He's a very bright young man and has an incredible work ethic. Anyone who's worked with him echoes that. I think he's going to bring a lot to our room also.
ESPN Wisconsin: How do you feel about your offensive line right now? Do you feel good about your decision in the offseason to reshuffle the deck, and what gives you confidence that you're going to be able to sufficiently protect your franchise quarterback with a rookie fourth-round pick in David Bakhtiari and a former undrafted rookie free agent with six games of experience in Don Barclay at the tackle spots?
McCarthy: I mean, you can't factor in Bryan Bulaga getting injured. It's part of the game. It's unfortunate, it happens, and it's unfortunate for Bryan, but David has done an excellent job. And how we utilize David and Don and Marshall (Newhouse) is really our responsibility. They have to perform the fundamentals, the techniques and the game plan that we'll lay out there in front of them, but it's our responsibility to put them in position to be successful and I think those guys will do a hell of a job. I like Josh Sitton at left guard. I think he looks great. He's got a big matchup this week. T.J. Lang is healthy, he looks good. And Evan Dietrich-Smith, I always refer to the two guards and the center as the core. I really like the core, and our young guys are going to get better every week. So I'm very comfortable with our offensive line.
ESPN Wisconsin: As a play-caller, are you going to maybe have to be a little more conservative or cautious, or to more protection stuff, because of those tackles?
McCarthy: Really, you do the game plan the same way every week. Their names are up on the board, you look at the matchups of who's going to get what, and you go forth. And it's no different this week. We understand who's playing on the left side and who's playing on the right side. But I feel good there.
ESPN Wisconsin: Your run game has obviously been a very popular topic all offseason. What about your running backs and your offensive line make you confident about that group? And how much of a loss is DuJuan Harris? I'm not sure I've ever seen you that bummed out about an injury to a player before.
McCarthy: I just felt bad for the kid. We had plans for him, but it's not about me and our plans. I hope I didn't present it that way. I mean, he was shut down for 12 weeks, and his workouts had been great, and then he goes out there and hurts it again. I mean, jeez. He's had no luck.
ESPN Wisconsin: So do you feel like with Eddie Lacy you might have a special back,
McCarthy:I'm excited to see Eddie run. I'm excited to see how teams play us. I hope they play us how they've always played us. With Aaron back there, I don't know why they'd change. I think that'd definitely help Eddie. I think James Starks has had his best training camp. He practiced every single day, that's something he hasn't done before. He's gotten better. Johnathan Franklin is an ascending player and John Kuhn is a steady hand, too. We feel good about it. We've got a couple new plays, too.
ESPN Wisconsin: You've said that, that you've made some changes schematically.
McCarthy: Let me ask you something: How come no one ever asks about how many points we score?
ESPN Wisconsin: What do you mean? You led the league in scoring in 2011 and last year you were still fifth even though your kicker went through a period where he couldn't hit the broad side of a barn.
McCarthy: I mean, isn't it about scoring points?
ESPN Wisconsin: The run thing is a big deal because you have one of the best quarterbacks in the league and defenses have zero respect for your run game. Both of you have talked about all the two-shell defenses you saw and what that did to your big-play opportunities. Isn't there cause-and-effect there, that they play their safeties back and don't bite on play-action fakes because they think your run game stinks?
McCarthy: I just think you guys find the one statistic …
ESPN Wisconsin: Let's talk about how the preseason played out. Has it changed completely? Because from the outside looking in, it looks like you might have focused too much on evaluation of guys who might be on the 53 and not enough on preparation of the guys who are going to be playing the most important roles in Sunday's game.
McCarthy: I'm with you. I don't know. The obvious answer is look league-wide. We have 58 players on active rosters – 53 on ours and five on others that were in our camp. But where do you strike the balance between creating opportunities and getting the 53 that you think are going to be there, ready? I know there's teams that had separate meetings last week where they worked on the first-week opponent with one group and sent another group to another meeting. I'm not going to do that. That's just not the way I'm going to go about it. But some people do that, and they may feel better prepared for Week 1. We'll find out.
ESPN Wisconsin: So as you get ready to turn the big five-oh, what does that number mean to you?
McCarthy: Slow down.
ESPN Wisconsin: Do you feel old? Your hair is grayer than when you first got here.
McCarthy: I'm just glad I have some left. I probably go home to the same thing you go home to – activity, energy, everybody's glad to see their dad. There's nothing like it.
ESPN Wisconsin: You seem to have found a really good balance in your life between family/normalcy and the demands of your job. Has your growth as a dad mirrored your growth as a coach? Have you gotten better at both jobs?
McCarthy: God, I hope so. I think I could …….
Full story HERE
By Jason Wilde, ESPN Milwaukee
GREEN BAY – Carmine's Steak House is on the corner of Fourth Street and Walnut Avenue in downtown St. Louis, just a few blocks away from Busch Stadium. Henceforth, it shall also be known as the place where David Bakhtiari finally acted his age.
Until the night of Aug. 16, the Green Bay Packers rookie fourth-round pick had been virtually unflappable since Bryan Bulaga's season-ending knee injury had thrust him into the starting lineup at left tackle. If folks expected the kid to freak out at the prospect of protecting Aaron Rodgers' blindside all season long, starting with Sunday's regular-season opener at San Francisco, they were disappointed.
"I try not to think about that," Bakhtiari explained repeatedly, including on Wednesday of this week as a crowd descended upon him at his locker. "I just try to think about my job and what I have to do and try to perform at the highest level I can and to the best of my ability."
Only 21 years old, Bakhtiari hadn't carried himself like a rookie, whether it had been with his play (left guard Josh Sitton, who's not the easiest guy to impress, says he's "fully confident in him"), or with his intellect (offensive line coach James Campen can't get over how Bakhtiari had only one – one! – mental error during the eight installations of the offensive playbook), or with his dealings with the local media, which has worn the cordial kid out with marathon Q&A sessions at his locker while his linemates play backgammon and heckle him nearby.
But then came the night before the team's second preseason game, against the St. Louis Rams. With the roster still at 90 players, Rodgers gathered the 13 offensive linemen who made the trip and took them to Carmine's. At some point between the toasted ravioli and other appetizers and the main course, Rodgers snuck away from the table to find their server, asking him to dummy up a fake bill to give to the rookie at the end of the night.
When it arrived, Bakhtiari saw the total – north of $11,000 – and did just what he's done all summer long: He made sure he didn't flinch.
"I know you have to pay (as a rookie), I just didn't know how much. I kind of thought that was the norm, so I just went with it," Bakhtiari said in a break in his preparations for the 49ers. "But I told the guys, 'Look guys, I'm paying for this, but I am done. There is nothing else (this season) you're going to make me pay for. That is a lot of money.'" (In case you're curious, the four-year, $2.6 million contract Bakhtiari got as a fourth-round pick included a $433,312 signing bonus.)
The server took Bakhtiari's credit card, then returned a short time later with the news that it had been declined because the bill exceeded his $10,000 limit. Bakhtiari pulled out a second card, with the same result.
"He thought the bill for 13 people would be $11,000," Rodgers said with a smirk. "He's got a lot to learn."
Finally, Bakhtiari suggested splitting the bill 50/50 on each card, and when that didn't work and panic started setting in, Rodgers' decided he'd suffered enough.
"Hook, line and sinker, man. It was hilarious," said Dan Farber, the manager at Carmine's who was among Rodgers' co-conspirators. "'Sir, we can't accept this card.' It was funny. They got him – good."
Now, though, the Packers are hoping that's the last time anyone gets the best of him. They know that won't be the case – no matter how mature-beyond-his-years the kid is, there will be growing pains – but starting with the 49ers Aldon Smith and continuing throughout the season, there will be weekly threats to the health of the $110 million quarterback who eventually picked up the dinner tab that night.
"I try not to think about that," Bakhtiari said of having the safety of the league's highest-paid player riding on him. "I just try to think about my job and what I have to do and try to perform at the highest level I can and to the best of my ability.
"I'm confident where I am, but by no stretch am I at a place where I can be complacent and with where I am. I know there's a big hill I have to go up. This is just the beginning. But I'm happy with where I'm at right now."
So are the Packers.
"When you come in as a rookie, your thought process is so big. Now he's just starting to hone in on different things and shrinking the thoughts in his head about what he sees and calls to make," Campen explained. "He's starting to really take his fundamentals and put them into places where they can be applicable. That's something that he's done very well and done very fast as a rookie.
"He's a lot like Bryan – real cerebral. It's a testament to him because he studies, he works. He's a guy that asks questions. He'll always pick the brain of the guy next to him. Using Bryan Bulaga as an example, he was 21 when he had to go and start playing. They're very similar. He's very serious about his approach and he's very serious in every aspect of it."
He'll also face a serious challenge in Smith and the tackle-end stunts the 49ers like to run. That will require Bakhtiari and Sitton to work well in concert, which Sitton believes they will do.
"I've got confidence in him. He's still not 100 percent there, but he's known what he's doing the majority of the time. And that's half the battle," said Sitton, who played in his first Pro Bowl last season. "That's why a lot of young guys have issues. If you don't know what you're doing, you can't play fast. If you can play fast, then obviously you're going to put yourself in better positions to win.
"There's always going to be bad moments out there. That's part of this game. We play against good players. That's part of football. But he's put himself in a situation to be successful by coming in, working his ass off and knowing the playbook. That's the most important thing. He's got the physical tools, he's got the athletic ability, he's got real long arms, he's got the quickness and the feet. I'm fully confident in him."
While Bakhtiari again acted his age when asked about his emotions leading up to the game – "It's going to be so awesome," he replied excitedly, "I can't wait" – the expectation is that he'll be his mature self once he settles in after kickoff Sunday.
"He'll have some challenging moments but the thing about that is he gets out of that and moves onto the next play," Campen said. "That's the most important thing for him to do. He'll be challenged; obviously; that's a great football player that he's going against. He'll see something a little bit different, but it's our job to make sure he sees everything. We've been working on what we have on tape and what we expect. I expect him to play well."
Full story HERE
By Wayne Larivee, TMJ4
~GREEN BAY – A season ago, the San Francisco 49ers furnished the opposition in Green Bay's first and last games.
In those two games, the Niners beat the Packers both in Green Bay and San Francisco, outscoring them 75 to 53 in the two contests.
In the opener, the San Francisco defense rendered the Packers offense one dimensional, as Green Bay rushed for just 45 yards while passing the football to the tunes of 324 yards.
Defensively, San Francisco's 377 yards were balanced – 186 rushing and 191 passing, with no turnovers.
The numbers in the divisional playoff game got downright ugly on the defensive side for Green Bay.
The Niners put 597 yards on the Green Bay defense, 323 yards rushing and 256 passing.
The Packers offense did move the ball and scored it against the vaunted San Francisco defense in the post season, as Aaron Rodgers passed for 248 yards and they got 104 yards rushing thanks in large measure to DuJuan Harris.
One season later, we are about to find out if the Packers have closed the gap.
On paper, it would appear the Packers are better equipped to deal with San Francisco up front.
The addition of Datone Jones through the draft, the reinstatement of Johnny Jolly and the defined role of Mike Neal give the Packers options up front they did not have a season ago.
Furthermore, Nick Perry is healthy at outside linebacker and the Packers have dedicated a significant portion of their off season preparation to "read option" offenses.
On the other side of the ball, as good as San Francisco is and has been defensively, the Packers under Rodgers' leadership have found ways to move the ball against one of the top defenses in the game today.
Most of the time it was through the air, and that is where the Packers have some advantages.
San Francisco is without two key members of their secondary from a season ago.
Starting All-Pro safety Dashon Goldson has moved on to Tampa Bay via free agency and their third cornerback Chris Culliver – one of the better nickel backs in the game – is on the injured reserve.
In their place is a rookie first round safety in Eric Reid a player the 49ers traded up to get, and Nnamdi Asomugha, the once decorated Raiders corner who fell on hard times in Philadelphia after signing a $25 million dollar free agent deal with the Eagles two seasons ago.
Reid is not yet at the level Goldson was, and Asomugha is not the player he once was in Oakland.
The advantages for the Packers in this game are on the perimeter with wide receivers James Jones, Randall Cobb and Jordy Nelson plus tight end Jermichael Finley, but two things have to happen for Rodgers to deploy these advantages.
He needs time and a semblance of a running game.
With Eddie Lacy and a healthy James Starks, the Packers have more capability at running back this season than they did a year ago — hoping Cedric Benson could give them a ground threat.
The question is, do they have an offensive line that can effectively run-block for those backs?
They have a rookie starting at left tackle in David Bakhtiari and Don Barclay who was considered to be a guard candidate at right tackle.
They will be challenged by one of the best defensive front sevens in the game today.
I look for the Packers to play a lot of spread three and four receiver sets offensively but I also believe running Eddie Lacy out of the shotgun against a spread out Niners defense will be a focus.
How effective they are able to run in those situations will go a long way to determining how well the Packers are able to balance their offense.
Just as important is pass protection. Last year in the opener, Rodgers was sacked three times.
The mantra for the Packers defense this off-season was "579," the number of yards they gave up in the Divisional Playoff game to the Niners last January.
Defensively, has an off season of preparation, drafting and planning given the Packers defense what it needs to contain Colin Kaepernick and his read option?
We are about to find out Sunday at Candlestick.
Full story HERE
By Robert McGinn, Journal-Sentinel
~GREEN BAY — As the years go by, the Green Bay Packers grow ever more removed from player procurement avenues that are in common practice across the National Football League.
They almost never trade for players.
They almost never claim players on waivers.
They almost never sign unrestricted free agents.
It isn't close to "The Packer Way," the title of a book authored by former general manager Ron Wolf in 1998.
Wolf was a wheeler-dealer, a man who delighted in tinkering with the bottom third of the team's roster with players gathered liberally from trades, waivers, free agency and every professional league under the sun.
Ted Thompson, his protégé, was twice named NFL executive of the year by Sporting News. He has built a formidable franchise that has won 47 of 64 regular-season games and one Super Bowl in the past four years by doing it his way.
The longer Thompson sits in the general manager's chair, the more he believes in the ability of his personnel people to find players in and shortly after the draft plus the ability of Mike McCarthy and his assistant coaches to make the draft-and-develop mantra work.
"You have to," Thompson said Wednesday. "If you don't, you're just spinning your wheels."
Look at the 53-man roster that the Packers will take to San Francisco for their season opener Sunday.
For the seventh straight year, Thompson has overseen a process that resulted in about 25% turnover from a year ago. There are 14 players on the roster who weren't on the Packers' 53 or reserve lists a year ago, up slightly from the Packers' average of 12.3 since McCarthy's second season.
Of the 14 newcomers, 11 are rookies, one came off suspension, one came off the practice squad and one, Seneca Wallace, came off the street.
Safety Chris Banjo attended the Pittsburgh Steelers' post-draft minicamp in May 2012 on a tryout basis but wasn't signed. In April, Jacksonville signed Banjo for four months before cutting him July 26, and three days later he became the 90th man in Green Bay.
Banjo is one of 12 players on the 53 that signed a contract with another NFL team. Wallace is one of only four that has actually made a foreign 53-man roster.
Thompson's cheerful rejoinder is that the Packers usually have more than four, and they did have seven each of the past three years.
"Part of that is a credit to our coaching staff," he said. "They take guys and they can coach 'em up so you don't have to keep looking quite as hard."
The way Thompson is going, the home-grown flavor of the Packers' roster might become even more entrenched.
When was the last time the Packers traded for a player?
Thompson had no idea, nor probably would anybody else.
It was safety Anthony Smith, who arrived from Jacksonville in October 2010 one day before the trading deadline.
"Well, we do (trade) sometimes," deadpanned Thompson. "It just didn't come up this time around.
"I'm not bashful about making trades, either. But I'm not one of those that wants to just go do it just so we can say we did something."
A heavy trader on draft day, Thompson hasn't been involved in any of the 78 trades involving players since the Smith deal. Every team in the NFL except Green Bay has acquired a player by trade in that span, and 101 players in all have switched clubs.
The Packers' five other trade acquisitions during the Thompson administration were linebacker Robert Thomas in 2005, wide receiver Carlton Brewster and running back Vernand Morency in '06, running back Ryan Grant in '07 and safety Derrick Martin in '09.
Most trades turn out to be insignificant. Not this year in San Francisco, however, where the 49ers would be dead at wide receiver if they hadn't acquired Baltimore's Anquan Boldin on March 11 for a sixth-round pick.
Few waiver claims
Thompson has been even less active, if that's possible, when it comes to the waiver wire.
In 2006, his second year at the helm, the Packers were awarded six players on waivers; four — cornerback Jarrett Bush, safety Charlie Peprah, kicker Dave Rayner and guard Tony Palmer — made the team
A year later, fullback John Kuhn arrived off Steelers' waivers and has been here since.
In five of the last six years, and that is including the entire league year, the Packers incredibly haven't been awarded a player. In 2012, they did pick up safety Micah Pellerin and wide receiver Andy Brewer on waivers.
"Oh, we've claimed people before," Thompson said with a chuckle. "Not this year we didn't."
On Saturday night Thompson and his people pored over the names of approximately 600 players just released. They had until 10 a.m. Sunday to enter a claim.
"There were several young guys that were kind of interesting and would add some value to us over time, but there were a lot of unknowns," said Thompson. "The guys we had on our team were at least known, you know?
"When you feel like it's bitterly hard to get down to 53 with your present roster, it's hard to feel overly excited about claiming somebody. Because if you get him then you have to go back to the well and find somebody to release."
Heading elsewhere
Forty-five players — about twice as many as most years — were awarded to 19 teams Sunday morning.
Five of those players — Alex Green, Patrick Lewis, Terrell Manning, Dezman Moses and D.J. Williams — had been Packers. Matthew Mulligan, a vested veteran not subject to waivers, signed Tuesday with New England.
Thompson was asked if it was flattering that the Packers had more players claimed than any other team.
"No, I don't think it has anything to do with me or us," he replied. "People do what they do. They're out there scoutin' and they see somebody they think can help their team."
From Saturday to Tuesday, six teams were able to trade a player for a draft choice whereas the Packers got nothing from building a top-notch roster.
Do the Packers miss the contacts and phone expertise of John Schneider and John Dorsey, the departed personnel directors well known for their people skills?
"No, I don't think that's the case," said Thompson. "We've got good communicators here in the office.
"I do miss those guys. They're good friends and good at their craft. I'm not trying to be nonchalant, but life goes on and next man up."
Teams that participate in unrestricted free agency also open up their roster to outsiders. Since signing five in '06, Thompson has added just two (Jeff Saturday, Anthony Hargrove) in the last four years.
That door is all shut in Green Bay. Ryan Pickett is the lone unrestricted free agent on the 53.
"Been a good one, though, huh?" Thompson said, referring to team's starting nose tackle for eight years.
Once again, the Packers' unwitting pursuit of youth was evident. According to STATS, the Packers own the seventh-youngest 53-man roster.
Five of the six teams younger than Green Bay — Kansas City, Buffalo, Jacksonville, Cleveland and St. Louis — are coming off losing seasons. Seattle, the one good team younger than the Packers, has one of Thompson's protégés, Schneider, as its general manager.
The Packers currently average 25.66 years, a figure in amazing lock step with their first-game averages of 25.57 in 2006, 25.74 in '07, 25.57 in '08, 25.70 in '09, 25.91 in '10, 25.70 in '11 and 25.70 in '12.
"In some cases, you give some of the younger guys a little bit the benefit of the doubt," said Thompson. "But you do have a pretty good body of work when you count May and June and, of course, training camp."
Detroit, the oldest team in the league based on STATS numbers, has an average age of 27.04.
Thompson did depart from stuffing the practice squad with ex-Packers. This year the eight-man unit includes four cut by other clubs.
Original story HERE
By Lori Nickel, Journal-Sentinel
~GREEN BAY — Cornerback Micah Hyde was tested his sophomore year at Iowa. The Hawkeyes already had a pretty good defense and he was the new starter. It didn't take long for opposing teams to figure they had their weak spot to attack.
"A lot of teams came at me," said Hyde. "It seemed like every time they came after me and after me, I made a big play. A pick, or something like that, and it sparked the whole defense."
Indeed, Hyde had his career highs in tackles (82) and interceptions (four) that year while adding seven passes defensed, best on the team.
With the declaration Wednesday that cornerback Casey Hayward will miss the season opener at San Francisco with a injured hamstring, the Green Bay Packers turn to the next man up:
The rookie from Iowa.
The 6-0, 197-pound 22-year old cornerbacks' role just increased behind starters Tramon Williams and Sam Shields.
"I'm a rookie who has never stepped on the field," said Hyde. "I'm a nobody right now."
Hyde said he will keep the week normal, which for him already includes extra and individual study time on the opponent.
"To be honest, you're going to have little jitters, just excitement, to get on the field," said Hyde. "I don't see myself getting nervous just for the fact that I'll prepare myself to play. That's how I've always been in the past, I haven't been a nervous guy. If you get out there nervous as a corner, for me, I just play a lot tighter and that's not good as a corner."
The question is how much San Francisco and quarterback Colin Kaepernick will go after Hyde. It might not be a question with Tom Brady or Peyton Manning, but with Kaepernick's running ability, it's hard to say. Either way, Hyde is preparing.
"If that's the case, that's the case. Then I have to go out there and make some plays," said Hyde. "If not, I've got to kind of prepare like they're going to do something."
Added Shields: "Micah is going to be thrown in that fire, but as you saw in the preseason, he made some plays. We keep telling Micah, keep doing what you're doing. You're going to make mistakes but you have to just go to the next play."
Original story HERE
By Jason Wilde, ESPN Wisconsin
~GREEN BAY – Nothing that ex-teammates Greg Jennings or Donald Driver said this offseason about his leadership style has prompted Green Bay Packers quarterback Aaron Rodgers to change the way he approaches his teammates and his role as the team's longest-tenured player.
Rodgers, speaking on the season premiere of his weekly radio show on 540 ESPN and ESPNWisconsin.com Tuesday afternoon, did not speak specifically about what Jennings, now a member of the Minnesota Vikings, or Driver, who retired in February as the franchise's all-time leading receiver, said about him.
But when asked if their comments caused him to reevaluate his leadership style and alter it in any way, Rodgers said no.
"I don't feel like I need to," Rodgers replied. "I feel like I'm going to continue to lead the way I've been leading. And I think guys respond very positively to that and appreciate my style of leadership.
"There's a reason that I'm on the leadership council. There's a reason I'm voted a captain. And I stand by those things.
"You learn all the time about leadership: It's a constant educational process. To gather information about your teammates and try to find the best ways to inspire those guys and push those guys and get the most out of them.
"But I'm very confident in the way I lead. I think (Packers coach) Mike (McCarthy) believes in my style of leadership and I think the guys respond favorably to that. So, it's not going to change. I enjoy what I'm doing, I love my job, I love the game of football and I put a lot into it and expect to get a lot out of it as well."
Since signing with the Vikings as a free agent in March, Jennings has made multiple comments about Rodgers and the Packers organization, although he hasn't said anything about the team or his former quarterback recently.
Jennings' most direct criticism of Rodgers came in a Star Tribune story in which Jennings said, ""For me, I'm such a team person, I'm going to defer to my teammates. I'm going to defer to the team, to the team, to the team. And I think when you reach a point where you're not deferring any longer, it's no longer really about the team. … "Don't get me wrong, '12' is a great person. But when you hear all positives, all positives, all positives all the time, it's hard for you to sit down when one of your teammates says 'Man, come on, you've got to hold yourself accountable for this.' It's hard for someone to see that now because all they've heard is I'm doing it the right way, I'm perfect. In actuality, we all have flaws."
Driver, appearing on ESPN Radio's Mike & Mike last month and responding to a question about what Jennings had said, criticized Rodgers for not taking the blame for his wide receivers when they would make mistakes.
"We've always said that the quarterback is the one that needs to take the pressure off everyone else. If a guy runs the wrong route, it's easy for the quarterback to say, 'Hey, I told him to run that route' than for the guy to be like, 'Well, I ran the wrong route,'" Driver said. "Sometimes you ask Aaron to take the pressure off the guys so we won't look bad, but he didn't want to do that. He felt like if you did something bad, you do it. But I think that's the difference. You want that leadership, and I think sometimes you may not feel like you got it. You have to earn that respect at the end of the day, and I think that's what Greg was probably referring to."
Ex-Packers safety Charles Woodson, now with the Oakland Raiders, disagreed with Jennings and Driver in an interview last month.
"I think whatever you do – if you run the wrong route and you're a receiver, or if you're a quarterback and you throw an interception – it's up to you as an individual to say you messed up," Woodson said. "I don't think A-Rod has to be sticking his neck out to say I told him to do something if that's not what happened. If A-Rod needs to take the blame for something, I'm quite sure he does.
"I didn't understand that part, either. There's no question in my mind that A-Rod's the leader of that team and he does a great job. Maybe he thought he had some friends where he doesn't have some friends. Now that those guys are gone, they're voicing this. I don't know how that's fair."
By Pete Prisco, CBS Sportsline
~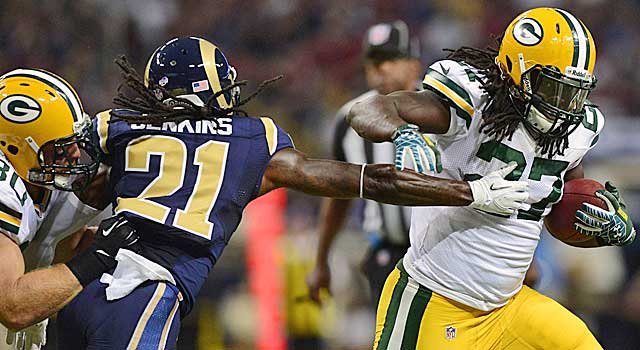 Eddie Lacy did not look out of shape while gaining 40 yards vs. the Rams. (USATSI)
ST. LOUIS — Green Bay Packers running back Eddie Lacy is not fat. Not even close.
Standing at his locker here late Saturday night, after getting his first NFL carries in a game, meaningless as they were, I asked Lacy about that picture of him that went viral on the Internet earlier this summer that showed him with what appeared to be a gut.
"It was a bad angle," Lacy said. "There's nothing you can do about it."
As soon as the picture hit, on the Packers' team website in fact, it spread like a Kardashian rumor. The talk was that Lacy was fat and out of shape.
I admit, I wondered about it myself on Twitter.
Will BrinsonWhat does EJ Manuel's injury really mean for Bills?
As he talked to me Saturday night, he looked far from being the pudgy, overweight player that picture made him look to be.
Either he's been dieting hard, which isn't the case, or this is a perfect example of how the social media can go wild.
"I know it was bad on Twitter," Lacy said. "There's nothing you can do about it. You can't let it impact you."
Lacy carried eight times for 40 yards in his first preseason work against the Rams on Saturday night. He looked quicker to the hole than I expected. When the Packers drafted him last April, I wasn't so sure he was fast enough in an era where you want speed backs. But if he can run like he did against the Rams, I will be wrong.
Jonathan Franklin, the other back the Packers selected, hasn't been as impressive as I expected he would be. He might be the spot-duty, third-down type of back.
Lacy had missed time in camp with a hamstring injury, so this was his first game action.
"I want to take this moment and continue to get better," Lacy said. "It's a starting point."
The Packers will still be a pass-first team with Aaron Rodgers. But with Lacy they know how a back who can run it when they need to run it — in the fourth quarter with a lead.
"I feel I can add an extra dimension to an already great offense," Lacy said.
As he stood as his locker, there wasn't anything about him that said fat guy. He might not be ripped like Adrian Peterson, but he's plenty solid enough to give the Packers running game some life.
More observations
• The Packers will start another rookie on offense: David Bakhtiari at left tackle. He gave up a sack to Rams end Robert Quinn on Saturday night, but he has impressed the Packers. He is staring because of left tackle Bryan Bulaga's season-ending knee injury. "He's got a football mind and he's picked it up pretty well," Packers left guard Josh Sitton said. "That's tough duty, protecting the backside of arguably the best quarterback in the league, and he's done a nice job. He seems mature beyond his age." Bakhitari looks like an athletic kid who should fit in perfectly with the Packers' style of offense.
• Sitton has moved from right guard, where he was a Pro Bowl-caliber player, to the left side. That might not sound like much of a move, but he says after nine years on the other side it's been an adjustment. "It's been a work in progress," he said. "The footwork, the hand placement, and just seeing the field from the left side is all different."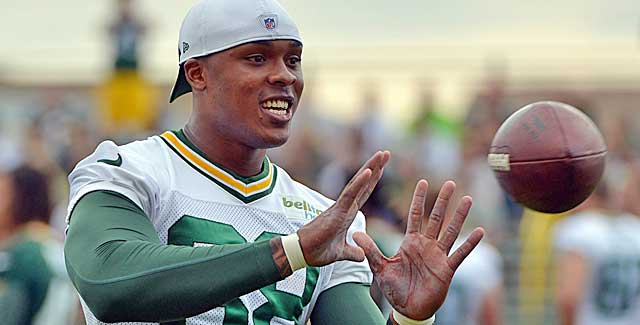 Is tight end Jermichael Finley ready to live up to his big-time potential? (USATSI)
• Tight end Jermichael Finley, who has a ton of potential but doesn't seem to live up to it, appears poised for a big season. He is in great shape and word is he dedicated himself this offseason like no other. Finley looks to have added some good weight to his frame. Look for him to have a big season.
• The Packers didn't want to talk about former receivers Greg Jennings and Donald Driver taking shots at Rodgers, questioning his leadership skills, but I did talk to several in the organization who said the two were way off base. The word that was spoken on both was "selfish." Did Rodgers call them out at times for bad routes? Not publicly. And that's all that matters. Jennings hurt his Packers legacy because of what he's said.
• Another Green Bay rookie who impressed me was corner Micah Hyde. The fifth-round pick from Iowa is a tough player who did some good things in coverage against the Rams. He lacks top-end speed, but he has the toughness and technique to hold up in coverage. The Packers also blitzed him a bunch from the slot against the Rams. I think he could be a heck of a free safety if they moved him there.
• The Packers have to get a big year from Nick Perry opposite Clay Matthews. The second-year player made some strides early last season before getting hurt. The Packers expect him to push for double-digit sacks.
• Vince Young is slimmed down. And he looks like he wants to be a part of things again, though I doubt he makes this roster.
There, I said it
• Rodgers will win the league MVP as the Packers roll to a 14-2 record.
• The defense will not be fooled by the read-option this season. They've spent way too much time on it.
• Randall Cobb will be the Packers' star receiver in 2013.
• The offensive line will be improved more than people think.
By Buck E Brooks, NFL Network
~The Green Bay Packers made a concerted effort to revamp their running game when they selected a pair of running backs, Eddie Lacy and Johnathan Franklin, in the 2013 NFL Draft. I believe this infusion of talent in the backfield, particularly Lacy, could help the Packers regain their championship swagger on offense.
After taking some time to dig into the All-22 Coaches Film to study how the Packers plan to use Lacy and a more power-oriented running game, here are three reasons why I'm convinced this will pay huge dividends for Green Bay this fall:
1) Eddie Lacy provides some much-needed physicality in the backfield.
" 5 p.m. ET: "NFL Fantasy Live"
" 6 p.m. ET: "Around the League Live"
" 7 p.m. ET: "Around the League Primetime"
" 8 p.m. ET: "NFL Total Access"
" Click here to see the full NFL Network schedule
The Packers have routinely fielded potent offenses in the past few seasons, but the unit has lost some of the toughness and physicality that made it a well-rounded group when Ryan Grant was in his prime. As Green Bay's feature back in 2008 and '09, Grant posted back-to-back 1,200-yard seasons. He was a hard-nosed inside runner with deceptive speed, strength and power. Most importantly, he handled a heavy workload (312 carries in 2008 and 282 in '09). Grant could grind out tough yards between the tackles, meaning the Packers could turn to a power-based ground attack when opponents made a concerted effort to neutralize all-everything quarterback Aaron Rodgers and the passing game.
In Lacy, the Packers have a big, physical runner with a rough-and-rugged game. Checking in at 5-foot-11 and 230 pounds, he is a punishing inside runner adept at running through contact in the hole.
He frequently blew through defenders on inside runs throughout the preseason, continuing a trend that saw him average 7.6 yards per attempt on inside runs during his final season at Alabama.
Additionally, Lacy runs effectively from one- and two-back formations, which makes it possible to keep him on the field in various packages, including "11" (1 RB, 1 TE, 3 WR) and "12" (1 RB, 2 TE, 2 WR) personnel groupings. This is an important development for the Packers' offense, because it allows head coach Mike McCarthy to feature a power-based running game from the same spread formations Rodgers uses to pick apart opponents with pinpoint passes.
I looked at some of the Packers' offensive snaps from the preseason, and I believe McCarthy has already given the NFL a glimpse at how Lacy could help the unit this fall.
In the following screengrab, taken from the Packers' preseason matchup against the St. Louis Rams, Green Bay breaks the huddle in an ace formation with Lacy at tailback. Rodgers will count the number of defenders in the box and make a decision to run or pass:
With just seven defenders in the box, Rodgers calls an outside zone to the right side of the defense. Lacy will simply read the block of the tight end and react to the flow of the defense:
Thanks in large part to a nifty spin move, Lacy is able to rumble through the middle of the defense for a 7-yard gain.
Click here to see full video of the play.
In the screengrab below, the Packers break the huddle in a dubs formation with Lacy in the backfield. Rodgers will decide whether to run or throw based on the alignment of the weak-side linebacker. Additionally, he will look at the alignment of the defensive end to determine the vulnerable area of the defense:
With the tight end capable of reaching the defensive end, the Packers run an outside zone play to the boundary:
The tight end eventually climbs to the second level to lock on to the strong-side 'backer, which allows Lacy to get to the corner:
Lacy blows through several would-be tacklers, piling up another 15 yards.
Click here to see full video of the play.
In the next screengrab, the Packers are in a dubs formation against one of the Rams' exotic nickel packages. Rodgers identifies the nickel corner and directs the run play to the opposite side:
Without enough defenders in the box (there are just six) to effectively defend the run, St. Louis provides an opening for Lacy:
The result is an 11-yard gain.
Click here to see full video of the play.
2) Lacy's presence reintroduces the long ball to Green Bay's game plan.
Part of the impetus behind developing an improved running game in 2013 is finding a better way to keep Rodgers upright in the pocket. Last season, the Packers surrendered 51 sacks (second-most in the NFL) and subjected the 2011 NFL MVP to several big hits in the pocket. The constant harassment forced McCarthy to tweak his game plan to feature fewer five- and seven-step drops, which greatly reduced the number of vertical throws in the Packers' playbook. Consequently, Rodgers' passes of 20-plus yards (54 in 2012, down from 64 in '11) and 40-plus yards (nine in 2012, down from 13 in '11) declined significantly last season. These totals also represent a tremendous drop-off from Rodgers' deep-ball production in 2008 and '09, when he tallied 16 and 17 passes of 40-plus yards, respectively.
With a Lacy-led power running game in place, though, the Packers can force opponents to abandon some of the exotic pressures that have tormented the offensive line in recent years. Due to concerns about gap integrity at the line of scrimmage, opposing defensive coordinators won't be able to utilize some of the twists, stunts and blitzes that are effective in obvious passing situations. Quick-hitting running plays exploit such tactics by allowing the runners to hit the hole before defenders are able to get into the gaps. Therefore, opponents will rely on conventional pass-rush tactics, which feature more straightforward rushes, with possibly one or two linebackers inserted in the pursuit. As a result, the offensive line is better able to identify potential blitzes and properly secure the edges.
The threat of an effective running game also will change the coverage Rodgers faces in the back end. With a power runner like Lacy in the backfield, defensive coordinators won't be able to lean on umbrella coverage. Play callers will look to outnumber the Packers at the point of attack, featuring more eight-man fronts against two-back formations and seven-man looks against one-back sets. These tactics will force opponents into more single-high safety looks with one-on-one coverage on the perimeter, giving explosive playmakers like Jordy Nelson and Randall Cobb more opportunities to win on downfield routes.
3) Aaron Rodgers will become an even more efficient passer.
It's hard to imagine Rodgers playing better at the position, but his game could go to another level with Lacy thriving in the backfield.
The threat of defending a big-time running back forces linebackers and defensive backs to play honest at the point of attack, which makes play action more effective in the passing game. Factor in more defenders near the line of scrimmage as part of a loaded box (eight-man front), and Rodgers should have bigger passing windows to target, particularly on early downs.
Studying the Packers' offense throughout the preseason, I've seen more play-action passes with complementary routes over the middle of the field. These routes are specifically designed to take advantage of overaggressive linebackers reacting quickly to the threat of Lacy receiving an inside handoff.
In the screengrab below, also taken from the Packers' preseason game against the Rams, the offense is aligned in an open offset I-formation with Lacy in the backfield and tight end Jermichael Finley aligned in the slot. The presence of Lacy will attract the attention of the Rams' linebackers:
After the snap, Rodgers fakes the ball to Lacy, which lures Alec Ogletree to the line of scrimmage and creates a void in the middle for Finley on a dig route:
Rodgers fires a dart to Finley for an easy completion:
A simple but effective play-action pass produces a 25-yard gain.
Click here to see full video of the play.
The next two screengrabs look at another noteworthy play from the Rams game. The Packers align in a trips formation with Lacy in the backfield. Rodgers executes an inside-handoff fake while Finley runs a lazy slant over the middle:
With the linebacker and nickel corner overreacting to the run, Rodgers targets Finley on another easy pitch-and-catch:
Finley takes the short pass and sprints down the field for a 33-yard gain.
Click here to see full video of the play.
With the Packers incorporating more high-percentage play-action passes into the playbook, the prospect of defending Rodgers becomes even more difficult.
Follow Bucky Brooks on Twitter @BuckyBrooks.
Original story HERE