By Brian E Murphy, PackersInsider.com senior editor
~Since Ted Thompson brought in Dom Capers to run the Packers defense in 2009, the Packers have invested 13 picks on defense in the top-five rounds of the five drafts.
Seven of the players have been first or second round picks, premium picks.
Here is a look at the players selected on defense in these five drafts since Capers was hired:
1st Rounders: B.J Raji, Clay Matthews, Nick Perry, Datone Jones
2nd Rounders: Jerel Worthy, Casey Hayward, Mike Neal
3rd Rounders: Morgan Burnett
4th Rounders: Mike Daniels, Jerron McMillian, Davon House
5th Rounders: Terrell Manning, Josh Boyd
This is 13 defensive guys in the last 5 drafts, top-5 round picks.
I only stopped at round five, the round Seattle plucked Richard Sherman in that 2011 draft, after Thompson selected his own CB, Davon House a few picks earlier.
The other two main guys on defense over this time have been the two former Buckeyes, A.J. Hawk, the 2006 number-5 overall pick, and Ryan Pickett, the rare free agent addition who was once a first round pick of the Rams.
What Dom Capers needs, besides more talent, are guys who are smart and experienced enough to understand the intricacies of the schemes he runs.
Giving him rookie reaches like McMillian, M.D. Jennings out there puts a tremendous strain on the defense. That back end has to hold up.
The same is true at linebacker and defensive line. Datone Jones, Mike Neal, Jerel Worthy, Nick Perry didn't provide much their first year or two, despite being very talented. In time, who knows.
But what about now?
Is there another way where Capers could be provided a talent upgrade in a manner where the player doesn't need to learn the first part of the alphabet in the NFL? Like, possibly, a veteran?
Why, sure there is. That's called Free Agency, or even the trade wire. And that's how Super Bowl teams Seattle and Denver have recently added: Cliff Avril, Michael Bennett, Marshawn Lynch, Percy Harvin, Sidney Rice for the Seahawks, and Peyton Manning, Wes Welker, Trindon Holliday, Dominique Rodgers-Cromartie, Shaun Phillips,  Quenton Jammer, and Terrance Knighton (6-3, 335 pounds, does way more than Raji despite similar size).
San Francisco was just eliminated by Seattle, but the 49ers had Anquan Boldin, Ahmad Brooks, Justin Smith, Carlos Rogers, and Donte Whitner among their starters who were all obtained as veteran additions either in free agency or trade.
Thompson, since the 2006 Woodson and Pickett additions, and 2007 Ryan Grant trade, has not added anyone of significance to this roster other than as draftees or street pickups.
That really should chance over the upcoming few months. This defense doesn't need a complete overhaul. It just needs a fine-tuning, and adding a veteran safety would be the first order of business.
Lucky for the Packers, there are a few available who won't come close to breaking the bank. They won't even come close to making what the Packers are forking over to Burnett.
The top target should be Super Bowl champion Bernard "Weekend at Bernies" Pollard. He made $1.9 million this season with the Titans. He quickly learned the Tennessee defense this year after leaving Baltimore after they won the Super Bowl last year and had to clear cap space to overpay Joe Flacco. They lost Ed Reed, Boldin, Ellerbe, and Pollard due to financial considerations.
Thompson should have brought Pollard in last off-season, but he banked on the draft & develop thing with his draft pick Jerron McMillian and his youngster M.D. Jennings improving, as well as Burnett developing. That proved very costly as all can see now.
The Packers also could use more pass rush at OLB, for various reasons. Number one, nobody has stepped up and claimed that opposite-to-Clay spot at LOLB yet. Perry has the tools, but is less durable than a Chinese knockoff product. Mike Neal showed some signs, but he's a free agent.
Number two, Matthews himself has not been able to last a full season recently. So depth is welcome.
O'Brien Schofield and/or Everson Griffen would both be great additions and again are affordable. OBS would be very cheap, while Griffen might take about a 4-year $17 million dollar deal, but he's a stud.
If the Packers would be able to add a piece at each position there, they would immediately become a better defense.
But beyond that, it would free up Thompson in the draft to draft the best player available and not have to just pick a safety for sake of filling that black hole back there.
If he sees a wide receiver, or tight end, or defensive end, or inside linebacker who he feels is a #10 guy on his board but is still there at #21 when his pick is up, he can swing for that premium talent without worrying about that safety hole, or lack of pass rush.
Or if it's a young safety, he can still take that safety. He just won't have to play right away in Capers system and he can learn and develop for a while without being relied on to instantly start despite not knowing what they're doing out there (see Jerron McMillian).
Here are the TOP TEN free agents I would try and target. I would really want to make sure to get a safety and a linebacker, or even help on the defensive line. I believe there are a couple of guys the Packers could sign combined for less than what Raji wants, who will each out-perform Raji.
The Packers could use an inside linebacker more than an outside linebacker in my opinion. But the talent available -at a reasonable price- appears to be quite attractive at outside linebacker.
You might notice the absence of Brian Orakpo, Jimmy Graham, and Jairus Byrd, the safety from the Buffalo Bills. Yes, they might be better overall players. But let's be realistic here. Thompson is not going to pay any Maserati prices for free agents. Ever, and especially not this year when he has over a dozen of his own free agents he'd like to retain.
Here is my top ten list, with my estimated expected amount of money it will take to win the players' services. The amount of $ factors heavily in my rankings. It's not just best players 1-10.
Bernard Pollard, Safety, Tennessee Titans $$
Everson Griffin, Outside Linebacker, Minnesota Vikings $$$
Donte Whitner, Safety, San Francisco 49ers $$$
O'Brien Schofield, Outside Linebacker, Seattle Seahawks $
T.J. Ward, Safety, Cleveland Browns $$$$
Jason Worilds, Outside Linebacker, Pittsburgh Steelers $$$
Paul Soliai, NT/DT, Miami Dolphins $
Malcolm Jenkins, Safety, New Orleans Saints $$$
Donald Butler, Inside Linebacker, San Diego Chargers $$$$
Terrence Cody, NT/DT, Baltimore Ravens $
Let's pretend, for a moment, you are frugal and prudent, and you only have
4$
to spend.
I
bolded
above what I would do with that small
4$
amount of money. That scenario would give the Packers boost at all three levels of defense.
I really like Schofield.
But I really love Griffen. I'd be tempted to sacrifice the DL help and spend a bit more, perhaps, to just come away with two guys in Griffen and Pollard.
I think Griffen is good enough he could match Matthews in sacks, depending on the blocking matchups.
By Bob McGinn, Journal-Sentinel
~Green Bay — It's one thing to be confident. It's another to be smug.
Listening to Mike McCarthy, Aaron Rodgers and others last week, it would appear as if the Green Bay Packers think they can just roll the balls out next season and be a prime contender for the Super Bowl.
All this stuff about finishing strong and overcoming adversity has to stop.
The Packers didn't finish strong. They were on their home field in their kind of weather and in ideal position to beat a powerful foe in the playoff opener. Then they blew it in the last six minutes.
They also didn't overcome adversity. The Packers lose their starting quarterback for the first time in 21 years and are proud of going 2-5-1 against a soft schedule (five at home) without him?
Let's be clear about something else. The NFC North championship was more about the Detroit Lions pulling a colossal fold than the Green Bay Packers doing anything wonderful.
From the sound of things, the Packers — aside from a tweak here and a tweak there — plan to keep on operating the way they always have under Ted Thompson, Mike McCarthy and Aaron Rodgers.
In case they missed it, pro football has moved on since the Packers' lone Super Bowl in their eight seasons as partners.
While the Packers were beating the Joe Webb-quarterbacked Vikings for their only postseason triumph since the 45th Super Bowl, NFC upstarts Seattle, Carolina and San Francisco — a combined 15-33 in 2010 when Green Bay was winning it all — drafted dynamic quarterbacks and made vast improvements to marginal defenses.
It might have been a terrible year in the division, but that doesn't mean it's going to stay that way.
The Vikings panicked and missed on Christian Ponder (in a drafter where Kaepernick went in round two), but with the No. 8 pick in the draft they'll probably be right back in the quarterback hunt. If the Vikings find the next Russell Wilson, Cam Newton or Colin Kaepernick, they have more than enough good young players to be right back in the division race next season and beyond.
Ill-tempered and arrogant Jim Schwartz, whose teams were always undisciplined, did get the Lions out of jail. Whoever the next coach is would be a better choice than Schwartz to erase the stench of that 1-6 finish.
And aggressive general manager Phil Emery, already having built a formidable offense, will be using every means at his disposal in an attempt to rebuild the broken defense in Chicago.
Meanwhile, in Green Bay, McCarthy on Wednesday talked about what might have been in 2013 and, as his quarterback did a day earlier, a championship window they don't foresee closing any time soon.
The Packers could forget how fortunate they were that the Lions self-destructed and bask in their third straight NFC North crown and fifth straight playoff berth.
The T-shirts around town say division champs, baby. How can you argue with success?
Or the Packers can take a long look at themselves, admit to their many shortcomings and failings and come back as a more vibrant organization under old standbys Thompson, McCarthy, Rodgers and Dom Capers.
None of those four men has any reason to feel good about the recent past.
Thompson has made his share of outstanding picks in the draft. It's his area of expertise, and his drafting record over the years is better than the norm.
Last year, Thompson went blithely along with McCarthy on the idea that Graham Harrell and B.J. Coleman were capable backups when everyone in America knew that they weren't. Given Vince Young's mental limitations, his signing Aug. 5 made no sense, either.
If Thompson hadn't dawdled for a week before bringing back Matt Flynn, the Packers might have gone 2-0 against the Giants and Vikings instead of 0-1-1.
Thompson made another mistake when he didn't sign another center after Greg Van Roten was done for the season Sept. 30. When Evan Dietrich-Smith couldn't play an entire game, at least two changes in the line had to be made and the offense fell apart against the Eagles and Lions.
A secret to the Packers' continued success has been their ability to identify core players early and sign them to slightly below-market contracts. Thompson's decision to give Morgan Burnett a big-money extension in mid-July and then watch him perform like a free agent should have rocked the franchise's draft-and-develop model.
As good as the Packers have been acquiring extra draft picks, there usually aren't enough of them to close all the holes. The safety position in Green Bay the past two years is a perfect example.
Thompson's aversion to veteran acquisition, whether through unrestricted free agency, street free agency or trade, must end for the Packers to hang with the top teams.
John Schneider, Dave Gettleman and Trent Baalke, the personnel-oriented GMs in Seattle, Carolina and San Francisco, have their teams among the final four in the NFC partly because of their veteran additions.
In the trades of 2013, look what Anquan Boldin did for the 49ers, what Alex Smith did for the Chiefs, what LeGarrette Blount did for the Patriots, what Jerry Hughes (10 sacks) did for the Bills, what Carson Palmer did for the Cardinals and what Jon Beason did for the Giants.
In free agency, some of the wise signings on offense were tight end Martellus Bennett by the Bears, guards Louis Vasquez by the Broncos and Matt Slauson by the Bears, and running back Danny Woodhead by the Chargers.
The list on defense includes ends Michael Bennett by the Seahawks and Mike DeVito by the Chiefs, nose tackle Glenn Dorsey by the 49ers, inside linebacker Karlos Dansby by the Cardinals, outside linebacker John Abraham by the Cardinals, cornerback Keenan Lewis by the Saints, safety Glover Quin by the Lions, kicker Phil Dawson by the 49ers and receiver-returner Ted Ginn Jr. by the Panthers.
Green Bay's only signing was Matthew Mulligan.
"They have no pro department up there," an executive in personnel said. "Ted does some good things in drafting but they don't do (expletive) in personnel.
"Ted has shut it down lately. They've gone stone cold. They have not been utilizing all the markets. Now it's caught up to him."
If Thompson trusts himself, pro personnel director Eliot Wolf and others in the building, he'll resume activity in free agency and seek bargain-priced or market-priced veterans to augment the draft.
As one scout put it, "You start at 8-8 when you have a franchise quarterback."
McCarthy deserves a degree of credit for developing Rodgers. He deserves blame for not being able to function better without him.
He's the quarterback/offensive/play-calling guru. He didn't get it done with Harrell, Coleman and Young, and when push came to shove he didn't get it done with Seneca Wallace or Scott Tolzien, either.
Try as he might, McCarthy failed to win a game for a month. In that period, he couldn't rally the team the way some great coaches in similar straits have done over the decades.
It also would have helped if McCarthy could have counted on his special teams more when Rodgers wasn't around to outscore the opposition. Unlike coaches that have had to make do without a great quarterback, he never had to depend on his kicking game for field position and points.
Bill Walsh never seemed to care. If McCarthy really does care, you wouldn't know it by the performance of his special teams for much of his tenure.
As for the overriding problem of injuries, McCarthy either has the most fragile or the unluckiest team in the league. The Packers need to find tougher players from the standpoint of injuries (see Eddie Lacy), but I'm not sure McCarthy or any of his advisers have a clue how to do it.
The pipeline from Thompson to the defense has all but dried up after the draft-day trade for Clay Matthews in 2009. That has placed undue burden on Capers, but as someone regarded by many in football as a top-five to top-10 coordinator it's incumbent upon him to perform better than this.
In the last four years, the Packers have ranked 28th, 26th, 26th and 29th in yards allowed per rush. Stopping the run is the foundation for any defense.
After a one-year improvement, the total of missed tackles (127) was almost back to the 2011 level (140) that sent McCarthy on an off-season tirade.
Just when it seemed the Packers could never allow as many as the 85 plays of 20 yards or more that they did two years ago, they yielded 82.
The red-zone defensive ranking was in the 20's for the third straight year, and the points-off-takeaways totals the past two years were by far the two lowest of the McCarthy era.
So many evils on defense returned to Green Bay this season.
Capers, however, has owned Jay Cutler (8-1) and Matthew Stafford (6-1), and it's a critical feather in his cap.
In 2010, Rodgers performed well in the first and third playoff games and brilliantly in the second and fourth. His pelts forever are on the wall.
Since then, in four playoff games, he outplayed the aforementioned Webb (subbing last minute for the injured Ponder) in the only victory and was outplayed by Kaepernick twice and Eli Manning once in the three defeats.
Not once in those four games did the opposing coordinators all-out blitz Rodgers, and on a mere 12.3% of passes did they even pressure with five. Just as San Francisco's Vic Fangio did last Sunday, the way to subdue Rodgers in the postseason is to make him be patient.
After review, it could be said that Rodgers gave the Packers ordinary quarterback play in his last four playoff starts.
Rodgers accepted blame Tuesday, but the only thing that matters will be if he performs a whole lot better than ordinary if and when his team returns to the postseason.
In a league set up for quarterbacks to dominate, the Packers need Rodgers to dominate. By the same token, they need Thompson, McCarthy and Capers to step up their games.
Complacency can be insidious within a National Football League operation. The Packers should have nothing to be complacent about.
Read more from Journal Sentinel: http://www.jsonline.com/tablet/topstories/packers-getting-left-behind-by-nfl-elite-b99180633z1-239781131.html#ixzz2q9RtWVhF
Follow them: @JournalSentinel on Twitter
By Brian E Murphy, PackersInsider.com senior editor
~Fire Capers.
Those two words were first heard from various corners of Packer Nation following the 2009 NFC Divisional loss to Kurt Warner's Arizona Cardinals 51-45 in overtime. Remember that game? Warner threw more touchdown passes that day than he had incomplete passes. It was a historic meltdown for the defense and was the best game Warner ever had. He was 29/33 for 379 yards, with 5 touchdowns, 0 interceptions. Yes that's 5 touchdowns to 4 incomplete passes. Perfect passer rating of 154.1. Historically torched via the air.
You didn't hear it the next year when the Packers were able to avoid any of the great gunslingers, as the Packers beat Michael Vick, Matt Ryan (before Julio Jones arrived), Jay Cuter, and Ben Roethlisberger to win Super Bowl XLV.
But you heard it again the next year, 2011, when Eli Manning's Giants came into Lambeau and eliminated the MVP Aaron Rodgers by getting out to an early lead that they never relinquished.
Manning threw for 330 yards, 3 touchdowns, and had a passer rating of 114.5.
Running back Ahmad Bradshaw was also able to chew up 5.3 yards a carry.
And, for good measure, the defense allowed a Hail Mary touchdown to end the first half.
Of course, 2012 was worse as the Packers defense did their best to try and get Colin Kaepernick enshrined into the Pro Football Hall of Fame, when they allowed the skinny-legged quarterback to run wild in a 45-31 Packers exit.
Kaepernick set an NFL record for quarterbacks rushing with 181, and not to be discriminatory, the Packers also allowed running back Frank Gore get 119 himself for a cool 300 even between the two.
In addition to that historic day on the ground, Kaepernick also out-passed Rodgers by 6 yards (263-257), despite throwing the ball 8 fewer passes.
And now, following another season-ending loss to the 49ers, when they marched down on the Packers defense for a last-second, game-winning, season-ending FG, you've seen your defense fail again.
We're still hearing it from some folks, but not as loudly because of two things: 1) the defense was decimated by injuries. Again. No Matthews, No Hayward, No Jolly, and Shields and Neal checked themselves out on the first drive for San Francisco; 2) The defense held the Niners to 23 points, which should be enough to win.
However, the defense did fail, once again, in the end.
They allowed the Niners to march down the field to win it, and in doing so, allowed too many 3rd down conversions. Included in that were 2 3rd & longs. One was a pass, and the other, the killer, was a scramble by Kaepernick for a long gain and into game-winning field goal range.
How could Capers be so stupid time and time again? That's what many Packer fans were asking, again.
Well, it's not as simple as that.
Capers often had the right call, a brilliant call, had the players (each one) done what they were supposed to do.
It's like a parent who teaches his/her 5 kids to do this or that.
Four of them do as they're told, but 1 messes up, and ruins it for everyone.
In the following examples, you will notice Jarrett Bush, twice. And you will notice Mike Daniels twice.
The first one, earlier in the game, they did what they were supposed to do, and the result was a sack.
The second one, that last drive killer 3rd & long conversion, both Bush, and especially Daniels, committed fatal mistakes, allowing Kaepernick the wide edge. True, had that been Clay Matthews and not the gimpy undrafted rookie Andy Mulumba, we might have seen this in-bounds this time.
Anyway, let's take a look at what I am talking about.
After seeing the stills, you will see that Capers called a great play, but Bush and Daniels simply screwed it up.
First, I am going to break down another play from earlier. It was a similar call, not exact. But those 2 guys, the blitzing Bush, and Daniels, maintained their gap responsibilities, and the result was success: a sack.
This is how the play is Designed. By Dom Capers.
He's always been a master of these concepts, and when they are executed properly, it makes heroes out of players.
These film breakdowns are what the coaches and players routinely see in film sessions following games.
The Fox, NBC, ESPN guys don't take the time to break these things down for us viewers, whether it's a good or bad result.
Speaking of bad:
Here's the one that failed. This one is THE SIGNATURE PLAY of the failed season.
Everyone blames Capers or Bush for this. But Daniels also did his best to ruin it. Yes Daniels did make some good plays too. But Micah Hyde's miss wasn't the only fatal miss on that last drive. Two Hawkeyes.
Here's the play in full- motion from above. Now you'll know how it happened, and where the breakdowns occurred.
By Brian E Murphy, PackersInsider.com senior editor
~I'm not a Capologist, but I will try and be as realistic as possible.
We all know we have a lot of our own UFA's right now.
HERE IS WHO WILL BE RE-SIGNED
Evan Dietrich-Smith, slightly below medium pay for starting C.
Matt Flynn, he has no other options, will be veteran minimum.
James Jones, already once tested free agency when younger. won't get huge interest again. good for us.
Johnny Jolly, his neck worry costs him $ and interest anywhere else. vet minimum 1-year deal.
John Kuhn, won't make as much as last contract, but he stays home.
Jamari Lattimore, minimum deal, might not make team next year.
Ryan Pickett, nobody else will offer the big old man a deal, so he stays home cheap, we need him.
Andrew Quarless, he's not very good, but he's the best we got now. Won't cost much.
James Starks, RB's aren't that hot of commodities, so won't be much competition if any for him.
CJ Wilson, he's just a body, and if he costs more than the vet minimum or close, he's gone.
HERE IS WHO WILL NOT BE BACK
BJ Raji
Sam Shields, we all want to keep him, he's great. But someone -(Minnesota, Miami, Jax) will throw a HUGE offer his way…. Thompson will make the difficult decision to save that money to bring in some help elsewhere and keep more of his  other guys, both now and next season.
Jermichael Finley, don't know that he will ever play again, but I suspect not for Green Bay again.
Chris Banjo
Khalil Bell
Robert Francois
MD Jennings
Mike Neal
Marshall Newhouse
Seneca Wallace
FREE AGENCY
Thompson saves the money on Shields and Raji, and he also gets Tramon to re-structure similar to what AJ Hawk did last season.
Teddy goes 2006 again on us, and brings in three good UFA's on defense. No day-1 or even week-1 Gucci priced guys.
But good values, and guys young enough to help for a good 5+ years like Woodson and Pickett did.
ILB Vincent Rey, Cincinnati Bengals. 6′ 2″, 247, age 26 :: 3-year, $8 million dollar deal.
What to do about Hawk and Brad Jones? Not sure, but they are weaknesses. People do not understand how much better the two ILB'ers are for the 49ers than what Hawk and Jones are. Give them credit for trying. But that only goes so far.
I like this guy Rey.
http://www.rotoworld.com/player/nfl/6106/vincent-rey
OLB Everson Griffen, Minnesota Vikings. (Made $490K last year). 6′ 3″, 273 :: 4-year, $13 million
He's another tweener like a Mike Neal, Nick Perry. But, #1, he HAS produced, and #2, he's good.
He'll take the place of Neal, and bump Perry to #3 on the depth chart.
http://www.rotoworld.com/player/nfl/5615/everson-griffen
Safety Bernard Pollard,- Tennessee Titans   6'1″ 224 :: 3 years, $10 million
He's a veteran at age 29. Not too old. 8 years younger than Woodson.
This guy has a physical presence. He will make the tackle, and he will intimidate. He also had 3 more interceptions this season than all Packer safeties combined. He made $1.9 mil this season.

I wanted TJ Ward, Donte Whitner, Jairus Byrd, bot those guys will be more expensive. Certainly too expensive for the Packers.
Pollard can be had much cheaper. And this guy craves winning. He has some of Ray Lewis in him, whom he played with for a few years and won a title with as a Raven last season.
http://www.rotoworld.com/player/nfl/3700/bernard-pollard
DRAFT:
Then you know what The Packers do in the DRAFT?
They take the true BEST PLAYER available.

They don't reach for the best safety or best DL or ILB or OLB because they have a hole there.
The HOLE is already filled, with a veteran who can come in and from day-one, knows how to play in the NFL.
Meanwhile, the rookie can learn and if he truly is the BEST player available, he will help the team be better -at whatever position he happens to be.
Here's how it happens to play out, remember, Ted Thompson is in charge of the draft.
Round 1- DE/DT Ra'shede Hageman, Minnesota:: 6′ 6″, 311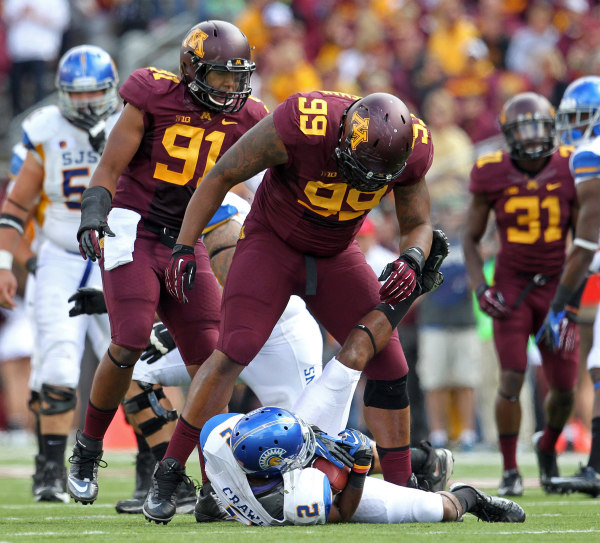 Round 2- ILB Chris Borland, Wisconsin:: 5'11", 246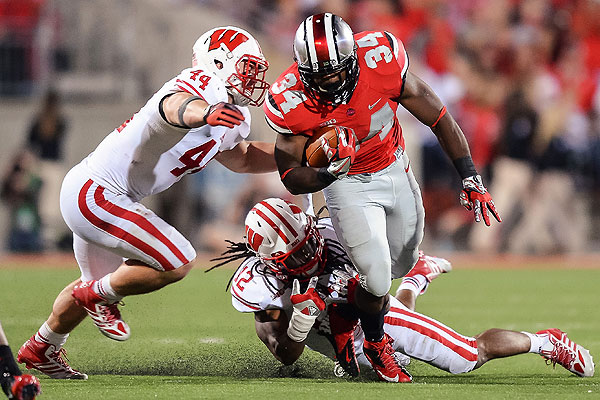 Round 3- Traded to New England for their two #4 Rd picks
Round 4- TE Arthur Lynch, Georgia:: 6'5″", 254
Round 4NE- CB Aaron Colvin, Oklahoma:: 6'0″, 192
Round 4NE- S Craig Loston, LSU:: 6'1″, 210
Round 4 Comp (Jennings)- WR Donte Moncrief, Ole Miss:: 6'2″, 226
Round 5- OT Billy Turner, North Dakota St.:: 6'5″, 310
Round 5 Comp (Walden)- DT/NT Ryan Carrethers, Arkansas St:: 6'1″, 330
Round 6- WR L'Damian Washington, Missouri, 6'4″, 208
Round 7- S Isaiah Newsome, Louisiana-Monroe:: 5'11", 220
Here's how the new DEFENSE would shape up.
DE/DT: Daniels, Hageman, DJones, Worthy, Wilson, Jolly* (neck probably has ended Packer career like Collins, Sterling)
NT: Pickett, Josh Boyd, Carrethers
In Hageman and Datone Jones, Capers now has his tall DE's for his ideal 3-4 DEs.
Daniels is effective from inside, something we've been looking for from Worthy. Third year a charm?
The big Beef is as good as this year as Carrethers replaces Raji for a fraction of the price. Jolly hopefully will be healthy enough to be back, but I don't expect that from all reports now, and from the typical bad luck the Packers get regarding necks.
OLB: Matthews, Griffen, Perry, Mulumba
ILB: Rey, Borland, Hawk, B Jones, Lattimore
I like Hawk and Jones. I just think they are below average.
Hawk is reliable, dependable, and average. Amazing he's the highest pick the Packers have had since Tony Mandarich in 1989. Wow.
Brad Jones, I also like, but he's not an inside linebacker. That spot was Desmond Bishops. Jones was drafted as an outside linebacker with his edge pass rush being his specialty.
From the little we have seen in the NFL of Rey, I think he would beat out both of the soft vets.
And even though we've seen nothing in the NFL of Borland, I think this guy has "it". I think he's a smaller version of Luke Keuchly. He's everywhere. He's hyper. He just sniffs out the run. Has instincts. He sees things quicker than most. Something we don't see from the current ILB's.
I believe the play of Borland will spark this defense, and people will say "Oh that's how an ILB is supposed to play the run in a 3-4 defense?!"
I have seen Everson Griffen in the NFL and think he's what Thompson and Capers hoped Perry would be. Perry has been good at times when healthy.
Those top 3, all USC guys, would be great -IF healthy. Mulumba has some potential as we saw, but he should be the #4 guy.
Griffen has a chance to be a stud. He's on the larger side like LaMarr Woodley.
I would love to steal a Viking back. Last time the Packers stole a guy on D from them, it was the GraveDigger. Gilbert Brown worked out pretty well for the Packers.
CB- Tramon, House, Colvin
CB- Hayward, Hyde
S- Burnett, Richardson, Bush
S- Pollard, Loston
Draft & Develop…… As good as Hyde was this year, I expect him and House to both be better next year. House HAS to bulk up. Get him to Seattle and find some of those SeAdderal supplements. Those Seattle DB's are strong and somehow stay healthier.
Of course, Hayward was no better in his 2nd year than his rookie year, because his hamstring was weak.
Richardson showed some good stuff, but he's not perfect either. At least he's physical.
So is Pollard. I believe he not only brings the physicality we are missing, but I think he will rub off on the other guys, and toughen them up a bit. Loston is a good player from a great defensive program at LSU.
Burnett has to be better than this year. Whether he needs to study more, or whatever, he has to be better. Getting a veteran next to him in Pollard, I think that will help Morgan out a lot.
On offense, don't forget they still have Jonathan Franklin and DuJuan Harris at their disposal.
Harris was good last year.
Jermichael thinks he'll play again. I'd say that's about 50-50, and for the Packers, seems doubtful.
But I know he'd love to come back to Green Bay.
I think they have to keep James Jones.
Number one, he won't be that expensive. He didn't do much in his final game except not come up with the two 2 big tough catches vs the 49ers.
He won't garner much interest, except perhaps from Minnesota. Just kidding. Not this time Vikings. They're set at WR enough finally they won't mess with the Packers there this time. Same with Chicago, who has two great receivers already. Jones is cheap enough he stays. Thankfully.
Number two, Jordy and Cobb will be due new contracts next season, and you have to be ready in case we lose one of them. Jones is important to us.
The offensive line will get back OT Bryan Bulaga, and J.C. Tretter, who was a nice draft pick last year. Don't forget about him. He will help somewhere.
If they have an average (average for the league, not for them) year with injuries, I think the Packers get to at least the NFC Title game, probably the Super Bowl.
If the Injury-God's reverse the jinx on the team, and they have the opposite health luck, like the 49ers, Philly, enjoyed this year, I see the Packers going 15-1 (like 2011) but with a good-great defense, they kick everyone's butt in the playoffs and beat Denver in the Super Bowl.
By Bob McGinn, Journal-Sentinel
~Green Bay — The Green Bay Packers posted one of the six worst records (8-7-1) of any division-winning team in the 36-year history of the 16-game schedule.
Three of those other five teams — Denver (8-8) in 2011, Seattle (7-9) in 2010 and San Diego (8-8) in 2008 — all played their first-round playoff games at home. All three won.
The other two — Cleveland (8-8) in 1985, Minnesota (8-7-1) in 1978 — played their first playoff game on the road and lost.
Green Bay was in ideal position to become the latest underdog team with a mediocre record in the regular season to post a wild-card surprise. The Packers just didn't play well enough.
Here is a rating of the Packers in their 23-20 loss to the San Francisco 49ers, with their 1 to 5 football totals in parentheses:
RECEIVERS (3)
Defensive coordinator Vic Fangio was without starting CB Carlos Rogers (hamstring) and had so little trust in veteran Eric Wright that he never played him a down from scrimmage. Fangio got away with playing just three cornerbacks because ILBs NaVorro Bowman and Patrick Willis are speedy and savvy, and Mike McCarthy lined up with four wide receivers on just five of 63 snaps. When the Packers split four wide, TE Andrew Quarless usually was the fourth. Fangio played two safeties deep at least 90% of the time, protecting vulnerable nickel back Perrish Cox and forcing the Packers to throw into much tighter windows downfield. Jordy Nelson (61 snaps) was covered most of the time by Tramaine Brock, a first-year starter with outstanding ability. He caught seven of the eight passes thrown to him for 62 yards, including a pivot route in the corner that evaded Brock's fingers by a matter of inches. James Jones (62) again struggled to separate in the short-to-intermediate range and had chances to make three big plays. He was the first to jump against SS Donte Whitner and Cox on an underthrown bomb at the 7 but couldn't make the play. It also would have taken excellent work for Jones to catch a 9-yard pass in the right corner of the end zone and another deep pass at the 9 against Brock. Jones looked stunned after the third that he didn't catch any of them. Randall Cobb basically was invisible in 43 snaps. The only balls thrown to Cobb came off adjusted routes on extended plays that he turned into gains of 26 and 25 yards. Jarrett Boykin (27) got shut out. Early on, Quarless (47) made a solid lead block on Bowman and a good cut block against LOLB Aldon Smith. Then he was clubbed off his feet by Smith on a 1-yard run and failed at the point of attack against LOLB Ahmad Brooks. It typified his up-and-down season.
OFFENSIVE LINE (3)
Josh Sitton atoned for one of the worst games of his career Sept. 8 in San Francisco with an excellent effort against DE Justin Smith. It was strength against strength, and Sitton gave up just one-half pressure and no "bad" runs. Sitton certainly gave ground on Smith's legendary power rushes, but each time he was able to sit down before getting into Aaron Rodgers' lap. On John Kuhn's 1-yard TD run, he ran directly behind Sitton's drive block against DE Tony Jerod-Eddie. The four power plays on which Sitton pulled gained 20 yards. It's unclear why the Smiths didn't run more than a couple of stunts against Sitton and David Bakhtiari. Undoubtedly some of the reason was Aldon Smith's immediate success against Bakhtiari. He played right through Bakhtiari on the first snap from scrimmage, and that's generally the way it went until the rookie exited early in the fourth quarter with a concussion. Bakhtiari was partially responsible for two sacks by Aldon Smith, gave up another hurry and drew two of the team's three penalties. Bakhtiari finished the season being manhandled by a player with better quickness, leverage and strength. Replacement Marshall Newhouse (11 snaps) finished with another forgettable showing. On the other side, Don Barclay was beat inside by Brooks for 1½ "bad" runs, including a failed third-and-2 run by Kuhn on the first series. He also allowed 5½ pressures, including 1½ sacks. Fangio had no reason to blitz more than he did (11.8%) on passes because Aldon Smith and Brooks were constantly threatening outside while Justin Smith and Ray McDonald were getting push inside. Opposite McDonald, T.J. Lang gave up 1½ pressures and two partial "bad" runs. Evan Dietrich-Smith was inconsistent as well. He got to the second level and sustained nicely against Bowman and Willis. Late in the game, Dietrich-Smith pulled, passed up the unblocked Bowman to track outside and Cobb was swallowed up for a gain of 1.
QUARTERBACKS (3)
Mike McCarthy's game plan lacked punch. He decided to run against Fangio's two-shell secondary from spread formations, throw short with check-downs and screens and try to get Rodgers out on extended plays. Another part of the problem was the quickness and speed of the inside linebackers in their matchup coverage underneath. In the first half, Rodgers was indecisive. He held the ball 4.3 seconds on the first sack, then fumbled in 3.8 seconds after being scrunched by Brooks and Aldon Smith. For Rodgers, who fumbled just 17 times in 53 games from 2010-'12, it was his fifth fumble in 10 games this season. Rodgers was at least partially responsible for three of the four sacks. At times, he had receivers open but thought better of it and decided not to take the chance downfield. Fangio forced Rodgers to be patient, and it's not a game that he prefers to play. In the second half, he ignited the team with two impromptu plays. Trapped by McDonald after his bull rush through Dietrich-Smith, Rodgers managed to get out and with eyes up spotted Cobb behind Cox for 26. On the next series, James Starks and Newhouse didn't react well to a rare slot blitz. Rodgers ducked inside of the onrushing Cox and hit Cobb again for 25. Other than that, his longest completion was 19 yards.
RUNNING BACKS (4)
Serenaded several times by chants of "Ed-die, Ed-die," Eddie Lacy completed his first season by grinding out 81 yards against one of the league's finest fronts. He broke three tackles, attacked throughout and gained at least a yard in 20 of his 21 carries. On a promising check-down, he dropped his third pass of the season. Lacy played 37 snaps, including 24 in the first half and then just 13 in the second. He might have had some breathing problems in the frigid evening air. He looked tired. Enter Starks, who in 15 snaps ran very well five times for 29. Starks broke a tackle by Willis and made a fine route adjustment against Brooks for a 13-yard reception. Starks and Rodgers were next to each other and in some form of communication when Rodgers deemed it necessary to burn a pair of timeouts. Kuhn (13) might have made the first down on third and 2, but he fumbled.
DEFENSIVE LINE (3)
It was another base defense game against the 49ers with 3-4 personnel on the field for 44 of 64 snaps (68.8%). The best of the wide bodies was Ryan Pickett (47). He beat a reach block by C Jonathan Goodwin that turned into a run for minus 5. He pursued near the 49ers' bench to trip up Colin Kaepernick after a gain of 1. He came off a block and stopped Frank Gore for a 1-yard gain. Pickett also backed up into zone coverage three times. D-line coach Mike Trgovac changed things up, giving B.J. Raji more snaps (26) at the nose than Pickett's 17. The other went to Josh Boyd (14). Every now and again Raji would strong-arm LG Mike Iupati or Goodwin, jolting them back. Raji wasn't making many plays from his gap but wasn't knocked out of it, either. Mike Daniels (35) played with passion and easily was the team's best pass rusher. On his sack, he bull-rushed Goodwin and grabbed Kaepernick just as he was breaking out for what would have been a sizable gain. Daniels had 1½ pressures against Iupati, the Pro Bowl player who continued to struggle against movement. However, he deserved his share of the blame for creating some running lanes for Kaepernick. C.J. Wilson (18) took some of the base snaps that would have gone to injured Johnny Jolly and held his ground. Jerel Worthy played three snaps, including one at OLB after injuries struck, and actually showed a little explosiveness.
LINEBACKERS (3)
LOLB Mike Neal was cut-blocked on the right knee by RB Kendall Hunter on the fourth play, limped through another snap and then was done for the day. It forced Nick Perry to play 59 snaps, six more than he has in a game all season. In the early going, Perry set a stiff edge. One time, he thrust his arms into TE Vernon Davis' chest and jolted him back. He sacked Kaepernick on a stunt set up by Jarrett Bush's flush against Gore and played two bootlegs well. As expected, the more Perry played on his bad foot, the worse he performed. On the first play of the 49ers' final drive, he was unable to break down in space against Michael Crabtree. When the 49ers were committed to the run trying to reduce the field-goal distance, first Perry and then A.J. Hawk (64) found themselves dominated by lead-blocking FB Will Tukuafu. Meanwhile, Andy Mulumba (57) played as long as he could on a bad knee and had 1½ pressures. Datone Jones played seven snaps down and six at OLB when Mulumba had to depart. It was obvious Jones knows what he's doing standing up. Neither Hawk nor Brad Jones (55) did anything beyond the pedestrian. Hawk needs to be closer and almost rolling into Davis on his 28-yard TD so when the ball comes he's in position to defend it. It's a difficult coverage, but no one ever said the game was easy. When Gore saw Kaepernick take off on what would rupture into a 42-yard run, he went after Jones and cut him off his feet. On the final drive, Gore routinely beat Jones on an 11-yard check-down.
SECONDARY (3)
Tramon Williams' aggressive, veteran leadership was precisely what this makeshift defense needed to at least be competitive in a playoff game. On Kaepernick's second pass, he jumped a stop route to Crabtree and broke it up. When Kaepernick threw a lazy corner route to Davis, Williams made a wonderful read and swooped in front for an interception. Give Kaepernick credit for chasing Williams and making the tackle on a 17-yard return. Give Williams credit for hitting Kaepernick harder than anyone did all game. However, in the first quarter, Williams failed to put away what should have been an end-zone interception that would have taken three points from the 49ers. When Mulumba rolled into Sam Shields on the second play, Shields suffered a knee injury and was replaced by Davon House. After having played five snaps in the last four games, House played 61. Dom Capers didn't alter his stop-Gore plan. There must have been 20 snaps in which House and Williams were in man coverage without any safety help. Given minimal practice time and inactivity, House played surprisingly well. He broke up two third-down passes in the end zone to Crabtree and a 38-yard home run to Davis. Brad Jones picked up his garbage sack because House instantly read a tear screen. House did leave his feet too soon and missed an open-field tackle of Kaepernick. Crabtree caught some passes on him. But, all things considered, House left a positive final impression. Nickel back Micah Hyde (20) forced Crabtree to fumble, but M.D. Jennings (46) fanned on the recovery at the boundary. The sure-handed Hyde also dropped what might have been a game-winning pick-six of 34 yards and gave up a 31-yard corner route to Crabtree. When Capers rushed seven for the first time since Game 7, the blitzing Bush (10) committed the cardinal sin of giving up the outside on Kaepernick's 11-yard burst on third and 8. It was a horrible mental error. Safeties Morgan Burnett (64), Sean Richardson (18) and Jennings contributed little.
KICKERS & SPECIAL TEAMS & OVERALL …..  Full story here
By Brian E Murphy, PackersInsider.com senior editor
~The Packers came into their Wildcard game banged up, set to face the remarkably healthy 49ers, as underdogs.
One Niners drive in, the Packers had lost two more key starters as OLB Mike Neal injured himself running into 49er QB Colin Kaepernick, and top CB Sam Shields hurt his knee on a play to Crabtree, where Morgan Burnett missed the tackle and ended up getting Shields knocked out of the game. Neither key player returned.
Andy Mulumba, one of the reserve OLB's in Neal and Clay Matthews place, also went down with a knee injury in the 4th quarter.
He was able to come back late, but was hobbled as seen on the final big play of the game, Kaepernick's scramble around the left side. He got away first from reserve cornerback Jarrett Bush, who made a big mistake letting him around the edge. Of course, Bush was only in because of injuries to cornerbacks Casey Hayward and Sam Shields.
Higher reserve Davon House had gotten nicked up too and departed, although he later returned.
I'm not sure how much and how long the injury-contrasts between the Niners and Packers can be totally chalked up to "luck". It just goes on and on and on.
Despite all the bad luck with injuries, the Packers battled and made this game much closer than I anticipated.
In fact, the Packers had a first and goal at the Niners 9-yard line with about six minutes to do, down 20-17. A touchdown and it would have been a Packers 24-20 lead with over 5 minutes to go.
That 1st down was set up by a miraculous escape by Aaron Rodgers, who found Randall Cobb for a 26-yard pass. Cobb had a chance to get away from the tackler and score, but he lost his balance and landed at the nine yard line.
But momentum and a first and goal gave everyone the feeling the Packers were about to score and take a 4-point lead.
A trick playcall to Randall Cobb on a run to the short side of the field, for no gain, left a 2nd and goal.
Rodgers was flushed from the pocket to the right, and ran out of time, throwing the ball away. It was a play like the touchdown pass earlier in the game to Jordy Nelson.
Before risking a sack, or running for some yards, Rodgers threw it away to live to fight another day. It was now 3rd and goal.
Another quick pass that was covered, like the 2nd down play, and Rodgers hesitated but took off up the middle, sliding down before getting killed, at about the 7-yard line.
A Mason Crosby field goal would tie the game at 20, with 5:06 to go.
Rodgers would never see the ball again. Onto next season.
THE GOOD
Jordy Nelson
He doesn't get open every play, and he can't escape from guys holding and grabbing him all the time, but he has a way of making plays. His touchdown gave the Packers a 7-6 lead. He was thrown to 8 times, for 7 completions and 62 yards. He was kept in check as he didn't get any deep ones. But he was the most reliable target.
Eddie Lacy, James Starks, John Kuhn
Lacy and Starks combined for 110 yards on 26 carries, and ran hard. Starks also caught one pass thrown to him, for a nice 13-yard gain. Lacy caught two, but did drop one easy pass late in the game where he was wide open and had about 10 yards of space.
Tramon Williams
He didn't play perfect, but he played well. Without his interception on the Niners third drive, with the Niners up 6-0 after three straight 3-and-outs by the Packers offense, the game might have turned into a rout. Williams made the play that changed the momentum early.
Other guys that deserve a mention
Ryan Pickett did a lot of great work on the interior.
Mason Crosby was perfect with his short kicks, and made a tackle on one of his kickoffs.
Nick Perry was his usual lost self in space, but he made a few good plays including a sack.
Aaron Rodgers didn't throw any interceptions.
THE BAD
Injuries
I don't know how else to put this, but it's so bad that it's not a surprise to any Packer fan to see Packers players down on the field after a play.  Already missing defensive MVP Clay Matthews, Casey Hayward, Johnny Jolly, Bryan Bulaga, Jermichael Finley, DuJuan Harris, and Johnathan Franklin, the Packers then lost Sam Shields on the Niners second play. He was lost for the game.
Next was starting OLB Mike Neal, who was more important than ever since Matthews was out. He was lost for the game.
Later on, backup starting LT David Bakhtiari went down too, and never returned. Of course, he's been forced to be a starter all year long because primary starting LT Bulaga tore his ACL in the Family Night scrimmage back in August.
On the flip side, the 49ers original starting-5 OL was, and stayed, fully intact for this game. Same with their four Pro Bowl linebackers Smith, Bowman, Willis, and Brooks. All of them came in healthy and got through the game healthy.
Last year and the year before and even after the Super Bowl season of 2010 when 18 guys were on IR, there have been questions and research done as to why the Packers get so many more injuries than average. I chalked it up to luck, but how often can it be luck when it happens again and again?
Jarrett Bush & Micah Hyde
In a game this close, with a season on the line, it usually comes down to one big play, made by one team or the other.
Both of these guys failed their chances on that final drive.
Hyde had a chance to pull an Al Harris moment, with a game-winning pick six. Would have been on the exact same sideline. But he wasn't able to make the interception. Good player, physical, a great draft pick, but he didn't make the big play the team needed.
That set the table for Bush, who later blew the play where he came off the edge and went into running back Frank Gore to be blocked and to clear the way for Kaepernick to run around the left edge for a big gain and into game-winning field goal range.
James Jones
I love Jones, feel like I am his biggest fan, as a player and a person. And I want him re-signed badly.
But he had a chance to make a big play, twice, on downfield throws. One he was open but the pass was underthrown and he had to fight back to the ball, through two guys. He had it, but lost it. There was another one deep on the right sideline. Both were tough catches, certainly not "drops". But we've seen him, and Jordy, come up with catches like those many times. Those are often the differences between winning and losing.
Offensive Playcalling
As good as Randall Cobb is, he only had two passes thrown his way, both for completions. One for 25 and the other for 26 yards. Why he wasn't thrown to more is a mystery. He wasn't in very often.  
Third Down Offense & Defense
While the defense did play better overall than I anticipated, they were their normal selves against the Niners on third downs. They allowed the Niners to convert on 6-of-12 third downs, 50%. And they let them get a 4th down earlier in the game which led to a field goal.
On the flip side, the Packers, with MVP QB Rodgers, were 3-of-11 on third downs, 27%, including that final drive that resulted in settling for a field goal and not touchdown.
By Brian E Murphy, PackersInsider.com Senior Editor
~It continues to amaze me when I hear national, and local, pundits say that the cold weather for the Niners-Packers game Sunday is an advantage to the Packers. Because a player lives there, they have an advantage in the game between the lines?
Does not compute.
What horrible cold weather does do is it makes the hands and fingers cold. It affects touch, precision. It won't help a precision passing team. Go back to the 2007 NFC Championship game and you'll remember what it did to Favre. Sure, Favre was older and hated the cold. Aaron Rodgers is younger, but he can't like that cold weather.
Colin Kaepernick was born in Wisconsin. Rodgers was raised in California.
Rodgers has played more games in the cold weather, but the weather is going to affect both of those guys the same.
Eddie Lacy was raised in Alabama. He also has asthma. Regardless, he's never felt anything like what he's going to feel, and breathe, on Sunday evening.
The advantage or disadvantage won't be known for sure until the game is over, but it typically favors the more physical team. Both mentally and physically.
The 49ers team is, perhaps, the most physical team in the NFL. And, as usual for some reason, they are as healthy as any team in the NFL, with the possible exception of the Philadelphia Eagles.
The 49ers have a solid offensive line, with three first round picks on it. The Packers also have a pair of talented first round offensive linemen. Bryan Bulaga and Derek Sherrod were supposed to be Rodgers bookend franchise offensive tackles when Ted Thompson used his first round picks on them in the 2010 and 2011 drafts.
Where are they now?
On the flip side, the Niners do have a strong offensive line, partly because Joe Staley at left tackle, and Anthony Davis, at right tackle, continue to avoid the serious injuries that have plagued the Packers. They also have another Pro Bowl caliber first round guy at guard in Mike Iupati, starting Sunday. He did miss a few games this year, but he's back and firing away for the playoff run.
That is a physical line. And behind them, a great running game featuring Frank Gore and Kendall Hunter. Neither guy missed a single game this season, miraculously apparently.
They are a physical offense, as Packer fans can remember.
The defense has the best front-seven in the NFL, featuring All-Pro's Justin Smith, Aldon Smith, NaVorro Bowman, Patrick Willis, and Ahmad Brooks. That's a star-studded, and physical, defense. It's essentially a dream team, that front seven. The Packers only have one player of that caliber on defense, Clay Matthews.
Oh yeah, of all those players mentioned, Matthews is the one that is out injured. Each and every one of those Niners front-seven studs happens to be healthy, again miraculously.
What we're going to see Sunday evening are a lot of runs by the Niners where there are gaping holes, such as what we saw from DeMarco Murray in Dallas, and Le'Veon Bell from the Steelers.
Jason Garrett and Bill Callahan are the only ones who stopped Murray that day in Dallas. Had they not, the Bears would be playing this week, not the Packers. Garrett and Callahan won't be on the Niners sideline Sunday night.
And then when the Packers over-pursue on Gore and Hunter, Kaepernick will keep it and run right past a blind Mike Neal or Nick Perry, just like we saw in last year's playoff loss. Last year, San Francisco eliminated Green Bay 45-31, with Kaepernick running for a pair of touchdowns and throwing for two more. He set an all-time quarterback playoff record in the process with 181 yards rushing.
And when the Packers commit to both QB and RB running it, there's Anquan Boldin, who torched the Packers for over 200 yards in this year's opener, even with Matthews pressuring Kaepernick.
Vernon Davis also had 100+ yards and a pair of touchdowns that game. Do you think AJ Hawk or Brad Jones can watch the runs and still get to and run with Davis? Neither do I.
Michael Crabtree wasn't there in week one, but he will be this Sunday. He's Kaepernick's top receiver.
The only edge the Packers have in terms of personnel is at QB, with the MVP Rodgers. However, the two games Kaepernick has played against Dom Capers' Packer defense, he has looked like the greatest QB in the history of this sport. He's been just good against everyone else. Meanwhile, as great as Rodgers is, and he and Peyton Manning are the best, Rodgers is playing against a great defense who will pressure him from all directions, from both Smith's on one side to Ahmad Brooks on the other side, to up the middle from Bowman, Willis, and anyone else they send.
Rodgers is great, but nobody can compensate for so many mismatches elsewhere, on both sides of the ball.
I've run this game 100 times in my simulator, and the Niners win 92 times. The only chance the Packers have, aside from the impossible-to-comprehend chance the Niners suffer some big injuries, is if the Packers defense comes up with two or more turnovers and the Packers offense plays mistake-free. That's asking for too much.
Final prediction:
49ers 33
Packers 17