By Tyler Dunne, JSOnline.com
~Green Bay — Attention turns to the other two wide receivers weekly. Of course, Davante Adams feels underestimated.
"Every week," the rookie said. "It's been like that since college. You underestimate and it's natural — I can't blame them. But that's what happens when you do."
You get burnt for seven receptions, 117 yards and a touchdown.
Underestimated, sure, but certainly not upset about it. Adams will gladly take 1-on-1 coverage across the line of scrimmage.
"One guy on me, I'm thinking I know my route. You don't," Adams said. "And I think I'm better than the guy across from me. There's no reason I shouldn't win."
Adams won, several times, in the Green Bay Packers' 26-21 divisional playoff win over the Dallas Cowboys on Sunday. With Jordy Nelson (two catches, 22 yards) neutralized, mostly invisible, the Packers needed another weapon to step up and that player was Adams. His 46-yard touchdown in the third quarter brought the Packers within one point, 21-20. And on third and 3 the final drive, he took a short pass 26 yards.

On both critical plays, Adams made a defender miss. And he did all of this after catching only four passes for 29 yards the entire month of December.
"Keep running the routes and catch the ball when it's thrown to me and take advantage of every opportunity," said Adams on what's been running through his head this month. "You can't do anything about if he's throwing it to me or not. Just when he does, I have to make sure I execute."
"There was no (rookie) wall or anything. I love playing football, so I never get tired of it. I'm grinding each day to make sure I'm getting better and better and trying to build off the week before. So it's not about hitting the wall or anything. If I don't get as many catches, Jordy or Randall are."
The touchdown was the result of a tip picked up on film study. Adams knew that safety J.J. Wilcox would overreact to his first move.
So Adams caught the third-and-15 ball and then dropped a juke inside and broke outside to the pylon.
"That's a little flashback to watching some film and the way they play," he said.
He said he was so caught up in the moment he forgot to keep the football as a souvenir, adding "My Mom's going to be (ticked) off at me." And on the third down to help ice the win, he broke through a Sterling Moore tackle.
"I saw the ball so I said I better catch this thing," he said. "Just plucked it. When you get to thinking too much, that's when the problems and the negative things come in. Try not to think, just play.
"I felt like I had more of the ball and I just snatched it away and tried to get upfield."
As he said several times all season, Adams has just tried to run his route the same every time. Eventually, he figured, this 11-target game could arrive. After two drops at Tampa Bay — one in which he was clocked by the safety — he had zero targets on 61 snaps against Detroit. On Sunday, Rodgers leaned on Adams. So after the game, the receiver said Rodgers told him how proud he was of his performance.
There wasn't much said during the game, rather Adams says Rodgers will either give him a good "look" or a bad "look."
"Especially when I make the good play," Adams said, "he gives me a good look. If it's a miscommunication or something, it's not as good. He's not a huge talker. He can see when I'm on and I know when he's on. So it's just knowing your teammate.
"We didn't have any bad looks today. We got all good ones today."
Adams has tried to regain Rodgers' trust in practice. And his position coach was not thrilled after those drops in Tampa Bay. But on Sunday, Adams was more physical when the ball arrived, leading to several big plays. The ball can go anywhere at any time, he reiterated.
The guy who just turned 22 years on Christmas Eve was a major difference-maker for his hobbling quarterback.
"It's part of the game," Adams said. "If you're the type of guy who's in it for the long haul, you can't expect everything to be roses throughout your entire career. It's my first year and I'm getting a lot of time out there, catching for a rookie in the Green Bay Packers organization, I'm catching a lot of balls, too. I'm doing what I can and try to make the most of it."
At Seattle in Week 1, Adams was still playing behind Jarrett Boykin.
He won't be on Sunday. He probably won't mind the single coverage, either.
To him, that's a good sight.
"Yeah, it is," he said.
Original article HERE
By Mike Tanier, NFL National Lead Writer
~Green Bay Packers fans are slow to change and hesitant to embrace the new. They do not follow fads or fall for hype. The Packers fan's sense of football history sweeps across decades and generations. Packers fans never fail to love their Packers with all their hearts and souls, but they are cautious, to a fault when crowning legends.
General football fans are only slightly more forgiving. We grow infatuated with our flavors of the month, a month at a time. We dangle the "elite" title in front of great quarterbacks on fishing lines, yanking it away after any loss or mistake. Fame and praise are cheap, but immortality is conferred slowly, often too slowly.
Aaron Rodgers has a Super Bowl ring. He has an MVP award and may soon be given a second. He has been Super Bowl MVP, first-team All Pro, Bert Bell Player of the Year. He generates statistics that boggle the mind in an era of mind-boggling statistics: 139 touchdowns and just 25 interceptions in the past four years, the best quarterback rating in NFL history.
But Aaron Rodgers lives in the twin shadows of four quarterbacks, or at least he lived in them until Sunday afternoon.
In Green Bay, Rodgers has always battled to live up to the standards of Bart Starr and Brett Favre. On the national stage, he has spent his career trying to seize some spotlight from Tom Brady and Peyton Manning.
On Sunday, in a gritty, inspiring, inspired 26-21 victory over the Dallas Cowboys, Rodgers finally earned once-and-for-all equal partnerships with the local and national Olympian gods. It's no longer Starr-Favre-Rodgers in that order or Brady-Manning-Rodgers in that order. They are two pairs of three-of-a-kind.
All Rodgers needed was what every Packers legend needs: a career-defining game against a great Cowboys team.
Starr had the Ice Bowl, which added more to his lore than either of his victories in those early, sideshow-scented Super Bowls. Favre went 0-3 in playoff losses in Dallas to the Troy Aikman Cowboys, and the losses nearly swallowed his legacy before the Cowboys stepped aside so the Packers could beat the likes of the Carolina Panthers on their way to the Super Bowl.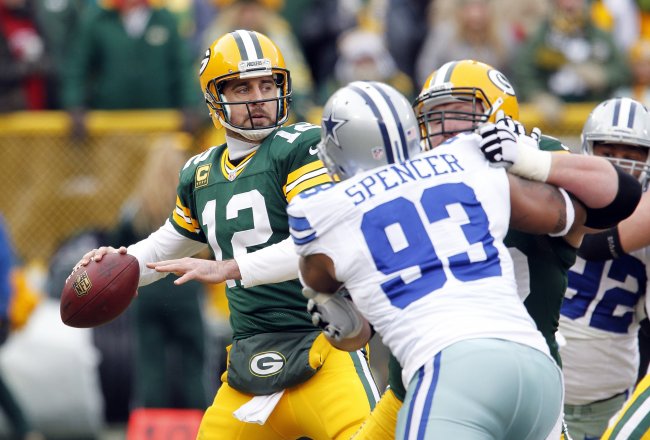 Those Cowboys losses kept Favre forever behind Starr for a generation of Packers fans. He's still there for many fans who remember the 1990s, in Green Bay and elsewhere: the giddy, gaudy gunslinger whose improvisation got the better of him against the most disciplined foes, who could not win the way Starr won.
Rodgers, meanwhile, has remained trapped behind the Favre mystique the way he remained trapped behind Favre himself in his first three seasons. Fans of a certain age like to throw random obstacles in front of Rodgers on his road to acceptance into the Starr-Favre inner circle: He's not as clutch or not as creative or lacking in some intangible way that usually boils down to the quarterback I am watching at age 45 doesn't excite me like the one I remember watching at age 25, when everything was a lot more exciting.
Most of the comparisons fall apart upon scrutiny, but some have a smidgen of merit. Super Bowl ring aside, Rodgers' postseason record has not been great: three first-round losses, lost duels to Colin Kaepernick and Eli Manning and an NFC Championship win as noteworthy for Jay Cutler's absence as Rodgers' two-interception presence. Before Sunday, Rodgers came in third in the postseason litmus test behind Favre, who at least reached championship games frequently, and Starr, who won everything that could possibly be won.
The national stage presented a similar drama. Scouts and statisticians could pound our fists and call Rodgers the NFL's best quarterback all we wanted. He was not in the championship game. Brady, Peyton and Roman numerals were in the championship game. Rodgers was nouveau riche, and "legend" status is the province of the old guard.
Welcome to the old guard, Aaron Rodgers. Sunday was your initiation: a baptism by trial, injury and Cowboys.
A calf injury took away his mobility. It limited his ability to step into throws. Cold weather and a chopped-up field forced him to limp gingerly around an often-shaky pocket. Rodgers responded by sprinting forward near the end zone and knifing a touchdown pass to Andrew Quarless in the back of the end zone, hopping away on one foot after the throw. He hung in the pocket and waited on other plays or hobbled toward the sideline to buy time. He absorbed hits to give receivers an extra moment to flash open. It was the kind of toughness that becomes legendary.
The Cowboys defense took away Jordy Nelson and Randall Cobb for most of the afternoon. The calf injury clearly affected Rodgers' follow-through, making deep passes tail away from the receivers who did get open. Rodgers trusted rookie receiver Davante Adams, who finished with seven catches for 117 yards and a touchdown. He threw four times to Quarless and once to backup tight end Richard Rodgers, netting five catches, 44 yards and two touchdowns. It was the kind of resourcefulness that becomes legendary.
Rodgers needed 123 rushing yards from his running backs; he himself could only stagger backward for minus-four yards. He called audibles at the line, feeding the ball to Eddie Lacy or James Starks whenever he saw the Cowboys in their conservative Cover-2, deep-safety shell. Bart Starr knew a thing or two about letting Jim Taylor or Paul Hornung take some pressure off. Peyton Manning and Tom Brady have earned over a decade of accolades for well-timed audibles that put the football in the hands of the running backs. It's the kind of game generalship that becomes legendary.
The Cowboys matter to a Packers quarterback's legacy, because the Cowboys, when very good (like this year's team), bring symbolic power with them wherever they go: They remain America's Team, the glamorous, corporate flipside to Green Bay's small-town, working-class ideal. The Cowboys, when great, always arrive with Destiny herself sitting next to millionaires and governors in the luxury suite. Everything the Cowboys do, and everything done to them, earns national notice, even in their worst years, but especially in their best. This year's Cowboys looked enough like the great teams of yesteryear to strike that America's Team pose.
The Cowboys took a 14-7 lead, forced a fumble on a botched snap, and appeared ready to pull to a 17-7 lead before halftime until Datone Jones nipped a Dan Bailey field goal attempt ever-so-slightly. With 29 seconds to spare, Rodgers threw short to Cobb, shook off a sack, found Cobb again along the left sideline for 31 yards and set up a momentum-changing field goal.
The Cowboys stretched their lead to 21-13 in the third quarter. Rodgers answered with two nearly flawless touchdown drives, executing the no-huddle and distributing perfect strikes as if his calf were fine and the temperature were 60 degrees.
The Cowboys nearly came back from a 26-21 deficit, but a 4th-and-short bomb to Dez Bryant became an incomplete pass when replay officials saw the football's nose wobble against the dirt. Lacy could not kill the clock for over two minutes by himself. Rodgers delivered a 3rd-and-3 dart to Adams, who wrestled away from Sterling Moore for 26 yards. Facing 3rd-and-11 a few plays later, Rodgers gimped to his right, fired the ball through the outstretched fingers of a Cowboys defender and found Cobb coming back to take a 12-yard pass away from Orlando Scandrick. Forget the Ice Bowl II; it was Sea of Hands II territory.
It was the stuff of legends. All that is missing is the 35-millimeter film, the slow motion, the music and the narration. NFL Films should be working on all of that as I type this, because Aaron Rodgers' performance was that great.
There's an NFC Championship Game in Seattle against the defending champions left to play, then perhaps a Super Bowl. But there is no reason to withhold admission to the Legends Club. Favre did not win 'em all, or even most of them. Brady and Manning lose championships and Super Bowls, not always to each other. Even Starr lost to the Philadelphia Eagles once.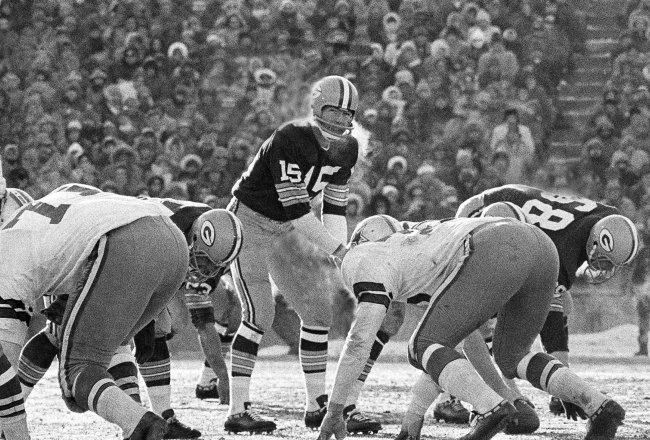 Rodgers has already met all the other qualifications. All he lacked was a signature playoff victory that captured the imagination, defined the breadth and scope of his capabilities and carried enough historical gravitas to echo back to the memories of quarterbacks who gained immortality in the mid-60s or late-90s or a decade ago.
Our imaginations have been captured. All possible standards have been met. Aaron Rodgers, welcome to immortality.
Original article  HERE
By RAINER SABIN, Dallas Morning News
~GREEN BAY, Wis. — All week long, the Cowboys heard about Aaron Rodgers' left calf. Reports trickled out of this Wisconsin hamlet last week, saying it was slightly torn or strained to a significant degree. The characterizations of the injury were a matter of semantics; both essentially meant the same thing.
However the injury was described, "I didn't believe it anyway," cornerback Brandon Carr said after Dallas' 26-21 loss to the Packers on Sunday.
Carr had just watched Rodgers carve up the Cowboys in the second half, directing a comeback that materialized because of precision passes and rockets delivered by his right arm.
"Hurt or not hurt, he's going to go out and bring his 'A' game," Carr said. "The best have that aspect, where they can block out the pain and block out what's going on and still go out there and produce for the team."
Rodgers did that when it mattered most. In the final two quarters, he completed 15 of 20 pass attempts for 226 yards and two touchdowns, helping erase a deficit that swelled to eight points late in the third quarter. A defense that had suppressed Rodgers in the early stages of the game by successfully collapsing the pocket had trouble containing him thereafter.
"As a D-line, we just didn't rush how we were supposed to rush," defensive tackle Tyrone Crawford said. "We just didn't do it."
But in the first half they did. Defensive end Jeremy Mincey forced and recovered a fumble by Rodgers in the second quarter, which led to the Cowboys taking their first lead of the game. As halftime approached, DeMarcus Lawrence toppled Rodgers in the backfield, recording Dallas' lone sack and keeping the Packers out of the end zone during a drive when they had to settle for a field goal at the end of the half.
By then, the Cowboys had appeared to have sowed the seeds for a strong defensive effort. The normally precise Rodgers missed his targets several times and had thrown for only 90 yards. Meanwhile, the team's leading receiver, Jordy Nelson, had made only two catches while being stalked by Carr. Even with linebacker Rolando McClain sidelined with concussion symptoms early in the game, the Cowboys policed the middle of the field well, failing to give up much between the numbers.
"We did a good job of just battling and challenging every throw and tackling," Carr said.
But things went awry in the second half. The Packers made adjustments, speeding up the tempo with the goal of getting Rodgers in a rhythm.
"I just felt that once we opened things up … he played like Aaron Rodgers," Green Bay coach Mike McCarthy said.
And he did. Rodgers began making one completion after another, distributing the ball to the team's ancillary playmakers — guys like receiver Davante Adams and tight end Andrew Quarless.
Adams delivered the biggest blow to the Cowboys after they had netted their biggest lead in the third quarter. On a third-and-15 play from Dallas' 46-yard line, Adams caught a well-timed throw in front of cornerback Sterling Moore, evaded safety J.J. Wilcox at the 20-yard line and ran to the end zone for the touchdown.
Wilcox pulled at his chinstraps in frustration following the score — one of five third-down conversions the Cowboys allowed in the second half.
"I missed the tackle," Wilcox said. "Simple as that."
Yet Wilcox and Moore would be victimized again as Rodgers began to torment Dallas' secondary. On the game-winning drive, the Green Bay star completed all seven of his pass attempts. The last was the most impressive — a 13-yard missile that split Wilcox and Moore before landing in the hands of tight end Richard Rodgers.
"He threaded the needle," Wilcox said. "It was a great throw."
It was the type of pass an elite player like Aaron Rodgers makes in a game of this consequence.
"He's a great quarterback," Crawford said. "Everybody knows that. It's not something we didn't expect. He did what he's supposed to do."
The Cowboys were just hoping he wouldn't do enough to spoil their surprising season. But in the end that's exactly what Rodgers did – gimpy leg and all.
Original story HERE
By David Purdum and The Associated Press
~GREEN BAY, Wis. — Hobbled but happy, Aaron Rodgers might have felt a bit lucky, too.
No matter: The All-Pro quarterback and his Green Bay Packers are one step away from the Super Bowl.
More stationary than usual because of a left calf injury, Rodgers rallied the Packers from an 8-point deficit with two second-half touchdowns passes to beat Dallas 26-21 Sunday.
The Packers (13-4), helped immensely by a video reversal with 4:06 remaining, went undefeated at Lambeau Field this season. They head to Seattle next weekend for the NFC title game. The Seahawks opened as 7-point favorites at the Westgate SuperBook in Las Vegas.
Seattle (13-4) beat Green Bay in the season opener, 36-16.
"I think I got 120 minutes left in me," Rodgers said.
Green Bay might not have had any time left in its season if not for referee Gene Steratore's decision. Dez Bryant's leaping, bobbling 31-yard catch at the Packers 1 on a fourth-and-2 play was challenged by Green Bay coach Mike McCarthy. Instead of first-and-goal for Dallas (13-5), the ball went over to the Packers.
"Some people think throwing the red flag is fun," Packers coach Mike McCarthy said. "It was such an impactful play, you had to challenge. It was a confident challenge. And a hopeful one, too."
One packed with controversy, as well.
"Look, I'll tell you this, I've never seen that a day in my life," Bryant said. "I want to know why it wasn't a catch."
Because Bryant didn't maintain control all the way to the ground, as the rule states. Replays showed Bryant bobbling the ball as he rolled into the end zone, with part of it touching the field.
"By rule he must hold onto it throughout entire process of contacting the ground," tweeted Dean Blandino, the league's director of officiating. "He didn't, so it is incomplete."
An impassioned Bryant didn't buy it.
"All I know is I had possession, I had possession of the ball coming down," Bryant said. "That's possession, right? One, two, reach. Bam, that's possession."
Green Bay closed it out before a Lambeau-record 79,704 on Randall Cobb's diving 12-yard reception of a deflected pass on third-and-11. That gave Cobb eight catches for 116 yards and set off a raucous celebration at the iconic venue.
"It's unbelievable," Cobb said. "For the ball to get tipped and magically appear in my area, you can't tell me there's not a God. That was a crazy play."
One of many.
The Cowboys' first postseason trip to Green Bay since the 1967 Ice Bowl for the NFL championship resulted in their first road defeat of the season after eight victories. Dallas got 123 yards rushing from league leader DeMarco Murray and a courageous effort from Tony Romo, who hurt his left leg in the third quarter.
That meant there were two hobbling quarterbacks. All-Pro Rodgers, bothered by a left calf he injured in Game 15, lost much of his trademark elusiveness as the game wore on.
"A little bit worse, yeah," Rodgers said of how his calf felt as the game progressed. "Hard to say, see how it feels in the morning."
Regardless, he was on-target for a short pass to Davante Adams that turned into the 41-yard score to make it 21-20. Then he sharply guided the Packers 80 yards to the winning points, a 13-yard bullet to backup tight end Richard Rodgers in the back of the end zone.
Murray atoned in style for a third-quarter fumble, gaining 32 yards on the Cowboys' ensuing possession, including a 29-yard sprint one play after Romo hurt his leg. The hobbling Romo handed to Murray for the 1-yard plunge that made it 21-13, then limped to the bench for treatment on the leg.
When he came back in, Romo was sacked on consecutive plays, the first ending the third period, the second forcing a punt.
Rodgers had stood firm in firing over the middle to Adams, who cut right, shrugged off a weak tackle by J.J. Wilcox and sped into the end zone. The 90-yard drive got the Lambeau faithful back into it.
Then came the decisive fourth-quarter series on which Rodgers went 7 for 7. He finished 24 for 35 for 316 yards and extended his record string without a home interception to 442 attempts. He has 39 TD passes in that span.
On Green Bay's opening possession, Rodgers mostly handed to Eddie Lacy, who rushed for 45 yards on the 60-yard drive. But Rodgers had to step up away from the rush and did so spryly before hitting Andrew Quarless in the back of the end zone.
Back came Dallas with just as efficient a possession that took 7:25. Tyler Clutts was wide open at the goal line for his 1-yard TD catch.
Rodgers got Green Bay close on its next drive, but was clapping his hands when rookie Corey Linsley snapped the ball. Rodgers dropped it, recovered, but then was hit by Jeremy Mincey, who grabbed the loose ball.
It was a rare turnover for the Packers, who tied for the league lead with only 13 giveaways. Cornerback Tramon Williams' botched tackle attempt on a short pass to Terrance Williams turned into a 38-yard TD and the Cowboys led 14-7.
The Packers drew closer at halftime thanks to a 31-yard completion to Cobb that set up Mason Crosby's 40-yard field goal. Crosby added a 30-yarder in the third quarter, making him the franchise's career points leader. But Green Bay could have had more.
After recovering Murray's fumble at the Dallas 44 and getting to the 13, a 15-yard personal foul on guard T.J. Lang set the Packers back.
But not for long.
NOTES: Adams had seven catches for 117 yards and Lacy rushed for 101. … Green Bay had not trailed at Lambeau since Week 2 against the Jets. … Bryant finished with only three catches for 38 yards. … Romo was 15 for 19, but for just 191 yards.
Aaron Rodgers
c
ompleted his last 10 pass attempts Sunday for 163 yards and 2 TD
.
By Elliot Harrison Special to NFL.com From
Published: Oct. 14, 2010 at 09:05 p.m
~Aaron Rodgers and Tony Romo have been in the news a lot this week — Rodgers because of a concussion that puts his status for this week in some doubt, and Romo because he's the face of Super Bowl contender that is sitting at 1-3.
For some odd reason, these two get linked together quite often by fans, broadcasters and analysts, including NBC's Tony Dungy this week.
Dungy said "part of being a leader at the quarterback position is protecting the football. You've got to do that to be a great quarterback."
That comment is emblematic of what people don't like about Romo, and the unfavorable comparisons to Rodgers always seem to appear a few sentences later. It's easy to see why. Both are NFC quarterbacks in their early prime who had to sit on the bench for three years before getting a shot. They also play for two of the NFL's flagship franchises.
Highest career yards per attempt* (active QBs)
Player
Team(s)
Yds/Att
Tony Romo
Cowboys
8.07
Ben Roethlisberger
Steelers
8.01
Philip Rivers
Chargers
7.97
Matt Schaub
Falcons, Texans
7.81
Peyton Manning
Colts
7.67
Drew Brees
Chargers, Saints
7.35
Tom Brady
Patriots
7.32
*Minimum 1,500 career attempts (Aaron Rodgers has 1,304 attempts for a 7.70 yards-per-attempt average.)
Perhaps the biggest reason lies in the fact that Romo reminds so many people of the guy Rodgers replaced: Brett Favre. He's a fun-loving gunslinger, who sometimes throws hairbrained interceptions. He comes off as somewhat of a diva, and they say he's not as good as A-Rodg.
Too bad the latter is totally wrong. Ain't no way Rodgers is better than Romo. No way.

This is not to say Rodgers isn't a great quarterback. He has a sterling career passer rating of 96.4, while having thrown 68 touchdowns to only 27 interceptions. He also averages 7.7 yards every time the ball leaves his hands. Those are great numbers.
Let's take a look at that "gunslinger" Romo: 95.3 passer rating, with 114 touchdowns and only 60 interceptions — very close to Rodgers. But Romo gets more bang for his buck, averaging 8.1 yards per attempt during his career. That's higher than any quarterback in the NFL. Higher than Peyton Manning, Tom Brady, Drew Brees, Philip Rivers, Ben Roethlisberger, and yes, Rodgers. Give me a quarterback who throws the ball down the field over a dink-and-dunker any day of the week.
Still, Rodgers and Romo have nearly identical numbers. That said, stats have never been the measure of a great quarterback. Wins have. Surely, Rodgers must blow away Romo in this category, right? Wrong. Romo has won two out of every three starts, while Rodgers is hovering around .500.
So Romo's stats are comparable to Rodgers, and he's won a far higher percentage of his games. That's great, but it still might not be enough for his detractors. The all-too-common epitaph on Romo's career was this Einstein-esque factoid: Romo hasn't been a winner in the playoffs. True that. He's 1-3 as a starter in the postseason. But Rodgers hasn't won any.
Romo vs. Rodgers: W-L as a starter
Player
Record
Pct.
Tony Romo
39-20
.661*
Aaron Rodgers
20-17
.541
*Sixth among active QBs with at least 30 starts
Of course, Rodgers has only played in one playoff game. But that brings up another point of contention: Part of being a great quarterback is getting your team to the playoffs, or at the very least, having a winning season. Rodgers went 6-10 in his first season as a starter, after having all offseason and training camp to prepare. Romo went 6-4 his first season as a starter, despite being thrust into the lineup when Bill Parcells decided to bench Drew Bledsoe at halftime against the Michael Strahan-led Giants. To that point of the season, Romo might've gotten 10 percent of the snaps to prepare, as opposed to Rodgers, who had an entire playbook built to his strengths.
The success of Romo's initial season and Rodgers' first has little to do with the talent around them. Those 2008 Packers had Donald Driver, Ryan Grant and Greg Jennings. Green Bay went 13-3 the prior year under Favre's direction, before going 6-10 with Rodgers. Can you imagine if that had been Tony Romo? Lieutenant Aldo Raine would've taken a cheesegrater to his head.
Same deal with the playoffs. Rodgers put up very impressive stats in his one and only playoff game vs. Arizona last season, throwing for 423 yards and four touchdowns. But he missed a wide-open Greg Jennings in overtime on a play that easily could've gone for a touchdown, and his fumble deep in Green Bay territory lost the game. Few fans pinned the loss on A-Rodg, blaming the Packers secondary instead for not covering anyone all game — rightly so. But what if that had been Romo? He could have Marino'd the Cardinals into oblivion with 600 yards passing and nine touchdowns, but if he committed the same mistakes Rodgers made, he would've gotten a plyboard to the face from David Spade and NFL analysts alike. Their situations are totally different.
Situation, or the environment in which these two great players started their career, has everything to do with why Rodgers is perceived so positively and Romo lukewarmly (at best). When Favre retired for the 37th time, fans were so ready to move on that they gave the likeable, polite, Rodgers a free pass. Despite being a first-round pick, and given every chance to succeed, fans were pleased as punch when Rodgers proved to be a productive quarterback in 2008.
Conversely, Romo was given every chance to get cut. In fact, had Quincy Carter not failed a drug test, Romo would've likely been released in 2004. The Cowboys already had Carter (the starter), Vinny Testaverde (a Parcells guy), and Drew Henson (a highly touted prospect). Romo was the odd man out. But history played out as it did, and Romo outplayed everyone. The undrafted free agent out of Eastern Illinois took the team to the playoffs and made the Pro Bowl, setting the bar so high that he ensured himself of never getting a free pass.
The dropped snap in the wild-card game vs. Seattle in the 2006 season didn't help. Nor did going to Mexico with Jessica Simpson the weekend before the divisional playoffs. But how many starting quarterbacks are asked to hold for kicks these days? And no one would care if Rodgers started hanging out with Meryl Streep, or Merril Hoge for that matter.
Dating Simpson is where a lot of the Romo-hating started, with much of the venom coming from fans who have the vacation time but no Jessica to spend it with. But don't forget, Dallas had a bye that weekend, and Romo had to spend it listening to Jessica talk about Golden Retrievers and Prada bags. Not exactly a vacation.
That said, everything but Romo's performance as a quarterback on the field sticks to him. He has the same numbers as Rodgers, has won a sizably larger percentage of his games, and like his Packers contemporary, makes unbelievable plays.
These guys should be spoken of together, but only in the sense that they are two of the top 10 quarterbacks in the NFL, with plenty of good days ahead of them.
ORIGINAL story from 2010 HERE
By Sharon Katz, ESPN Stats & Information | ESPN.com
~According to Westgate Las Vegas SuperBook, the Dallas Cowboys began the season with 75-1 odds of winning the Super Bowl, tied for 26th in the NFL.
After three straight December victories, including a 42-7 rout of the Indianapolis Colts on Sunday, the Cowboys have clinched the NFC East and their first playoff appearance since 2009.
Tony Romo has been at the center of the Dallas resurgence, leading the NFL in Total QBR and jumping into the NFL MVP discussion.
Looking deeper into the numbers, Aaron Rodgers should have the edge over Romo for NFL MVP because of his total value to his team and consistency throughout the season.
QBR vs. QB PAA
A strong argument in favor of Romo centers on his NFL-high 82.3 Total QBR and clutch play in December.
As an all-encompassing barometer of quarterback success, Total QBR is a great measure of efficiency.
However, looking purely at Total QBR to evaluate a player's MVP candidacy can be misleading. Total QBR is calculated on a per-play basis, meaning it does not account for the number of plays in which a quarterback is involved. A player can post a high QBR without having a large impact on the game.
Last season, Josh McCown played eight games, and had he been involved in a few more plays, he would have led the NFL with an 85.1 Total QBR. No one would have claimed that McCown was more valuable than Peyton Manning (82.9 Total QBR), who set the NFL single-season record for touchdown passes.
A better measure of a quarterback's total contribution to his team is a metric called quarterback points above average (QB PAA). QB PAA, which is calculated from QBR, measures total production of a player by accounting for both efficiency AND the number of plays in which he is involved. In 2013, Manning led the NFL in QB PAA by a wide margin and McCown ranked fourth, 52.8 points behind Manning.
Rodgers' total value
It makes sense that a quarterback who is both efficient and has a high usage rate would receive strong consideration for MVP.
Rodgers leads the NFL with 65.6 QB PAA. That means that over the course of the season, Rodgers has added about 66 more points to his team than an average QB would have with the same number of action plays.
Romo ranks third behind Rodgers and Manning, and even accounting for the fact Romo missed a game with a back injury, he trails Rodgers on a per-game basis.
The main reason for the disparity is that when compared with other top players, Romo is not asked to do as much for his offense.
With the NFL's leading rusher, DeMarco Murray, averaging an NFL-high 25 rushes per game, Romo is averaging the third-fewest action plays per game among qualified NFL QBs.
Dallas runs on the highest rate of its plays in the NFL (49 percent), and Murray has accounted for the highest percentage of his team's total yards (38 percent) of any non-quarterback. That leaves less of the offense in the hands of Romo, who ranks 23rd among quarterbacks in percentage of his team's total yards gained, 15 spots lower than Rodgers.
With the higher usage and similar efficiency, Rodgers has been responsible for 943 more yards and five more touchdowns than Romo, and he has four fewer turnovers. Even after prorating Romo's numbers to include his missed time, he trails Rodgers in all of those categories.
Consistency
Although Romo leads the NFL in Total QBR, he has been wildly inconsistent throughout the season. He has an NFL-high four games with a Total QBR above 95 but also has three games with a QBR below 20. Romo has not had a single-game QBR between 40 and 60, meaning he generally has been really good or really bad this season.
In comparison, Rodgers has had one game in which he posted a Total QBR below 40. He has had an NFL-high eight games with a QBR of 80 or higher, which all resulted in Packers wins.
A player's average Total QBR throughout the season captures consistency and correlates with his team's expected wins. For example, if a quarterback has an average Total QBR of 50 throughout a 16-game season, his team would be expected to win about eight games.
Rodgers has a slightly higher average QBR (77.3) than Romo does (73.6) and has had less variance throughout the season.
The Cowboys have had a resurgent season and now have the fifth-best odds to win the Super Bowl. But when looking at NFL MVP based on efficiency, usage and consistency, Rodgers has the statistical edge over Romo entering the final week of the regular season.
Full story here