From Brian E Murphy, Packers Insider senior editor
~Last night's emotional roller-coaster loss at Arizona illustrated, once again, how important every play and every yard is in the post-season.
Field position is very important, obviously, and the punting edge last night went to Arizona.Tim Masthay had some bad punts, and the Cardinals average field position started at the 31-yard line, while the Packers started at their own 19. That 12 yards difference is the difference between attempting a 49-yard field goal or punting.
Tim Masthay signed a 4 year, $5,465,000 contract with the Green Bay Packers, including a $1,200,000 signing bonus, $1,200,000 guaranteed, and an average annual salary of $1,366,250.
In 2016, Masthay will earn a base salary of $1,200,000 and a workout bonus of $100,000. Masthay has a cap hit of $1,540,000 while his dead money value is $240,000.
Looking at the 2016 Salary Cap, Masthay is slated to earn way too much. His cap number is $1.54 million, which is ahead of Eddie Lacy, David Bakhtiari, and Sam Barrington, among others. It's as much as Quinten Rollins and Micah Hyde combined. That's too much for a punter who was not very good.
He did have a nice run this year on a fake punt, and his holds were solid. But he can't make that much money. So either he takes a pay cut, or he can test the open waters on the market.
THIS IS FROM JASON WILDE of ESPN Wisconsin
~GLENDALE, Ariz. — Aaron Rodgers slung his black backpack and navy canvas duffel bag to the floor and shook his head. Then he zipped up his leather jacket, unleashed a deep sigh and turned around.
So much had been racing through his mind as the Green Bay Packers' quarterback rode a rickety golf cart down the long University of Phoenix Stadium corridor from the visitors' locker room late Saturday night: The "debacle" (his word) of an overtime coin toss. His second against-all-odds, successful Hail Mary in a six-week span. The pride he was feeling in his cast of unknown wide receivers and injury-addled offensive linemen, who'd come together on a night when all seemed lost to give their team a chance.
But at that moment, all Rodgers could think about was the chance he hadn't gotten. For the second consecutive year, the Packers' season — and Rodgers' hopes for a second Super Bowl run — had ended in overtime, without the quarterback ever getting his turn. This time, it was a 26-20 NFC divisional playoff loss to the Arizona Cardinals.
"It's a really high high there, where you tie it up last play of the game and … and then you don't get to touch the ball in the overtime," said Rodgers, whose 41-yard prayer as time expired in regulation had been answered by little-used receiver Jeff Janis. "So it's a pretty low low there."
Just as he'd done 363 days earlier during the Packers' epic NFC Championship Game meltdown in Seattle, Rodgers stood helplessly on the sideline. This time, he watched Arizona wide receiver Larry Fitzgerald get the Cardinals into scoring position with a 75-yard catch-and-run and, two plays later, end the game on a 5-yard scoring shovel pass.
At least when the Packers lost their 2009 NFC wild-card game to the Cardinals, in Rodgers' first postseason appearance, he'd had the ball in his hands. Although it ate at him then that he'd missed a wide-open Greg Jennings for a sure 80-yard touchdown to start overtime — right before watching his fumble be returned for the winning touchdown two plays later — at least he'd had his shot.
Not this time.
"It's tough. We've lost a few of these over the years where you don't touch the ball in overtime," said Rodgers, who never got the ball in extra time of last season's NFC Championship Game, which abruptly ended with Russell Wilson's touchdown pass to Jermaine Kearse. "It's just the way it goes. It comes down to coin flips at times after a long, hard-fought game, back and forth, plays made, bizarre plays made by both teams. And unfortunately, it comes down to that."
Rodgers, who took issue with referee Clete Blakeman's non-rotating initial overtime coin flip, had forced overtime with a 41-yard, spinning, desperation heave to Janis as regulation expired.
Although his throw Saturday night didn't travel as far as his 61-yard game-winner Dec. 3 at Detroit, it might have been even more improbable, considering Rodgers had converted a fourth-and-20 from his own 4-yard line with an equally stunning 60-yard heave to Janis just two plays earlier.
"Shoot, I don't know if anybody could make that throw," Packers coach Mike McCarthy said of the Hail Mary.
Rodgers wouldn't get to make another. This actually marked the third consecutive year Rodgers had been able to tie a playoff game, only to be standing on the sideline when his season ended.
In the 2013 NFC wild-card round, he helped the Packers to a 20-20 tie with five minutes left in regulation before watching as the San Francisco 49ers methodically drove for the winning field goal as time expired at Lambeau Field. Last season, he stanched the bleeding of the Packers' collapse at the end of regulation by driving for a field goal with 14 seconds left to force overtime with the Seahawks.
"I thought we were going to win the whole time. I felt confident in our guys," Rodgers said. "The way we were playing offensively, it was frustrating. They've got a great defense, but …"
Rodgers' voice trailed off. It had been an exasperating regular season for him, with substandard — for him — statistics, the upheaval of McCarthy surrendering and then reclaiming offensive play-calling duties and losing his close friend and Pro Bowl receiver Jordy Nelson to a season-ending knee injury in preseason.
There were times when it seemed like all the walls around Rodgers were crumbling. His offensive line, which had been the paragon of health a year ago, had been beset by injuries since early October. Before halftime Saturday night, Rodgers was without his top four receivers from the start of camp: Nelson (on injured reserve), Randall Cobb (in a Phoenix hospital after suffering a chest injury during the first half), Davante Adams (inactive with a knee injury suffered the previous week) and rookie Ty Montgomery (on injured reserve after ankle surgery).
That left the Packers with only three wide receivers: veteran James Jones, who was signed at the end of training camp after Nelson's injury, Jared Abbrederis, who missed all of last season with a knee injury and almost all of training camp with a severe concussion, and Janis, who struggled to win Rodgers' trust and, consequently, didn't get much playing time.
Perhaps that's why Rodgers, despite his disappointment, spoke just as much about his pride postgame as he did about his heartache. He praised all his receivers while coming to grips with the loss.
"I'm just really proud of these guys," he said. "I love being a Packer. This is … tough.
"You know, 11 years in, the season ends very abruptly when it ends like this. One moment, you're hanging out with your teammates on a road trip and, the next moment, everybody goes their own separate ways. That's the tough part of this business. But it's the reality. We're fortunate enough to play this great game and to be a part of such a special organization like we are. You hate it when it goes like this because you put so much into it, and there's so much hope and belief.
"Right up until the last tick on the clock, we still believed we could make something happen, and then you have that feeling like we had last year, when Mason [Crosby] made the long kick, put us into overtime, and you feel like you're going to win the game. So it's pretty disappointing."
"I'm just really proud of our guys. We stuck together. There's a lot of adversity this season where we could have started pointing fingers and playing the woe-is-me card, and we never did. Mike kept us together, believed in each other, made a run, and we were close to extending that thing."
I don't like the fact that Jeff Janis has not been getting playing time, or the ball thrown his way.
Fans have been calling for him all year. Some have joked about it.
It's seemed that someone, Rodgers or McCarthy, or both, haven't wanted him in there for some reason. And when in, Rodgers has seemingly avoided him whenever possible. Even tonight on many of his catches, he wasn't the intended target, or primary first read.
Now I read these comments by McCarthy after the game, posted by JSonline, and I still don't like it regarding Janis. McCarthy totally praises Abbrederis, but acts like Janis was "given" opportunities.
"I'm very proud of those young men. They worked their tails off all year to get an opportunity. You look at Jared and 'Abby', what he went through in training camp. Getting hurt in the first practice, missing all of training camp. Just working his way up – and then having another setback this season. He kept working for the opportunity.
Jeff Janis has taken advantage of some opportunities….."
By Brian E Murphy, Packers Insider senior editor
~HOW the PACKERS CAN/WILL beat the CARDINALS
#1- Defense plays great, pressures Palmer and hurries his passes
This is the Packers best hope and most likely way they are going to spring the upset.
Clay Matthews, Julius Peppers, Mike Neal, Nick Perry, Jayrone Elliott. All five of these guys are capable of getting to Carson Palmer and sacking him. Or better yet, scaring and rushing him into throwing some ill-advised balls. He's been known to do that before when pressured.
And as exciting as the Cardinals long-balls are, those take time to pass-protect, and it leaves the quarterback vulnerable to getting hit. Can Dom Capers FINALLY dial up the right blitzes against Arizona? He didn't last time. He didn't in the 2009 playoff game against Kurt Warner here. Perhaps a 4-man rush can get pressure on Palmer, as Seattle did to him 13 days ago when getting out to a 30-7 early lead at Arizona.
Mike Daniels, Datone Jones, BJ Raji, Matthews and/or Peppers off the edge, can these guys beat their guys, or work some stunts to get someone into Palmer's face? I like our guys more than their guys so it's up to Capers, and the execution.
#2- Win turnover battle

This is always a factor in any game. Last time in Arizona, Rodgers threw an end zone pick to blow points late in the first half, James Starks fumbled on the opening possession of the second half, and oh-by-the-way Rodgers fumbled a bunch of times including two being returned for defensive touchdowns. We all remember those.
If the offense doesn't donate any, and the Packers defense turns the tables and forces a few, or even just one, it might be the difference in who's season ends tonight.
I love the Packers health on defense, aside from Shields and Rollins being nicked up a bit. Actually, Shields should be fresh as a spring chicken after resting since he concussed himself against Dallas on December 13th. Quinten Rollins has a quad issue, and I can speak from experience with those: they can linger. But he's only 22 and might be able to bounce back by now. If not, fellow rookie LaDarius Gunter is fine. I like his height and length to cover the tall receivers Fitzgerald and Floyd. All the Packers DB's are capable of getting interceptions tonight. Can one or two of them actually do it? If #1 above comes true, I suspect there will be a few ints to go around, much like we've seen Jay Cutler do for the Packers DB's over the years.
#3- Offensive line gives Rodgers time
With the starting Offensive Line back (perhaps), Rodgers might be able to pick apart Cardinals secondary, avoiding Patrick Peterson all the while.
I am well aware of how much the Packers miss Jordy Nelson and I said the minute he was hurt that he is not a guy who can be replaced. There are no others like Nelson, and you cannot replace guys like him, Dez Bryant, Julio Jones, and Antonio Brown. This offense, even with no sacks, hits on Rodgers, cannot be what it was with Nelson.
But the Packers offense can still be good without him, if the pass protection is on their game. It was the opposite the last time these teams met 20 days ago. It was atrocious, on both edges and in between. If Bakhtiari can be his normal self at left tackle (very underrated), and Bulaga doesn't get hurt again over at right tackle, these guys (with help from a RB or TE chip-blocking) can give Rodgers time to get to his second and third options, A-Rod can move the ball down the field and put up some points. Like last week.
Peterson can only cover one guy. The Arizona other corners aren't anything special. Good playcalls and route-running can beat these guys if the pass rush doesn't disrupt Rodgers. It sure would be nice to get a tight end fast enough to beat the linebackers up the seem, as Jermichael Finley used to do.
#4- Special teams;
Yes this is a big part of how Packers LOST last year to Seattle and had their season end. From a desperate fake field goal prayer, that worked for a miracle touchdown, to another last-second prayer of an onside kick, which of course worked because Brandon Bostick made both a mental error and a physical error on the biggest play of his and 30 other Packer players' lives.
But Micah Hyde is a dangerous punt returner when he can make just one cut wide and then plant and shoot straight north.
He's capable of taking one to the house, if the defense forced enough punts, and especially if they ever force one where Arizona has to punt from inside their own 10, 20, or 30-yard lines and the punter is just gunning for distance.
Jeff Janis is also a dangerous kick returner, however many kickoffs are touchbacks. Also, hopefully Arizona isn't kicking off too many times. They were three weeks ago, however. If they are again tonight, it won't matter anyway how well Janis returns one.
#5- Keep it close, Arizona will feel the pressure and Packers play loose, Cardinals choke.
The 38-8 win by Arizona 20 days ago IS MEANINGLESS once this game starts, and the longer the game stays close, and that previous game is erased from memory, the more pressure builds on the Cards to do it again.
In the past 39 NFL playoff games where there's a matchup of a game in that regular season, the playoff-winning team had lost to the other team during the regular season, the results are 20-19. The team winning the first time was only 20-19 in the rematches. So it's almost a tossup.
Of course, the Packers lost to Arizona this season. Packers also lost to Carolina this season as well.
In 2010, when the Packers won the Super Bowl, the Packers had lost at Atlanta earlier that season and had lost at Chicago that season. What happened in the playoffs?
That's right. Packers opened on Wildcard Weekend winning at the NFC East winner, then went to Atlanta and then to Chicago, and flipped the tables from the regular season loss. The road to Super Bowl 50 is paved the same way. It's just a matter of finding a way to win and stay on that journey all the way to Santa Clara.
From Brian E Murphy, Packers Insider Senior Editor
Jan 11, 2016
DALLAS, TX
~When these two teams met just 15 days ago, the final score was obviously very one-sided, 38-8 Arizona.
However, just looking at the pressure on each quarterback, that alone was essentially the reason the score was 38-8.
Aaron Rodgers was pounded all day long, pressured on 15 of his 28 pass attempts, hit on 12 of them, plus oh-by-the-way sacked 8 times, including two of them being fumbles-returned for Cardinal touchdowns. "They were very aggressive to the line of scrimmage," Green Bay coach Mike McCarthy said. "They played very well and took advantage of it."
Veterans Dwight Freeney and Calais Campbell combined for 5.5 sacks against the injury-depleted Packers offensive line.
Now this is far-fetched I know, but take away just those two plays, imagine good pass protection and instead two eventual touchdowns on those two drives for the Packers, and that alone is a 28-point swing.
The point I am trying to illustrate is the difference in the game was essentially the differences in each team's pass protection and pass rushes that day.
Just seven days after Arizona blew the Packers out of the University of Phoenix Stadium in Glendale, the Seattle Seahawks came in, protected their QB Russell Wilson, and harassed and pressured Carson Palmer, en route to a 30-point blowout of their own win at Arizona.
The main differences in Arizona's 30-point win over the Packers and their 30-point loss just seven days apart was what happened with the offensive lines in terms of pass protection.
Pressure on a QB is a great equalizer.
Packer fans will remember the end of the 2009 season, into the 2010 playoffs. No not the 2010 "season" in which the Packers won the Super Bowl. But the playoff game in early 2010 at Arizona.
The previous week, the Packers went into Arizona for a week 17 game that meant nothing to each team really, but the Packers wanted to win, and win they did. Arizona played semi-resting, although they played key players. But the Packers killed them on both sides of the ball.
A week later, in the playoff game, the Cardinals offense was unstoppable against Dom Capers' defense in Clay Matthews' and B.J. Raji's rookie year. Warner had more touchdown passes than incomplete passes. He was not touched by the Packers pass rush.
Rodgers played great, but he made three fatal mistakes. His first pass (first career playoff pass) was an interception. In overtime, he missed a wide-open deep Greg Jennings on what could and should have been a historic, signature fantastic 51-45 playoff win in Rodgers' first ever playoff game.
Instead, one play later, Rodgers was hurried by a blitzing Cardinal DB, and popped the ball loose, which was scooped up by Arizona linebacker Karlos Dansby and returned for a game-winning, season-ending fumble-return touchdown.
Pressure on Rodgers ended the 2009 season. Yes this should have been a facemask penalty.
Yes, Rodgers has had more than his share of fumbles, and fumbles-returned for touchdowns in Glendale. The Packers offensive line must play great, as they did pretty much yesterday at Fedex Field. In other words, they must play the total opposite of how they played 15 days ago when they seemed like they wanted to get Rodgers injured. The fact that he escaped from that game in one piece was a miracle.
The good news now is that, barring practice injuries this week, Donny Barclay won't be manning the left tackle spot. He was Rodgers' blind side protector last time, and he was a turnstyle. He allowed three sacks including the fumbles, and he allowed a half-dozen other hits and hurries on Rodgers. No QB in the history of the NFL would have done anything good passing behind that left tackle.
Bryan Bulaga left the game over on the right side, and the Packers replacement right tackles that day were as horrific as Barclay was.
This time around, it appears that J.C. Tretter has at least put a body at left tackle that is capable of A) moving and B) blocking people. It's true that the Redskins opened the game yesterday with a sack and safety on Rodgers, around Tretter. But that sack was as much on Rodgers as it was Tretter, as Rodgers stepped up and into the sack.
It's also possible that regular David Bakhtiari will (finally) return from his ankle injury. At his healthiest, he's a fantastic left tackle, who is capable of making Freeney look more like his age, although the turf is fast there and Freeney still has moves and get-around.
Against Kirk Cousins yesterday -and the Redskins offensive line is typically as good or better than Arizona's is- the Packers were able to get a lot of pressure on the quarterback despite not many heavy blitzes.
Mike Neal and Nick Perry each had a pair of sacks, and Clay Matthews had 1.5 sacks. In all, the Packers had 13 QB hits and 7 sacks.
Make no mistake about it: this Packers defense is capable of carrying the Packers.
In Matthews, Perry, Julius Peppers, B.J. Raji, and Datone Jones, the Packers have five guys up front who are first round draft picks.
That list doesn't count Neal, who was a second rounder, or Mike Daniels, the Packers' Pro Bowl DT. These guys should be, and they are, capable of getting after quarterbacks.
Carson Palmer is not Russell Wilson back there. He's not quite the statue that Peyton Manning is, but he's not quick. He's a bit like Tom Brady in that he can sense pressure and step one way or the other. But he can't escape guys like Peppers and Matthews coming at him.
It's the Cardinals offensive line versus Matthews and Peppers, Daniels and Datone, Neal and Perry.
And it's the Packers offensive line versus Calais Campbell and Freeney, and company.
Whoever wins among these two battles is most likely going to win the game Saturday night.
I wouldn't count out Daniels, Matthews, Peppers and Company.
About the writer:
Brian E Murphy was schooled and obtained his degree in Minnesota in journalism, living in enemy Viking country through the miserable 70's and 80's, resurgent 90's, and glory of the 2000's so far.
He remembers miserable teams year after year through most of two decades.
He's seen terrible coaching and quarterback play, and horrible defenses.
He currently coaches and teaches in Dallas, where the Packers have enjoyed some recent glory winning Super Bowl XLV in 2011, and having a historic comeback in 2013 with Matt Flynn leading the win.
He's pessimistic by nature, and often bets against the Packers as "Heartbreak Insurance". The final six games of the magical 2010 season (4 playoff games plus Giants and Bears wins before that to get in) cost him a bundle, but seeing the Super Bowl win in person in Dallas was well worth it. It almost worked last year too, but Brandon Bostick refusing to do his job was too much to overcome. 
By Brian E Murphy, Packers Insider senior editor
~The Packers came out at Fed Ex Field and just about got the doors blown off early. Aaron Rodgers allowed a safety early, and DeSean Jackson had an easy touchdown, and it appeared the race was on and it might be another road blowout like we saw at Arizona two days after Christmas.
But the defense came up gigantic with a great goal line stand, and it held strong pretty much the whole game aside from a 2nd half opening drive right down the field for a touchdown, and allowing too many easy crossing patterns early to Kirk Cousins' guys.
And after the first quarter ended, where the Packers were going into the breeze, the Packers recovered from an 11-0 deficit and the Packers offense started to get going for the first time since Autumn.
STUDS:
1- The Pass Rush
Clay Matthews, Julius Peppers, Mike Neal, Nick Perry – They all introduced themselves to QB Kirk Cousins. They battered him, sacked him, and pressured him into some errant throws.
There could have easily been a handful of interceptions caused by the rush, but the DBs and LB Joe Thomas were unable to grab the free balls. Maybe next week in Arizona they'll get another chance, and grab the Ints. Those will be needed vs the Cardinals.
2- The OLine
With LT David Bakhtiari again nursing his sore ankle, this time the Packers tried J.C. Tretter and left tackle and he did a fine job. The early safety was his guy, but it was more Rodgers' fault than Tretter. Rodgers stepped up into the rusher Smith. Had Rodgers stepped back further, he'd be fine. Other than that, he protected well, and the whole offensive line opened up a few big holes for both Eddie Lacy and James Starks. Each had some big gains, and some simple touchdowns. It was nice, and rare, to see all five guys get through the game without any of them getting injured. They also gave Rodgers more time to pass than he'd seen in months.
3- Aaron Rodgers
He still didn't hit 100 on the passer rating, which used to be the normal minimum. But aside from his early struggles with the safety and with missing a few guys open deep, he played well, smart, directed the offense well. He conducted the offense like a director, and he got the tempo going and got a few extra free plays, which paid dividends.
4- Randall Cobb
He was used at running back to jump-start the offense, and had five pretty successful carries. He also got open more than we'd seen in a long time. His touchdown was a great catch, on a great throw, another improv by Rodgers and Cobb.
5- The rest of the defense
The cornerbacks keep injuring themselves when they are supposed to be laying the wood to opposing pass catchers. From Sam Shields against Dallas almost a month ago, to both Damarious Randall and Quinten Rollins today, our guys keep hurting themselves instead of making the opponent feel the pain. Despite that, the Packers defense did a fine job limiting the Redskins offense, which had been humming along the second half of the year. Had they not come up big early, after the offense again came out ice cold, this could have been a first-round KO.
Special acknowledgement to undrafted rookie corner LaDarius Gunter who had to play after Rollins was knicked up, with Shields already out. Gunter didn't disappoint, or surprise. He looked good all summer, making the team easily, so him playing well, making a play, wasn't a surprise.
DUDS:
No real Duds.
The only critiques I can think of were early in the game, when Micah Hyde was beaten for some easy passes, including a touchdown. And he allowed a few punts to bounce and roll, costing us yards in field position. One punt, instead of fielding the punt and a fair catch, it bounced and rolled an additional 17 yards.
Casey Hayward also missed a chance to make a big play early in the game on a third down pass to Jordan Reed. Casey made a nice play, leaving his guy/zone as he sniffed the pass to Reed. It appeared that Hayward expected the ball to get to him, but Reed reached out with one hand to corral it. Hayward was a foot too late, and didn't hit the ball, or made a hit on Reed.
From Demovsky, ESPN.com
~LANDOVER, Md. — If this is who the Green Bay Packers really are — a complete and balanced team that didn't panic when it trailed by double digits in Sunday's35-18 wild-card playoff victory against the Washington Redskins — then perhaps the Arizona Cardinals and the rest of the teams still alive in the postseason have reason to fear them.
Aaron Rodgers looked like the quarterback we talked about as an MVP candidate when the Packers were 6-0 heading into their bye week. He led the Packers on five straight scoring drives (four touchdowns — including one two-point conversion — and a field goal) after they fell behind 11-0 early.
He got back to drawing penalties and taking advantage of free plays. He threw the ball down the field and hit James Jones for a 34-yard pass down the seam and connected with Davante Adams for 20 on a critical third down.
Packers defensive coordinator Dom Capers has a defense that's good enough (not great, but good enough) to complement the offense when it at least resembles its once-potent self. On Sunday, Rodgers and the offense played much better than their rankings (23rd overall in total offense and 25th in passing yards in the regular season). It was the Packers' highest-scoring output since their Week 3 win (38-28) against the Kansas City Chiefs.
What it means: The Packers get another shot at the Cardinals, who embarrassed them 38-8 in Week 16. It marks the fifth time in the past six years that coach Mike McCarthy has taken the Packers to at least the divisional round of the playoffs.
One reason to get excited: Shortly after the Packers' loss at Arizona, linebacker Clay Matthews was asked why a rematch with the Cardinals might be any different from the blowout in the first meeting. Matthews said: "Can't be any worse than that." It's not exactly a ringing endorsement, but it's something.
One reason to panic: Roll the video of that Dec. 27 loss at Arizona and you can see the Cardinals' potential. Their pass rush battered Rodgers, sacking him eight times (they also got Scott Tolzien once in garbage time). The Packers also don't know if they'll have left tackle David Bakhtiari, who missed his third straight game. The streak started with the game at Arizona.
What were they thinking: The Packers were without Bakhtiari (ankle) for a third straight game, and they tried their third different option there, JC Tretter, after Don Barclay and Josh Sitton didn't work out. Why wouldn't McCarthy give Tretter help early on when the Packers were backed up on a third-and-13 play from their own 5-yard line (after a Tretter false start)? Instead, running back Eddie Lacy went to the other side to help right tackle Bryan Bulaga, and Tretter allowed Preston Smith to sack Rodgers for a safety.
Ouch: Adams, who caught a 10-yard touchdown pass in the second quarter, left in the third quarter with a right knee injury. The Packers also lost cornerback Quinten Rollins (quadriceps).
Game ball: Yes, Adams and Jones caught touchdown passes. James Starks and Lacy both ran for touchdowns. But the Packers needed their two-time MVP quarterback to elevate his level of play, and he did. Sure, he still missed a couple of throws, but Rodgers got the ball out of his hands quickly and got as many people involved as possible.
What's next: The Packers will be on a short week because they play Saturday night against the Cardinals. They most likely will travel on Friday, although it's possible McCarthy might want to go early to practice in Arizona. The Packers held a practice at Scottsdale Community College the day before their Week 16 game there.
Original article from Demo here
From Brian E Murphy, Packers Insider senior editor
~Coach McCarthy keeps saying they have to execute better. Says they have to run and catch better, block better, throw better, tackle better.
Wouldn't it be nice if it was that simple?
The facts of the matter are two-fold, and all the problems are on the offensive side of the ball.
Number one, there simply isn't any speed by the receivers out there that causes any opposing defense any worry. Not only do the Packers not have a guy who has hit a deep pass all year like we used to see from Jordy Nelson about ten times a year, just the lack of that threat has allowed defenses to crowd the middle and take away both the short-medium passes in the middle of the field, and have a safety or two up closer to be able to react to the run faster.
In addition to that, the linebackers aren't ever on their heels worrying about a guy like Jermichael Finley to run past them down the seam.
Yes, everyone now realizes what I said the day it happened: Jordy Nelson is not a guy you can replace. It's not "next man up" when it comes to the best deep threats in the NFL.
So what has McCarthy done this past three months, when the team has gone 4-6 (really should be 3-7 as the Hail Mary play stole the game)?
He's acted as if it's simple execution that's made this former good offense into a Cleveland Browns type offense. He's not made any major adjustments, which is the only thing that could possibly get these guys going.
He likes to say they have to run better. Well that's easier said than done. We needed to run it better last year in Seattle near the goal line, and we couldn't get the job done there, and it prevented a Super Bowl.
We're not going to be able to run the ball better now, with a gimpy, soft offensive line that's banged up from left to right, and at a time the defense has no deep threat to worry about.
So what could possibly be done, aside from the dream of Jordy and Jermichael returning?
#UnleashJanis #AtTightEnd
You have to insert the one guy who is capable of running past linebackers and safeties. Jeff Janis, as raw as he is, is the only guy on the roster capable of taking the top off a defense. It is time.
You have to pick about 25 or 30 plays, 2nd and 3rd downs, and you line #83 up at tight end. The Redskins will not be prepared for that as it's not on film. It's never been seen before.
They are aware that #83 is fast. They just don't expect him to play much, if ever, as he's buried on the depth chart behind slower guys who drop passes like Davante Adams and Randall Cobb, James Jones and Jared Abbrederis.
Before you can say "You can't play Janis at tight end because he can't block", realize this: Jimmy Graham can't block. Neither could Shannon Sharpe. Antonio Gates has always had an allergy to blocking. You put Janis in on plays you pass on, or you surprise run. He's capable of blocking on occasion, and you can run to the other side, just have Janis get in the way a little bit, or run his guy off.
So he's at tight end, instead of the lumbering Richard Rodgers, recovering Andrew Quarless, or Justin Perillo. Now, who are the Redskins going to have cover him? A linebacker? A safety? If they put a cornerback on him, that opens up the outsides for Jones, Adams, Cobb, and Abbrederis.
What if Janis runs down the field up the seam or runs a deep corner, and Aaron actually hits Janis for a deep one? What does that do? That changes everything. It opens up our offense for the rest of the game, and it makes their defense adjust and change on the fly for something they spent no time at all preparing for.
But what if it doesn't work, doesn't hit for a deep one at all? Oh you mean like what's been the norm all season long with these short passes and slow receivers? It's worth a try.
It's not a question that Janis is fast enough to run away from any linebacker in a Redskin uniform. Just the message sent of him running past them has a chance to loosen up the defense and soften the front 7 as well, making it a little easier for the White Wall to open up some holes for Big Eddie and James (and hopefully Crockett) to run through and chew up some yardage.
At this point, it's do-or-die, and you cannot keep pounding your head against the countertop over and over and expect any significant changes just to happen.
McCarthy and the offense, Edgar Bennett and Tommy Clements, have to think outside-the-box. Janis is the only guy who is capable of adding an instant dimension to this offense that can open things up. Line him up at tight end some times, instead of the slow Rodgers and wounded Quarless.
As Kevin Greene said almost five years ago: "It is time"!
From Demovsky, ESPN.com
~LANDOVER, Md. — Mike McCarthy's track record suggests there's a chance theGreen Bay Packers will figure out some way to get their offense to resemble what it's been for most of his tenure — and not what it has looked like this season — in time for Sunday's playoff game against the Washington Redskins at FedEx Field.
Unless, of course, past success does not indicate future results, as they say in the investment commercials.
"Not only is each season so specific, each time of year is so specific, and it's as specific as what this week in front of you looks like," McCarthy said this week. "Today, I'm not thinking about what's going on in the past at all.
"I understand why we keep having to answer these questions, but you improve regardless, even if you're playing at a high level, you still try to improve. It's all about getting better and being prepared for the next contest. So we're just focused on the things that we feel we do very well and how they apply to attacking Washington's defense."
For an offense that finished 23rd overall and 25th in passing yards — the lowest by far in McCarthy's 10 seasons as head coach — it's been a season-long struggle to find an identity.
That's evident in the differing opinions in the locker room as to the best formula for success. For example, Josh Sitton, T.J. Lang and other members of the offensive line have pined for more opportunities in the run game, while quarterback Aaron Rodgers said after Sunday's loss to Minnesota that they were at their best when they "threw caution to the wind" and started throwing the ball down the field.
However, that doesn't necessarily mean it applies to this game.
"You can't take momentum into the next game," said Rodgers, who has gone 10 straight games without posting passer rating in the 100's. "It's about establishing your identity in that game. We've obviously been up and down throughout the year on offense, the defense has been playing really well lately, we've got a great kicker and punter and we've been covering kicks really well, we've got a kick returner who can take it the distance now. We've just got to take care of our part. We're a balanced football team this year. We have the opportunity to start the run now. We've got to put it all together."
Sitton isn't the Packers' offensive coordinator or play-caller, as McCarthy reminded everyone on Thursday in some sharply worded comments, but the Pro Bowl left guard has been around long enough to know something has been off for most of the season.
Like just about everyone else in the locker room, however, Sitton can't explain exactly why that has been the case this season.
"I don't know man," Sitton said. "At the end of the day, it just comes down to executing. We just haven't. It just feels like on any given play there might be one guy that's not on the right page. On offense, you've got to have all 11. It's cliché, but we can't play good offensive football if one guy is not on the same page, so I don't know what it is. I don't know why it's been that way. It's been just been a little off."
It's possible McCarthy took some players' expressed desire to run the ball as a criticism of his play-calling, which could explain why McCarthy got snippy during one of his news conferences this week when Sitton's comments were brought up and why Sitton later snapped at reporters in the locker room on Friday.
But Sitton insisted that when he speaks of running the ball more, he isn't being critical of the play-calling.
"It doesn't have anything to do with the play-calling; it's not a question of play-calling," Sitton said. "When we're able to be successful on the ground, that's when we're at our best. If we're down two scores in the fourth quarter, we can't sit there and run the ball, we know that. It doesn't have to do with that. We have to be successful and not necessarily have a lead in the game, but be right in the game to be at our best. The game just dictates that."
Original story here
From Stuart Courtney, Press-Gazette Media
~
Each week, Press-Gazette Media will get the lowdown on the Green Bay Packers' next opponent from a beat writer who covers that team.
They're the mystery team of the NFL playoffs, an interloper bearing questionable credentials as champions of the downtrodden NFC East.
Washington won its final four games to finish 9-7, but faced only two teams that reached the playoffs this season and were badly beaten both times (27-10 at New England and 44-16 at Carolina). Under second-year coach Jay Gruden, the Redskins failed to beat a team with a winning record, their best victory coming against 8-8 Buffalo.
On the other hand, Washington has displayed the kind of potent offense that once was synonymous with Green Bay. The Redskins have scored 34 or more points in their last three games; the Packers have done so only once (a 38-28 win over Kansas City in Week 3).
After wresting the starting job away from former franchise quarterback Robert Griffin III (who hasn't played all season), Kirk Cousins has thrown for 4,166 yards and 29 touchdowns this season with 11 interceptions and a passer rating of 101.6. By comparison, the Packers' Aaron Rodgers has thrown for 3,821 yards and 31 TDs with eight interceptions and a passer rating of 92.7.
Cousins has plenty of playmaking targets in speedy tight end Jordan Reed (87 catches for 952 yards and 11 touchdowns) and wide receivers DeSean Jackson (only 30 catches in six games, but for a 17.6-yard average and four TDs), Pierre Garcon (72, 777, six) and rookie Jamison Crowder (59, 604, two).
On the ground, Alfred Morris ranks 21st in the NFL with 751 yards (right behind No. 20 Eddie Lacy of the Packers with 758) and Matt Jones ranks 46th with 490 yards.
Washington seemingly is healthier than Green Bay, with only 10 players on its injury report Wednesday compared to 17 for the Packers. But Washington's secondary, ravaged all season by injury, took another hit when Kyshoen Jarrett was placed on IR with a neck injury. In desperation, the Redskins picked up 31-year-old cornerback Cary Williams this week.
Defensively, the Redskins could be just the cure for the Packers' offense. Only four teams have yielded more yards per game than Washington's 380.6.
We asked Liz Clarke of the Washington Post to answer a few questions about what the Packers can expect Sunday when they visit Washington:
What clicked for the Redskins in their last four games that turned a 5-7 also-ran into a 9-7 division winner?
LC: "There were several factors, but principally it was Kirk Cousins coming into his own at quarterback, coupled with more aggressive play calling by the offensive coordinator, Sean McVay. The two have grown together and as they've learned more about each other and about the abilities of a young offensive line and the many receiving targets at Kirk's disposal, they've become bolder about taking some deep shots. The result has been getting out ahead of opponents early in games, which opens up the playbook and makes things so much easier than when they were fighting back from deficits."
How good is Kirk Cousins? He used to be prone to interceptions, what turned him around?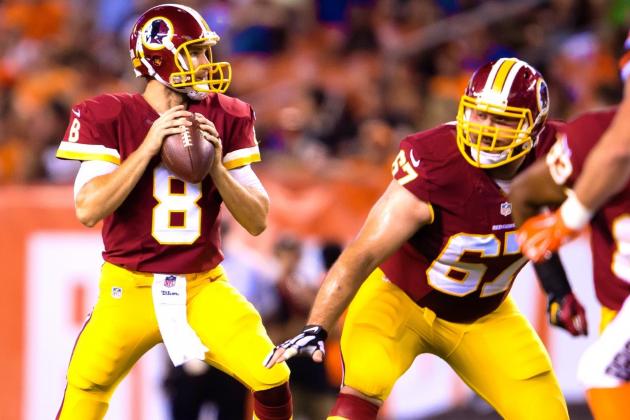 LC: "It's difficult to point to one facet of his game that changed, or the light bulb moment when everything became clear. The turnovers he had last season when he was filling in for Robert Griffin typically came in clusters in fourth-quarter situations. He and his coaches would tell you that was partly a result of feeling like he had to get everything back; particularly after he threw one interception, he was so determined to atone and make up for it that things would compound. In many ways, it has been an internal awakening that he has tremendous receiving targets as well as third-down backs and that success in the passing game can be getting somebody the ball on a bubble screen or a high-percentage throw and letting them gain the 30, 40, 50 yards. … It has been a relaxing into the role, without being sloppy or careless in any way. Sure, you can point to a few mechanical adjustments, but really, his numbers and success at Michigan State show a guy with a big arm, an accurate arm who has handled big games before."
What has DeSean Jackson done to open up the offense?
LC: "He missed six games with a hamstring injury, and then tight end Jordan Reed was out for a few games with an injury as well. So the possibilities for the offense changed dramatically when DeSean Jackson was available. And whether the ball goes to him or not, his mere presence tends to affect the way defenses cover … just the implied threat of the deep ball. So he's been a real game-changer."
Is Reed the best NFL tight end this side of Rob Gronkowski?
LC: "For many defenses, Reed has just been a mismatch with his size (6-foot-2, 237 pounds) and his ability to separate. The one knock against him leading into this season was that he couldn't stay healthy. We finally are seeing the potential and ability that he has."
What are the strengths and weaknesses of the Redskins defense?
LC: "Statistically, the defense isn't impressive. They give up a lot of yards. There have been stretches where they've been effective against the run and stretches where they've let teams run on them a ton. It's important that the offense controls the clock. They've had a cruel number of injuries in the defensive backfield, starting in training camp. But to their credit, the defensive backs coach, Perry Fewell, and defensive coordinator Joe Barry – combined with GM Scot McCloughan, who is coming up with free agents to restock holes – they've done pretty well, whether it's getting guys off the streets or in one case (Quinton Dunbar) converting a wide receiver into a cornerback. It's amazing what they've done – not smoke and mirrors, because these are players of substance – but really, just hard-working, determined guys. And at linebacker as well – their two insider linebackers (Will Compton and Mason Foster) are not the two they started the season with. But they've got hungry, hard-working guys who know what it means to seize the moment."
Washington has a pair of strong pass rushers in Ryan Kerrigan and Preston Smith. What will be the Redskins' approach against Aaron Rodgers?
LC: "They're going to do their best to get to him and rattle him, try to identify the targets he does have and do the best job possible covering them. The defensive line will need to be careful and avoid penalties because Rodgers is very good at drawing teams offside. … They won't make the mistake of taking Green Bay's offense lightly because they've had two tough games in a row."
Are the Redskins trying to play the no-respect card after winning a bad division?
LC: "It's not like the locker room is pasted with posters saying we're going to prove the world wrong. It's more of a quiet, inner focus, a belief that they have what they need on their roster to achieve their goal. And whether anyone else believes it or not, so be it. They're not rattled by it or spending a lot of energy trying to disprove it."
So what will be the keys for Washington on Sunday?
LC: "On defense, they will need to keep the Packers' running game in check; on offense, it'll be not turning the ball over and ideally dominating time of possession to limit the damage that Rodgers and his teammates can do."
Original story here
— scourtney@pressgazettemedia.com and follow him on Twitter @Stucourt