Happy or Sad List: 2016 NFL Draft Green Bay Packers
By Brian E Murphy, Packers Insider senior editor
~Every year, it seems, Packers GM Ted Thompson throws a few curve balls at Packer Nation (and at ESPN & NFL Network draft experts) with some of his selections. Some work out, some don't. And sometimes this includes his first pick.
One thing to keep in mind, which I have learned over following the last 30+ drafts closely, is that what we think leading up to the draft is often wrong.
You hear now about "guys sliding" or "moving up" the boards. This is hogwash. Yeah, maybe in Mock-World guys are moving up and down. But not in real NFL War rooms. What they're doing is a secret. If anything is coming out from them, it's smoke screens, not real spies getting into their rankings and evaluations.
Anyway, just because a guy is typically ranked between 20 and 30 in the Mock World doesn't mean that's where he will be selected. And it works both ways, up and down.
Dan Marino, Aaron Rodgers, Randy Moss, Jerry Rice, Emmitt Smith all were guys that should have been top-5 picks even at the time. Need I remind you:
So rankings and projections now, all over the internet and TV channels, mean less than we think it does.
With that reminder, here's my list of guys I don't want to see us grab, and guys I'd be thrilled with if we got them at #28. I'm not putting guys in who are almost "sure-fire" top-ten picks, even though I just gave examples of stars who slid. Sitting at #28, that's too for to dream of a Joey Bosa or Myles Jack to slide.
But there might be some players in some mock draft top-tens who are there for the Packers.
GUYS I DO NOT WANT TO SEE AS OUR FIRST ROUND PICK:
OLB Leonard Floyd, Georgia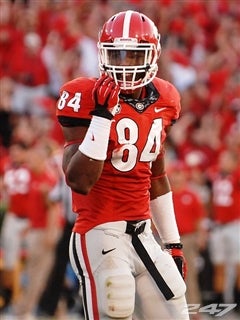 To me, he's Aaron Maybin or Barkevious Mingo. He's too skinny, thin, wirey to beat NFL OT's. Maybin, out of Penn State, was thought to be a sure thing as a pass rusher off the edge, and he totally busted. He was engulfed by larger NFL OT's. I like Jayrone Elliott a lot more than Floyd. We've seen what Elliott can do in the NFL already. He needs more playing time. And he's the Packers 4th on the depth chart at the position. Taking Floyd would give me an upset stomach. Fortunately, someone else will probably take him before we get that chance. I just hope he goes to a rival of ours like Chicago or Minnesota.
WR Laquon Treadwell, Ole Miss

I like this player, but he's too slow. He's never going to get separation against NFL cornerbacks. I think his ceiling is Michael Floyd of the Arizona Cardinals. He reminds me of former Packer and current Viking Charles Johnson. Again, Treadwell is expected to be selected before the Packers pick, and it's extremely unlikely the Packers would select a WR that high anyway. But I'd like to see this WR be the one the Vikings take with their first pick.
Any Offensive Tackle
The Packers do need another backup OT, as J.C. Tretter is the only backup who is capable of playing left tackle on this team and not getting turned into a turn-style as we saw Donny Barclay last December in Arizona. But using a first rounder on any of the guys available at that point would put a real sour taste in my mouth as it doesn't improve our team right now. We need an impact player who can come in and start and make the team better. Bakhtiari and Bulaga are good as starters, and Tretter is a fine backup. Unless they are planning on letting Bakh leave next off-season, then spending a number-one on a tackle is a waste, especially with all the talent in this draft on the defensive line.
Any Cornerback
Whether it's Eli Apple, William Jackson III, or Macensie Alexander, the Packers do not need another cornerback, especially that high. With Shields, Randall, Rollins, Hyde, and Gunter, I challenge anyone to find me an NFL team with five better corners than that. That's the Packers best and deepest position. And none of them are old. Besides a sour taste in my mouth, things will fly across my home office war room if I hear a cornerback announced with our pick at #28.
GUYS WHO I WOULD BE HAPPY or THRILLED TO SEE AS OUR FIRST PICK
ILB Reggie Ragland, Alabama

I don't like when teams run right through the Packers middle of their defense, and I think Ragland will stop that. He's not a track-speed ILB like some others are. But he's strong, and has good size. He's not a 5-11″ short guy easy to throw over the top of. We see Ragland gone well before the Packers pick in about 80% of mocks, but there are some from paid "experts" who have him sliding to us. Would he be worth trading up to make sure we got him? I believe he is. I'd trade Davante Adams and our #28 pick to move up and make sure we got him.
DL Robert Nkemdiche, Ole Miss

He's a difference-maker on the field, a clear-cut top-ten talent. But he's an idiot off the field at times. Or at least he has been. Can he change? Has he grown up? Does he love football? Questions like that are red flags and will push his stock down. On the down side, he's Justin Harrell with a bad attitude. On the positive, he could have impact like few other defensive linemen. Kiper mentioned J.J. Watt. It doesn't get any better than that. If Thompson and his research guys clear Robert, I'll be on board with adding this talent to the defense alongside Mike Daniels, Letroy Guion, and company. But if we pass, I won't throw things because that means Thompson decided that this guy's character flaws is not worth it.
WR Josh Doctson, TCU

Again, I love our WR core, except Adams. But that still is five-deep with Nelson, Cobb, Janis, Montgomery, and Abbrederis, plus Adams who is coming back.
So there's really no room for another since usually only four get game action. But a few things: First, How long will it take Jordy to round into form? Hopefully he stays healthy, but even if he does, I expect his snaps count to start low, and gradually work up by mid-season or later. While fans, and I, love Janis, it still seems like there's something there that Rodgers doesn't like. So who knows about opportunities there. But I do believe this: Doctson is the best WR in this draft. I've seen him play a lot down here in Dallas for TCU. This guy goes up and contests for the football like few others. Think Dez Bryant up high, or Larry Fitzgerald. On the flip side, remember all those chances Davante Adams had to make big catches in the end zones that went off his fingers?
OLB Emmanuel Ogbah, Oklahoma State

I love this big man's potential, and character. He's got high character that Thompson has historically valued. The big guy reminds me of a more talented Mike Neal or Nick Perry, being that he's large (opposite of Leonard Floyd), but also has tremendous intensity as well as speed, athleticism. He's not Von Miller. But I can see a big impact from this guy. While I think OLB is low on the Packers "needs" chart, this guy can be an NFL superstar. Peppers might be done after this year, Perry is on a one-year deal. And next season will be Matthews' ninth year already. If you can get a guy who makes Clay our second best OLB, that's making the team better. Ogbah has that ability, with no character risks.