By Brian E Murphy, Packers Insider senior editor
~Aaron Rodgers said the Packers could run the table.
There's a long way to go yet, but the table seems set now at least. The pieces are starting to take place.
Rodgers was precision-sharp Monday night in Philadelphia as the Packers won 27-13.
Rodgers threw a pair of early touchdowns to Davante Adams, and Aaron Ripkowski later added a touchdown run.
It was the Packers only touchdown run this season by anyone other than Rodgers.
With the win, the Packers pulled to within two games of the surprising first place Detroit Lions (7-4), and one game back of the Vikings (6-5)
Green Bay hosts Houston next week, and finishes the season hosting Minnesota in week 16, and at Detroit in the finale, week 17.
The win was the Packers first road win since the opener in Jacksonville on September 11th, and their first win of any kind since October 20th. Had they lost, it would have been a winless November.
Pete Dougherty, USA TODAY NETWORK-Wisconsin 1:19 p.m. CST November 23, 2016
~If you're looking for reasons behind the Green Bay Packers' sudden fall from the NFL's elite, start with their lifeblood: the draft.
Ted Thompson is the ultimate draft-and-develop general manager. No GM in the league relies more heavily on his draft acumen to build his team.
There are a lot of ways to group Thompson's drafts and classify their quality, but let's start here: comparing his first six drafts, which ended with a Super Bowl title in the 2010 season, with his last six.
There's an inherent unfairness there, because it's too early to make a lasting judgment about Thompson's two most recent classes. Still, his 2009 and '10 drafts made key contributions to that Super Bowl title, so we at minimum can judge his last two classes on immediate impact.
Let's start, though, with the 30,000-foot view.
In Thompson's first six drafts, from 2005 through 2010, he selected three outstanding players: Aaron Rodgers (first round, 2005), Nick Collins (second round, '05) and Clay Matthews (first round, '09).
In the last six, he has landed one: Mike Daniels (fourth round, '12).
Zooming in more, in his first six drafts, Thompson picked up eight other players who became either difference makers at play-making positions or quality offensive linemen: Greg Jennings (second round, '06), Jordy Nelson (second round, '08), Jermichael Finley (third round, '08), Josh Sitton (fourth round, '08), B.J. Raji (first round, '09), T.J. Lang (fourth round, '09), Bryan Bulaga (first-round, 10) and Sam Shields (undrafted rookie, '10).
In the last six, he landed three: Randall Cobb (second round, '11), Eddie Lacy (second round, '13) and David Bakhtiari (fourth round, '13). To be fair, Nick Perry (first round, 2012) has played well enough this season to become a close call, and Corey Linsley (fifth round, '14) probably will end up on this list by next year.
There's also time for more recent classes to add to it as well. Maybe Ha Ha Clinton-Dix, Damarious Randall, Kenny Clark or Jason Spriggs will join them. But maybe isn't is, and they're not there now.
Put another way, of Thompson's 12 drafts, the first six produced the best pass rusher (Matthews), the two best receivers (Jennings and Nelson), the best safety (Collins), the best cornerback (Shields) and three of the four best offensive linemen (Sitton, Lang and Bulaga) that the GM has drafted.
The last six produced the best at only one position, defensive line (Daniels).
Any way you look at it, the difference is stark.
But what matters most is the 30,000-foot view. Thompson hit huge with the Rodgers, Collins and Matthews picks. Those guys changed games. Jennings was close to that level as well. And during that time (in 2006), Thompson ventured onto the open market and signed Charles Woodson, another game changer who won the NFL's defensive player of the year award in 2009.
Rodgers still is here and at age 32 remains in his prime for his position. But Collins, Woodson and Jennings are now retired, and Matthews is starting to show the wear of age (30) and injuries.
The only elite player Thompson has drafted in the last six years is Daniels. That's one of several reasons why this team is 4-6 and has lost four straight games. The Packers don't have enough players who tilt the field their way.
Time could change that, depending on how much Thompson's last three classes grow. Remember, it took until Daniels' third season to see just how good he might be.
So maybe Clinton-Dix still makes the jump, though we're more than halfway through his third year. Or perhaps Randall, the '15 first-rounder who has flashed skills playing the ball, blossoms at cornerback on his imminent return from groin surgery. Or maybe Clark, the first-round pick this year, will be a breakout star on the defensive line in 2017.
Still, his rookie class this year has done nothing out of the ordinary — it has produced one starter (inside linebacker Blake Martinez) and one rotational player (Clark) — and so far there are no stars from the previous two drafts.
What stands out in the here and now is the talent gap on the field. Injuries hit all teams, but they're affecting the Packers more than most. That finally became clear the last two weeks: Tennessee and Washington simply had more good players.
So if you want to know why the Packers are 8-12 in their last 20 regular-season games, start with the lifeblood of the team. Ted Thompson's drafts haven't been what they were.
Original story here
By Tommy Silverstein, Milwaukee Journal Sentinel 2:32 p.m. CST November 23, 2016
~GREEN BAY – The Green Bay Packers will use their designated-to-return option to activate rookie cornerback Makinton Dorleant from injured reserve, officially ending the season of two key players on IR: running back Eddie Lacy and cornerback Sam Shields.
Coach Mike McCarthy announced the decision in his Wednesday news conference.
"Eddie Lacy will be on IR for the season," he said. "So will Sam Shields. We're going to activate Dorleant today. He's going to practice from the IR classification, designation, whatever the specific title of that is. It's unfortunate for Eddie and it's unfortunate for Sam, but based on all the medical information and the conversations to this point, that's where we are."
NFL teams are allowed to bring only one player back from injured reserve per year.
McCarthy said the decision to use the move on Dorleant was not made out of necessity, despite the Packers' depth problems at cornerback. McCarthy said the decision not to bring Lacy and Shields back was based on medical reasons.
Lacy had ankle surgery in October and has been around the facility, but still was not putting weight on his foot as of a week or so ago. Shields is recovering from his fifth concussion.
"Once again, these are more medical decisions, and this is really a decision that's been made from the input of our medical staff," McCarthy said.
McCarthy was asked if he knew whether Shields would ever play again.
"I do not," he said. "Really, the conversation with Sam, I know particularly mine with him is he needs to get healthy for himself and his family. That needs to be his focus and it is his focus. That's what we're focusing on."
Lacy is in the final year of his contract and will be a free agent in March.
His hopes of signing a big contract may be out of reach given he's going to have to prove to teams he's both completely healthy and in shape. It may be easier for the Packers to sign him to a lower-cost one-year deal, but Lacy is likely to test the market first.
Shields is in the third year of a $39 million deal. He is due $8 million in base salary, a $500,000 per-game roster bonus and a $500,000 workout bonus in 2017. The Packers would be able to gain $9 million in salary-cap space if he retire and would carry $3.125 million in dead money based on the remaining pro-rated portion of his $12.5 million signing bonus.
Dorleant won't be a savior for the Packers' secondary. He hasn't played since injuring his hamstring in training camp. He was limited throughout camp because of the injury and while he played well when healthy, he's an undrafted rookie who has zero NFL experience.
"He plays with great energy," McCarthy said. "I liked his toughness. I thought he did some really good things on special teams. He was injured pretty much the whole training camp but fought through it and did some good things. It will be good to get him out there and see where he is."
McCarthy said that starter Damarious Randall (groin surgery) would take part in practice on a limited basis Wednesday. He did not rule out the possibility that Randall would be able to play Monday at Philadelphia.
The Packers lost cornerback Demetri Goodson to a significant knee injury and are expected to put him on injured reserve. Dorleant would take Goodson's spot on the 53-man roster.
Original story here
From Brian E Murphy, PackersInsider.com senior editor
~The Packers lost their 4th straight game, and in doing so, Dom Capers' defense has allowed 153 points in that 4-game stretch.
This is the worst four-game stretch any Packers defense has produced since at least the 1950's, back before the Lombardi Era began.
That's obviously terrible, and it was on full display last night for all the world to see under the lights, on national television.
38.5 points per game.
The Seattle Seahawks defense has allowed a total of 173 points on  the whole season, just 20 more than the Packers in these four games have. They (Seattle) have had some injuries too, although nowhere near what the Packers have.
But they also do not have nearly as many first round draft picks stacked on their defense. Sherman, Chancellor are mid-round picks. Bobby Wagner was a second rounder. Michael Bennett and Cliff Avril were signed as free agent bargains.
Dom Capers has first rounders Kenny Clark, Clay Matthews, Nick Perry, Datone Jones, Julius Peppers, and Ha-Ha Clinton-Dix, as well as Damarious Randall who's still out injured.
Injuries, contrary to the patented cliché, are a valid excuse. You can't take away a Richard Sherman or Earl Thomas and replace them with a Kentrell Bryce or Makinton Dorleant and expect no dropoff.
The Packers have been asked to do so with Sam Shields and Randall being out for so long.
Clay Matthews missed the first three games of this skid, and his absence was obvious. Having him back last night, however, didn't solve anything.
Kirk Cousins was made to look like 1984 Dan Marino last night, dropping dimes all over the field, and over the top of the swiss cheese Packers secondary. Where was Morgan Burnett? Where was Clinton-Dix?
They weren't filling holes on the touchdown runs. They weren't jumping into passing lanes, making big plays, getting any interceptions. They weren't over the top, preventing the speedsters Jamison Crowder and DeSean Jackson from getting deep. They were often having to cover for the fact that the Packers were playing missing their best two corners, as well as losing Demetri Goodson to a wicked knee, leg injury, on special teams during the game.
It's hard to blame Dom Capers with the guys in the secondary now.
However, remember the 2007 NFC Championship game, the home overtime loss to the NY Giants. That Giants team was playing with a bunch of scrubs in the secondary. But they played smart, and their front-7 helped to cover up the deficiencies on the back end.
This Packers front-7 is actually pretty healthy, still stacked with talent. Four guys at LB are first round talents, as well as Kenny Clark on the DL. Mike Daniels and Letroy Guion are healthy there as well.
The front-7 did not make Cousins jittery and uncomfortable. He has, in his career, had a tendency to throw bad balls when he feels that pressure. Not last night.
Last night he was throwing bombs 50, 60 yards downfield, with that wind, and hitting guys right in stride. Not overthrowing them, not under-throwing them.
While I don't blame Capers totally for all this mess, it's time for a change after this season, at defensive coordinator. Just like after the horrible defense of the 2008 season that prompted a change which led to Capers coming in, the time has run out. Ted Thompson has consistently provided Capers with talent on defense, using the majority of his premium picks on defense, and this defense continues to allow third down conversions left and right.
Capers has six games left.
From Robert McGinn, Milwaukee Journal Sentinel
~Teams: Green Bay Packers (4-5) vs. Washington Redskins (5-3-1)
When: 7:30 p.m. Sunday.
Where: FedEx Field.
Television: NBC.
Radio: AM-620.
Series: Packers lead, 20-14-1.
Line: Redskins by 3.
Weather: 40s and windy.
Surface: Grass.
Coaches: Green Bay's Mike McCarthy (116-67-1) vs. Washington's Jay Gruden (18-23-1).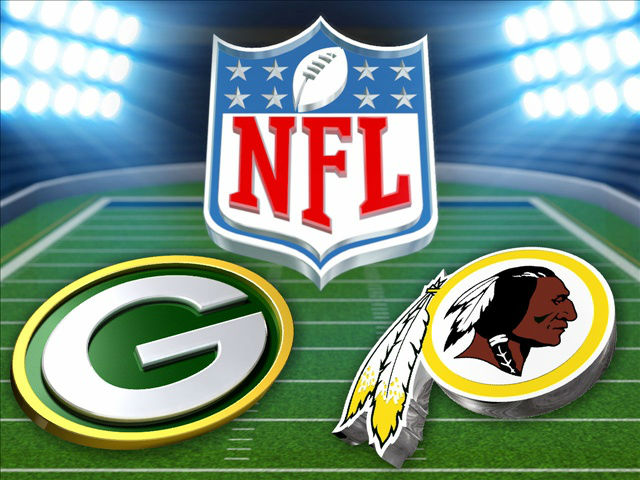 FIVE THINGS TO WATCH
ON THE OUTSIDE: When the teams last met in the NFC wild-card playoffs, Bryan Bulaga limited OLB Ryan Kerrigan to one pressure. Kerrigan, a leverage-power rusher, was neutralized. One personnel man ranked the Redskins' pass rushers as Preston Smith first, Kerrigan second and Trent Murphy third. "They have three guys that can rush," another scout said. "None of those guys are flame-throwing guys that scare the (expletive) out of you." Smith beat JC Tretter, who was forced to play the entire game at left tackle for the injured David Bakhtiari, for a sack-safety in the first quarter. "Smith rushes the passer extremely well," one scout said. "More athlete. He's fast and strong enough. Kerrigan is up the field. High, high motor to find a way to get to the quarterback. Murphy has a wide array of moves. His biggest asset is his ability to stay after it. Similar to Clay Matthews. He plays throughout the whole down."
THIN AGAIN: The Redskins played without three of their top six defensive backs in the playoff game. They'll play this one without starting safeties David Bruton and DeAngelo Hall, both of whom are on injured reserve. "Down the middle they're weak," one scout said. "They don't have a nose who can hold the point. Their two inside linebackers are very average and their safeties aren't very good. They're downhill, try-and-hit-you guys. They're not real good in the secondary overall. The Vikings picked them apart. (Josh) Norman is a good corner but other than that they have a hard time matching up. Their offense is better than their defense. The offensive coordinator (Sean McVay) does a pretty good job keeping you off balance. He calls a pretty good game."
DUAL THREATS: In the playoff game TE Jordan Reed had receptions for 24, 22 and 20 yards. In the seven games that Reed has played this season, he has averaged 58.4 snaps and backup Vernon Davis has averaged 31.6. "Reed is a really good receiving tight end but he can also block, too," nickel back Micah Hyde said. "Their tight ends are playing lights out." LB Jayrone Elliott said Davis has better straight-line speed than Reed, but he gave the edge in run-after-the-catch ability to Reed. "You saw Davis' wheel routes," Elliott said. "He runs three verticals. That's guy's amazing. Both of them are amazing. Looks like (Davis) has had a resurgence in his career. He's a freak. He's playing great ball right now."
PASS RUSH: Nick Perry had four pressures in just 26 snaps, leading a pass rush that was outstanding in the playoff game. Julius Peppers did much of his damage against the Redskins' interior from an inside berth in dime. In the second half, he detonated hump moves against LT Trent Williams half a dozen times and almost got home twice. It might have been his best game of the year. With Williams serving a four-game suspension, the Redskins will turn to Ty Nsekhe at left tackle for a second straight week. He held up surprising well against Minnesota's Everson Griffen last Sunday. "They didn't lose much with him in the game," an NFC scout said. "He's big, long, moves his feet OK. Pretty grooved with his angles. He ties you up in the run game, and he's tough. He'll try to fight you."
NEW RUNNER: Neither of the Redskins' two ball carriers in the playoff game, Alfred Morris nor Pierre Thomas, is still with the team. Matt Jones, who sat out with a hip injury, reclaimed his job this season only to be replaced in Game 8-9 by rookie Robert Kelley, a free agent from Tulane. "I don't know what the deal with him was in college," said one personnel director. "We had a free-agent grade on him. We missed him. He's a good back. He runs hard, he's got good feet and vision. The Vikings couldn't tackle him. Kelley is really aggressive. He's downhill. He breaks tackles." Another scout pointed out that Kelley runs more effectively the more carries he gets.
VIEWS OF THE GAME
BOB McGINN
Ten months ago the Packers beat the Redskins by 17 points on the same field. Great coaches, great quarterbacks and great organizations come together to win games just like this. With a victory, the entire outlook for their season and playoff chances would change. No reason they can't win.
BRIAN MURPHY @packersinsider / brianmurphy@packersinsider.com
Last January, I gave the Packers very little chance at Washington, and the way the game started, I was sure I was right. Then everything flipped and the Packers rolled. They even almost won the next week at Arizona to advance to the NFC Championship game at Carolina. Once again, I see the Redskins winning, but hoping I am wrong again. If Clay Matthews is 100% Clay Matthews, the defense could be a lot better. Still, with Shields and Randall still unfit and unable to play, the Packers secondary could get exposed, as they were earlier this season against Stefon Diggs and Marvin Jones Jr. Nothing would surprise me, from a Packers rout like 10 months ago, to a Redskins rout of the Packers like we saw Tennessee put on the Packers last week. Washington 34, Packers 24
TOM SILVERSTEIN
As easy as it would be to assume the Packers are going to continue spiraling out of control and implode again, I'm thinking the bleeding stops for one night here. The return of Clay Matthews and availability of Jared Cook, James Starks and David Bakhtiari are enough to give the Packers a chance. This could come down to a Mason Crosby field goal. Packers 27, Washington 24
MICHAEL COHEN
Let's make this simple: Washington is better now than it was in a playoff loss to the Packers last season. And there's no question the Packers are a worse team than the one that traveled to our nation's capital for an impressive win last January. I don't see the Packers getting it done for a second time. Washington 33, Packers 24
PETE DOUGHERTY
Maybe the Packers' defense bounces back this week, assuming Clay Matthews returns from a hamstring injury. But Washington has a lot more weapons in the passing game (Jordan Reed, Vernon Davis, DeSean Jackson if healthy, Jamison Crowder, Pierre Garcon) than the Packers, and that could be the difference. Washington 28, Packers 24
RYAN WOOD
A week after Delanie Walker torched them, the Packers have to worry about a pair of tight ends in Washington. The Packers should get Clay Matthews and Jared Cook back, but no amount of reinforcements will change this fact: Jordan Reed and Vernon Davis will be tough covers. Washington 27, Packers 21
Original story here
By Tom Silverstein, Milwaukee Journal Sentinel
~Green Bay – Of the Green Bay Packers' 53-man roster, a dozen of their players are rookies.
Of those dozen, try naming a single play any of them have made that has been the difference in the Packers winning a game.
Receiver Trevor Davis' 55-yard punt return?
Nice. It helped set up a touchdown that gave the Packers a 21-13 lead over Atlanta in Week 8, but they lost the game.
Linebacker Blake Martinez's interception?
Definitely a heads-up play, but the Packers were up, 26-10, with 4½ minutes to go and were facing a third-string quarterback.
Safety Kentrell Brice's goal-line tackle?
A stunning hit on Falcons running back Terron Ward preventing him from scoring after an 11-yard reception. But the Falcons scored on a 1-yard run two players later.
Linebacker Kyler Fackrell's strip sack of Eli Manning?
The rookie beat backup right tackle Bobby Hart just before halftime and forced a fumble the Packers recovered. It led to a field goal that made it 17-6, but the Packers already were ahead and continued to outplay the Giants in the second half.
Nose tackle Kenny Clark's recovery on Fackrell's forced fumble?
See above.
As patient as you need to be with rookies in the NFL, the Packers aren't getting enough. On defense, they've gotten two sacks, one interception and one forced fumble. On offense, they've gotten 10 carries for 32 yards and six receptions for 62 yards and two touchdowns.
At this point in previous seasons they had gotten a lot more out of their rookie class.
Last season, rookie corner Damarious Randall already had a game-winning pass breakup against San Diego and two interceptions, and fellow rookie corner Quinten Rollins had a two-interception game against St. Louis.
The season before, center Corey Linsley started from Day 1 and was a big reason the Packers were able to split four difficult road games over the first six weeks of the season.
In 2013, running back Eddie Lacy established himself as the lead back with four games of 90 or more yards rushing in the first half of the season, including 120 in a victory on the road against Baltimore. Also, left tackle David Bakhitiari started from Game 1 on and cornerback Micah Hyde returned a punt 93 yards for a touchdown in Week 8.
In 2012, cornerback Casey Hayward had two interceptions in a critical win at Houston in Week 6, and Nick Perry had two sacks before injuring his wrist and missing the rest of the season.
Almost every year he has been general manager, Ted Thompson has found a rookie who has had an immediate impact. But part of relying on rookies to fill a quarter of your roster every year is understanding that they're not going to produce the way they will next year or the year after that.
Thompson's draft-only philosophy puts enormous pressure on the coaches to patch holes with players who still are learning the game. So while the Packers feel good about their overall rookie class, they are still waiting for results.
"I would think if you stopped today, you'd feel good about where our rookie class is today," coach Mike McCarthy said. "I mean, participation, the fact that they've been in positions to have opportunities, and continue to grow. So I think it's definitely been a positive for the contributions from our rookie class.
"I think the fact that at this point in the year, they're not rookies anymore, so it's time to close the gap between the inexperienced and experienced players on our team, and we need to take a step forward just in our quality of play."
Probably the best example of a rookie class coming into its own at just the right time was 2014 when receiver Davante Adams, tight end Richard Rodgers and safety Ha Ha Clinton-Dix all made enormously important plays in a victory over the New England Patriots.
The Packers won three of their last four after that and made it all the way to the NFC Championship Game.
Heading into Game No. 10 Sunday night at Washington, the Packers can't wait any longer for one of their rookies to come of age. They need Clark, Fackrell, Martinez, Davis, Brice and others to more than just show up.
"It's kind of expected now from your rookie draft class when they come in here," linebacker Clay Matthews said. "It really doesn't matter where you're picked in the draft. We need you to help out now.
"No different in this case. In an ideal world, everyone would be healthy and be out there every week. I know it's cliché to say, 'next man up,' but we've got a lot of young guys that we're counting on."
The rookies know they need to produce, but part of being new to the NFL is knowing you're behind everyone else.
Clark, the first-round pick, desperately wants his play to lift the defense to new levels, but he just turned 21 years old, is playing one of the toughest positions for a rookie and is grinding through the first 20-game season of his life.
"Definitely, it's tough," Clark said. "I would just say it's tougher mentally, trying to understand that everything is not going to go your way all the time. There's some adversity you have to get through.
"Everybody wants to make more plays. I know I'm making progress. Just watching the film from the first game against Jacksonville to now, I'm 10 times better. I've just got to keep fighting."
Against Washington, Clark will continue seeing a steady diet of snaps, Fackrell may see a dip with Matthews returning, Martinez will be counted on more with Jake Ryan out and Brice is going to have to tackle tight ends a lot better than he did last week against Tennessee.
And that's just on defense.
"We've seen where we've had to depend on a lot of those guys down the stretch, and they improve," defensive coordinator Dom Capers said. "You reach the point where, hey, you're not a rookie anymore. You're going to be playing in big games, and you've got to go out and produce.
"I expect them to play a lot better now than they did in the beginning of the season, just because of the experience."
And the expectation is that it happen right now.
Original story here
From Demovsky at ESPN.com
~
GREEN BAY, Wis. — Eight games should be enough to make more than just a snap judgment about the Green Bay Packers.
Halfway through the season, they're flawed in every aspect of the game — from Aaron Rodgers' inconsistency to the defense's inability to come up with key stops to an ill-timed special-teams lapse or two — and they showed all of them in Sunday's 31-26 loss to the Indianapolis Colts at Lambeau Field.
No wonder they're 4-4.
At least they're not alone in their mediocrity in the NFC North. They're still very much in the division race, just one game behind the first-placeMinnesota Vikings, who have lost three straight after their 5-0 start. When the Packers and Vikings play on Christmas Eve in Green Bay, it may be for the only playoff berth from the division. Or perhaps when they play at Detroit on New Year's Day, the Packers and Lions (5-4) will be playing for that right.
All the evidence anyone needs to induct the Packers into the Hall of Ordinary could be found on Sunday. Here's what run-of-the-mill teams do:
They take the enthusiasm out of their home fans before they're all even seated by giving up a 99-yard kickoff return for a touchdown to start the game. (And for good measure, they allowed the same returner, Jordan Todman, to return another kickoff 61 yards.)
They fail to turn two Ha Ha Clinton-Dix interceptions — in this case, the first two of the season for Clinton-Dix — into more than just seven points (a missed field goal prevented them for scoring on both of them).
They allow a 96-yard touchdown drive to end the first half down by 14 points.
Just when it looked like Rodgers had pulled himself — and the Packers' offense — out of the doldrums with three straight Rodgers-like showings, he reverted to holding on to the football while his receivers failed to get open.
The maddening aspect of this team was on display, when Rodgers rallied the Packers from down 18 points to within one defensive stop of a shot at a game-winning drive. But when Clinton-Dix, for all the plays he made, failed to wrap up Andrew Luck for a sack on third down with 3:19 left in the game, it prevented Rodgers from getting a chance to complete that comeback.
Perhaps the worst part about where the Packers stand now is this: They don't play at home again until Dec. 4. Between now and then, their three straight road games, at Tennessee, Washington and Philadelphia, may determine their fate.